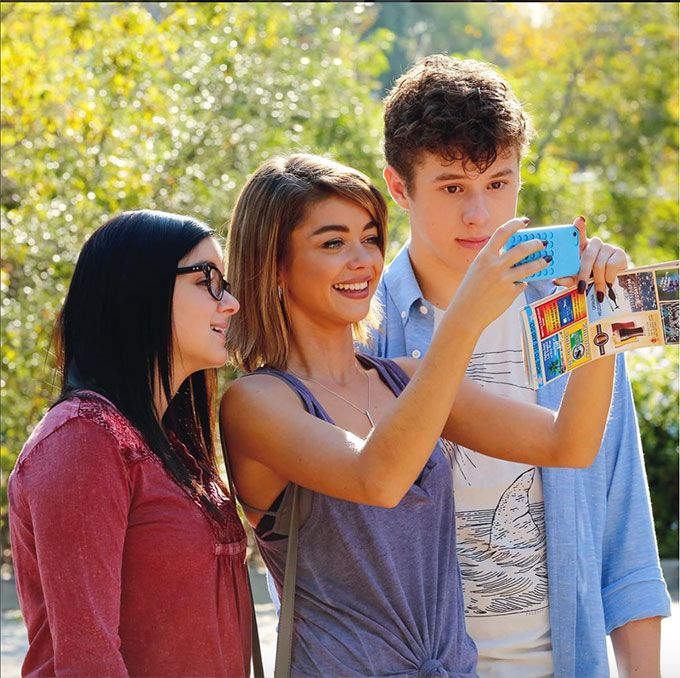 You may know Sarah Hyland as the ever chic and always hilarious Haley Dunphy on Modern Family, but to us she's a true beauty icon! From hairstyles to makeup, this actress loves trying out new things… and manages to make every trend look good. Need proof? Check out the images below.
1. Fabulously Fierce
With her burgundy pout and smoky eyes, Sarah looks super edgy. We love how cute and cool those mini-buns look on her!
2. Pony-ed Up
Polished ponytails and pink lips are a winning combination. The actress' sleek 'do shows off her beautifully highlighted skin and arched brows.
3. Delightfully Dark
Clearly this woman looks good in all hair colours. Her windswept, tousled bob looks great in this rich hue and shows us that she loves experimenting!
4. Ethereal
Crown braids are a crowd-pleaser. By keeping her makeup soft and neutral, Sarah plays up the whimsical vibe of this look.
5. Teenage Dream
Glitter and pale lips give us major nostalgia about our teens. Sarah's winged eye and half-knot keep keep this look from getting too childish.
6. Beach Babe
This is how we intend our hair to look this summer! This beauty's wavy locks are complemented perfectly with a bright, coral lip and bronzed skin.
7. Made To Model
Although this shoot was black and white, you can definitely see how gorgeous Sarah looks! Her bouffant ponytail is artfully disheveled, while elongated cat eye is full of drama.
With pictures like these, it's no surprise that Sarah is our latest girl crush! Do you love her style as much as we do?