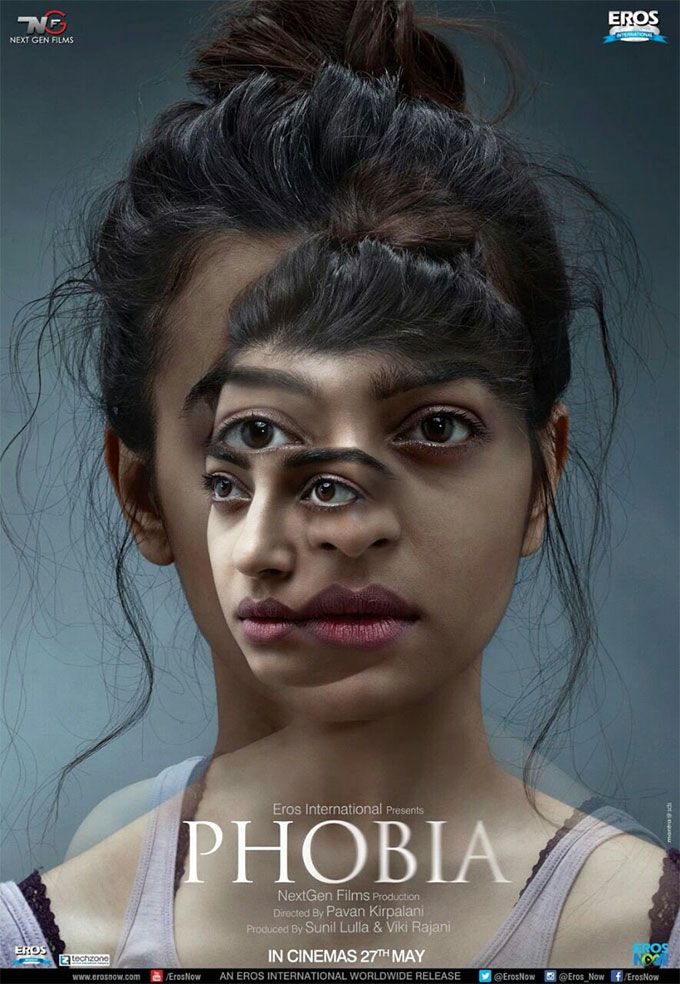 Phobia is the strangest movie I've seen in a long, long time. And no, strange is not a bad word to associate the film with. The entire Bollywood team of MissMalini.com decided to go watch the movie because firstly, we're all fans of Radhika Apte and secondly, despite seeing each other everyday, we still like to hang out together. Strange no? See, strange is a good word!
The movie starts with Mahek (Radhika) go through a traumatizing incident which makes her agoraphobic (someone with the fear of going out). Her sister tires to help her, but due to the stress it causes to her child, she lets Mahek's friend Shaan (Satyadeep Mishra) take her to a friend's empty apartment so that she gets over this fear. What happens next will definitely blow your mind as Mahek sees black cats, a finger in the freezer, blood and a lot more in this 3 BHK apartment. Her neighbours are equally strange, one of them being the over-friendly Manu Malhotra (Ankur Vikal) who is in love with the previous inhabitant of the apartment – Jia, an air-hostess. There's also the 'freak' Nikki (Yashaswani Dayama), an awkward college going student who finally finds a friend in Mahek.
My colleague, the sexy Aayushi came up with an interesting theory that all the inhabitants of the building are a little 'cuckoo'. The house gives Mahek the jitters and we see her gradual transformation from being a little afraid to becoming this insane Nancy Drew who believes Jia has a story which needs to be told to everyone, especially the police.
While a ghost possessing a lady in an apartment is an old trope used amazingly in Ram Gopal Varma's Bhoot, this story is different. The question here is that is the ghost really there, or is it all in her head? Radhika Apte has given the performance of a lifetime as the unreliable Mahek, the film would fall flat had a lesser actress played this part. Satyadeep Mishra plays the role of the 'nice guy' rather well. His character is the perfect embodiment of 'Not All Men', the sentence Time Magazine called 'every dude's favourite argument against feminism'. Every instance of him helping Mahek has an underlying expectation of sex and that leads to quite an unexpected turn his character takes towards the end of the movie. Ankur Vikal is brilliant as Manu, the President of the society's laughter club who loves his Jia, but is also physically abusive towards her. His laughter does a good job in making your skin crawl and with this guy as Mahek's neighbour, you actually feel relieved that she hates to step out. He also drills a hole in her wall which hilariously reminded me of a scene from F.R.I.E.N.D.S when Joey drills a hole through Chandler's bedroom where the poor guy is taking a nap.
Pawan Kripalani's direction is solid and the flow of the film is smooth, but the movie loses its steam towards the second half. A few moments are really funny, but towards the end you just want all this to stop. The graph of Phobia is on top form till the first half, then takes a sharp drop and from there, it never really manages to reach the top again. The writers Pooja Ladha Surti, Arun Sukumarbut and Pawan Kripalani have done a competent job, but the movie could have been at least 15 minutes shorter. The cinematographer Jaya Krishna Gummadi has done a brilliant job. The building where Mahek is recuperating is called Overlook, which is a nice little homage to Stanley Kubrick's The Shining, the classic film which also had its protagonist losing his mind in an isolated hotel named Overlook. Even the flat Mahek is staying in has a Kripalani nameplate.
All in all, Phobia is worth a watch only because it's so refreshingly different. It's a good start and I hope this encourages the creation of more psychological thrillers in Bollywood.
Rating: 3 stars.