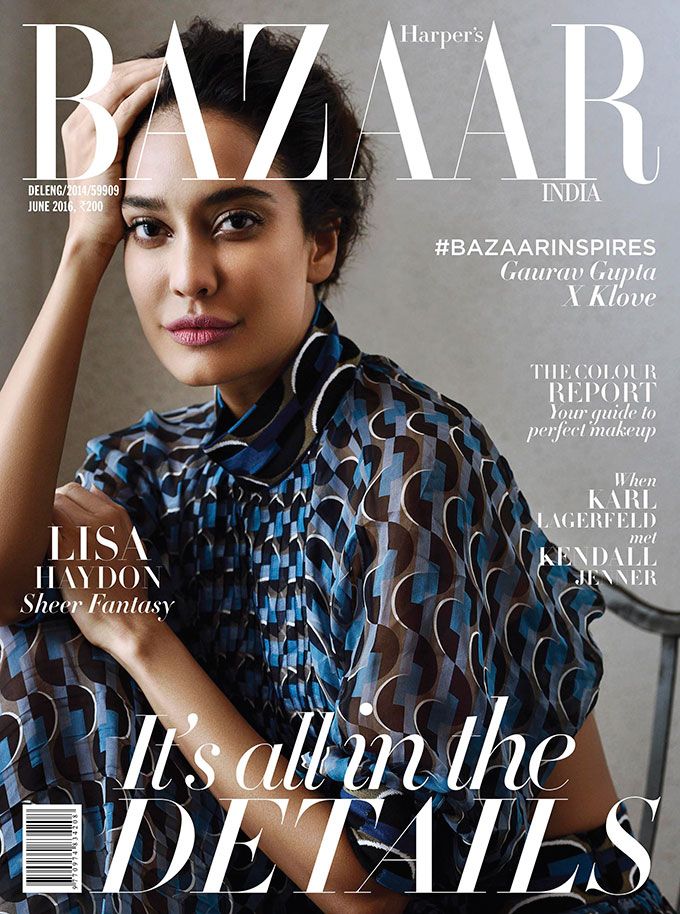 There ain't no doubt that Lisa Haydon is one of the most beautiful women in India right about now. Her sultry good looks and amazingly statuesque figure makes everything she dons look effin' good, but this nothing we didn't know already. Just one glance at her flawless face on the June cover of Harper's Bazaar India (photographed by Bikramjit Bose) and we can't look away. Something about her eyes draws you in and makes you want to know more. As far as cover girls go, I think she's nailing the brief with both, her beauty and her fashion. This sheer, printed Fendi dress that Edward Lalrempuia picked is the right amount of demure meets sexy, which actually, come to think of it could also aptly describe Lisa. Her face has this matte-finished clarity courtesy makeup artist Eszter Magyar that was finished with a deep pink lip and cool highlights on the corners of her eyes. The messy up-do by Laszlo Pasztor perfectly complemented everything else about the look.
Lisa also gives us a lesson in how to look super sexy without trying much at all
And if that's not enough oomph for you, we've got this BTS video too!
Deep breaths everyone. We know this was more than you bargained for, but that's why you love us, right? Get your copy now! What are you waiting for?