For as long as I can remember, I have dreamed of designing my own wedding clothes. It was mid July, a few weeks after I got engaged to my fiancé Vanraj Zaveri and the time had finally come. Those who know me, know that I'm not very conventional in my ways and so a traditional Indian wedding wasn't something I had ever envisioned. Having an epic bachelorette, a simple court wedding, followed by the most insane wedding celebration is something I would do. However, when Vanraj, who is quite the traditionalist said he wanted the works; mehendi, sangeet, wedding and reception, I surprisingly didn't fight it. I guess I was ecstatic to start my life with him and celebrate it in as many ways as possible.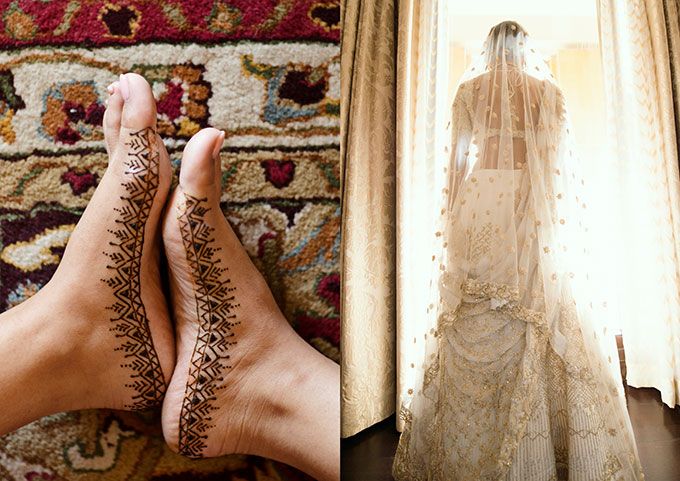 Once the news broke and the congratulatory calls started pouring in, the first few sentences always went along the lines of .. "oh my god you are having a traditional wedding! What are you going to wear!?" I've never liked Indian clothes until I worked on my Lakme Fashion Week collection in 2014. I made lehengas and saris in my own way and completely fell in love with it. My kind of Indian is a little different, edgy and maybe even weird compared to the usual norms of the market. When I told my family I was going to make all my own clothes under my brand Koecsh, they weren't surprised, but at the same time they urged me to reconsider. Knowing the kind of control freak I am, they would rather have me relax and get spa treatments instead of taking on that burden. However it was something I felt strongly about and I started conceptualising my own clothes.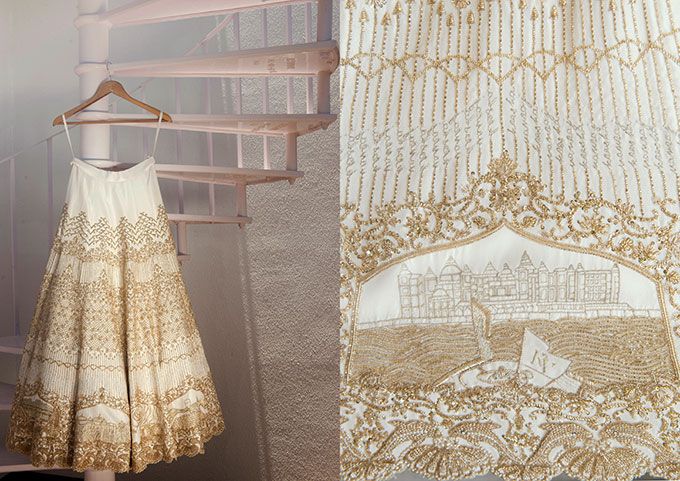 With my mehendi, sangeet and reception outfits, it was simple. I imagined the colours and concepts and got right to sampling and work. When it came down to the phera ensemble I was sure only of two things: 1) Vanraj wanted us to be in white and gold, 2) It had to be a traditional outfit (*queue freak out*) as all these things weren't me at all!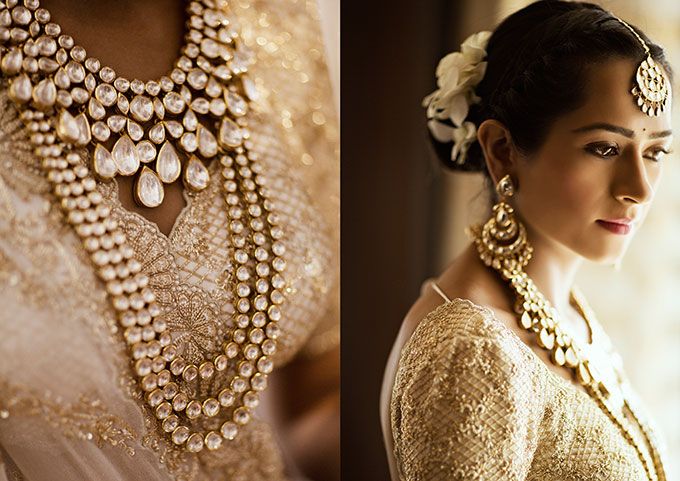 "Kresha there's no way you should make your phera lehenga!" my mum said, "All this edgy stuff is fine for other functions, but for your wedding you should dress like a pretty bride." I cringed at the thought of all the ornamentation, embroidery, sequins and yards of fabrics that brides wrap around themselves, but she did have a point.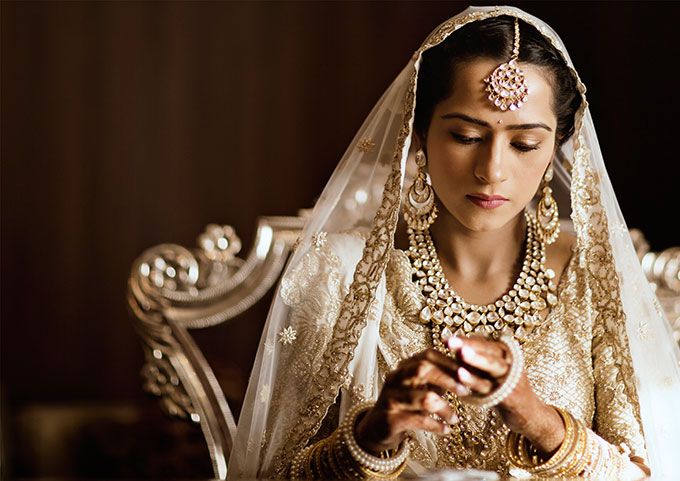 So, I fixed a date and started my journey to find the perfect wedding lehenga. There are so many amazing designers in Bombay who make beautiful clothes, and from morning to evening, from Town to Juhu we went to almost every designer shop we could find. I remember walking into certain stores and loosing my breath when I saw some of the pieces. There were such exquisite designs and beautiful embroidery, but every time I came out of the trial room I knew that I hadn't found the perfect one. For someone like me, I needed an outfit that would have exquisite work but not over power my petite frame.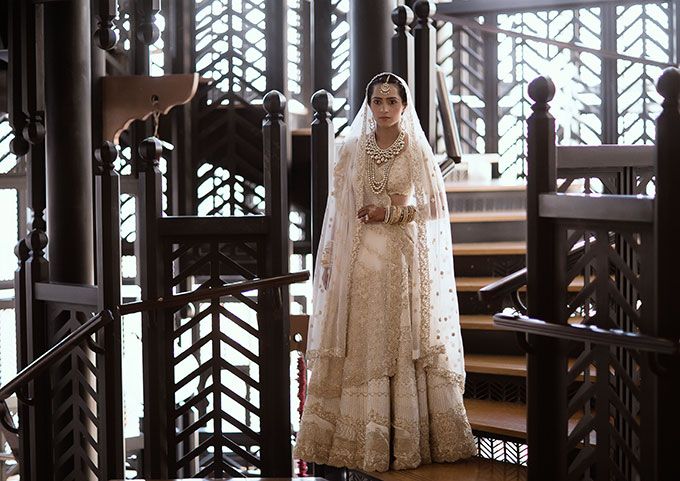 Two months after doing one too many rounds, against the advice of many people, I took the call to make my own lehenga. I knew that this lehenga was going to be white and gold but I wanted it to have my signature designs whilst still being traditional.
Personally, I love clothes that I can mix and match and wear in multiple ways to different occasions. So, I try to embody that when I'm designing my clothes for Koecsh as well. Hence, the fact that I would probably not get to wear my lehenga again was a little frustrating. Then one night, I took inspiration from an episode of The Real Housewives (the mecca of reality!) and decided to frame my wedding lehenga, just how Adrian had beautifully framed her wedding dress.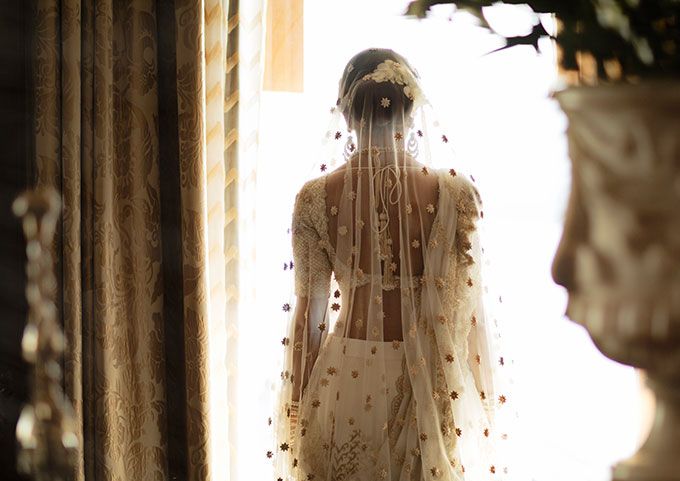 Now came the second challenge. The lehenga would obviously be made in the most beautiful way possible but if I was going to frame it, I had to make it like a piece of art. In order to have a piece of artwork up on our wall, it had be something meaningful, something we wouldn't get sick of looking at, and the one thing I knew we wouldn't get sick of looking at was our love story.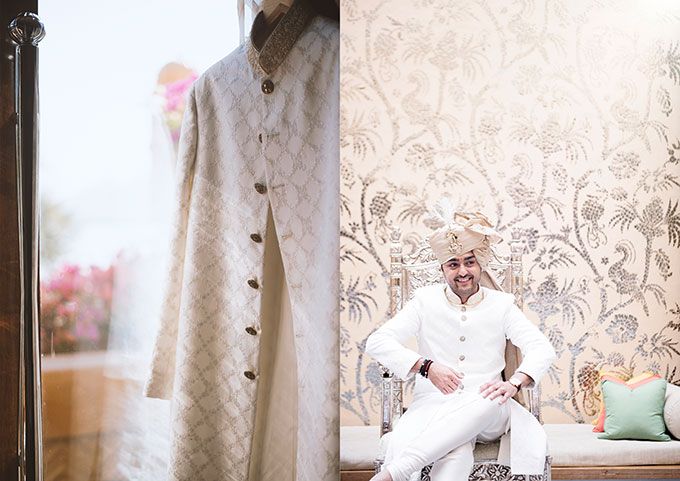 After studying and understanding traditional materials and embroidery techniques with my amazing group of Koecshers, I started creating my lehenga a kali at a time. First, the entire embroidery was hand drawn. Then, our names were hand sewn with beautiful zari, which was hidden into the embroidery of the fabric, forming a delicate optical illusion. Each of the kalis had intricate frames, in which I had all the important moments of our life showcased – our dating milestones, the proposal and finally our love story. The bottom of my lehenga and dupatta was finished with a hem of jumping dolphins, which was how our story began, as we worked on a protest against cetacean captivity together. The process of trying to create this took days and nights, weeks went into months and yet all I wanted to do was sit and work with the karigars to see my imagination come to life.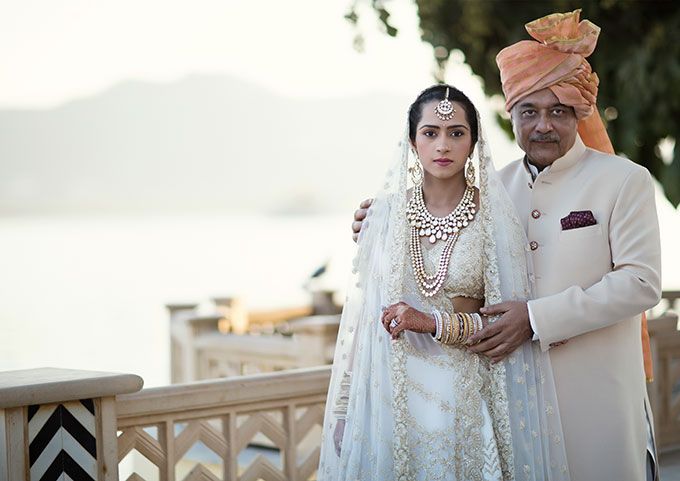 I completed my look with some beautiful jadau jewelry that Vanraj designed for me, and it felt so perfect to be wearing both of our designs on our special day. Wearing my Koecsh lehenga was the most exhilarating feeling. It looked beautiful, elegant and traditional. My favourite part was all the detailing that was in the lehenga. From afar it looked like stunning zari and embroidery work, but the closer you went to it, the more our cherished memories unraveled. The best part was that at the end of the day, I managed to make my lehenga beautiful and traditional, but at the same time it was exactly as edgy, unconventional and firmly Koecsh as I wanted to be.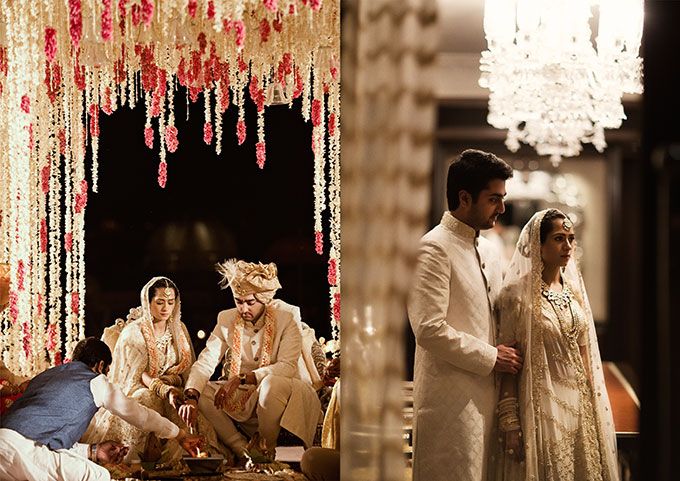 To check out more of my wedding outfits, head over to my Instagram page.