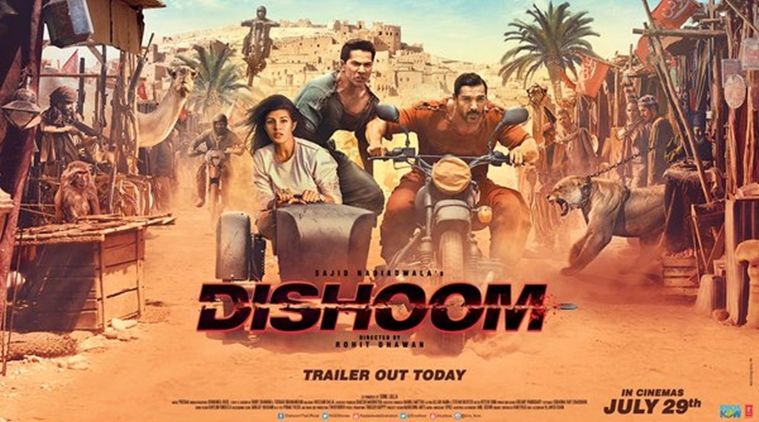 Dishoom had so much potential. Three good-looking leads (one is also a good actor), an interesting trailer, Parineeti Chopra's abs and Akshaye Khanna making another comeback after a hiatus of 4 years but the result was just meh. The plot is good on paper – the star cricketer of the Indian cricket team, Viraj Sharma (Saqib Saleem, playing a character based on Virat Kohli) has been kidnapped before India plays against Pakistan and he needs to be found in 36 hours before the public finds out about it. Two men are supposed to find him, one is like Veeru, the other is like Jai.
Their names are Junaid (Varun Dhawan) and Kabir (John Abraham) and they call each other J & K, the references are not lost, because we love Men In Black. The bad guy (Akshaye Khanna) plays the cleverly named Wagah because he doesn't belong to India or Pakistan. Jacqueline Fernandez plays Ishika, a kleptomaniac with a troubled past who apparently gets turned on whenever Kabir is mean to her. I don't get this about movies, why do they show the girl falling for a boring guy who is horrible to her? In a scene, Kabir, who is a tough inspector, literally threatens to break her face and that makes her pupils dilate.
Anyway, the chronicles of J & K to find the Viraj before the match begins in the main crux and what would have been a funny action-adventure film, becomes really boring after Kabir stares at someone menacingly for the zillionth time. John Abraham is basically himself as the brooding Kabir, Rohit Dhawan has made sure he doesn't have to do much but look threatening. Varun is hilarious as Junaid, the actor has shown his flair for comedy in his dad's Main Tera Hero and in Dishoom he plays the earnest 'non-sidekick' extremely well. It's his shenanigans which make the first half of the movie seem breezy enough. He sadly doesn't have the backing of a good screenplay to make the entire film a fun watch. Jacqueline is pretty but she really doesn't have much to do. Akshaye is great as always, as the villain who is involved in the betting business, the need for him to kidnap Viraj is established too, but by the time the guys manage to save the day, you've just lost all interest. Also, my expectations from Mr. Khanna are too high to be happy with this role.
There's another Akshay in the movie too, the Khiladi sports a man-bun and makes John and Varun strip in the pool. He plays a sexed up homosexual and makes erotic references to Varun and John's bodies, because Bollywood can sometimes time-travel to the '90's and 'the gays' are just horny weirdos without personality or layers, like normal human beings.
Nargis Fakhri is there too, and she looks amazing, as always. Saqib is nicely cast as the badass cricketer and Satish Kaushik is brilliant as the voice behind the man who constantly trolls Javed on the phone (that track is one of the best gags in the movie). Rahul Dev is nice in his role and those dhoti pants look really, really comfortable. All the actors (except John) have done a good job, but Rohit Dhawan and Tushar Hiranandani's screenplay is disappointing during the second half. Nitin Rokade and Ritesh Soni's editing is often erratic and Ayananka Bose's cinematography is sleek. The standouts in Dishoom are Vijay Raaz, who is in one scene where he cuts John to size and that adorable dog named Bradman who plays quite a pivotal role. Pritam's music is a let down.
Dishoom is not ground-breaking, but no one expected it to be, and while it does manage to make us laugh in a few scenes, the rest of the movie is quite boring. Varun Dhawan, Akshaye Khanna and the dog deserve better.