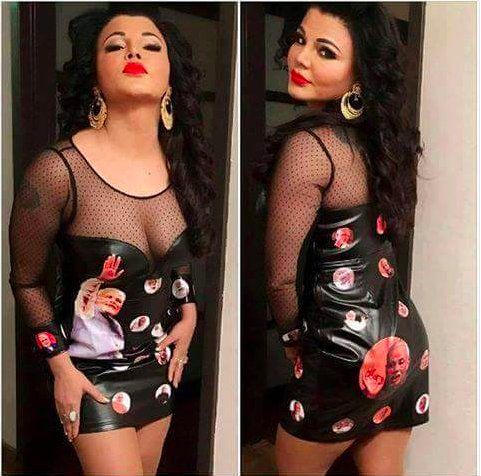 Remember Rakhi Sawant's dress with Prime Minister Narendra Modi's face on her butt and hand on her boob? She wore it for a pre-Independence Day party in Chicago, USA and in an interview to Firstpost, she revealed rather interesting things about her choice of clothing. Here are excerpts from the article –
On that 'dress' –
I have got this dress made from all my heart and love for our dear prime minister. He is the best PM and I am representing him in the US. I just want to tell people: 'Don't waste your time creating controversies over my dress, instead take care of your family. There are more serious issues in India that needs to be dealt with, like rape of little girls, farmers committing suicide…So live and let live and don't waste your time on my dress.
On impressing Modi ji –
I wore this dress so that I can impress BJP, especially Narendra Modi ji and Amit Shah. I love them both. Rajnath Singh called me, he considers me as his daughter. I met him in Delhi and I will meet him again. I am already BJP's daughter. I made this dress so that I can impress Modi ji. Modi ji is my dream man. I am most happy that he is our PM and he will remain one for next 15 years. Wherever I go I will wear this dress, and I will also make one sari with his image on it.
And finally on wanting to become a member of the BJP –
I had first sent this costume for approval and if Modi ji says that he never approved my dress, then he can put me behind bars, only he has the right to do so. Nobody else. I'm accountable only to Modi ji. I got it approved from him and his team and only then wore the dress. I respect Modi ji, I respect Amit Shah and all the BJP members. In the future, I want to join BJP and do lot of work. If they want me in their party, I will be with them.
Read the entire interview here.