Right, it's decided: I love Harshvardhan Kapoor's sense of style as much as his father's — and that is saying something. It's adventurous, age-appropriate and never shabby. Read on to see why I'm going so gaga over his sartorial choices.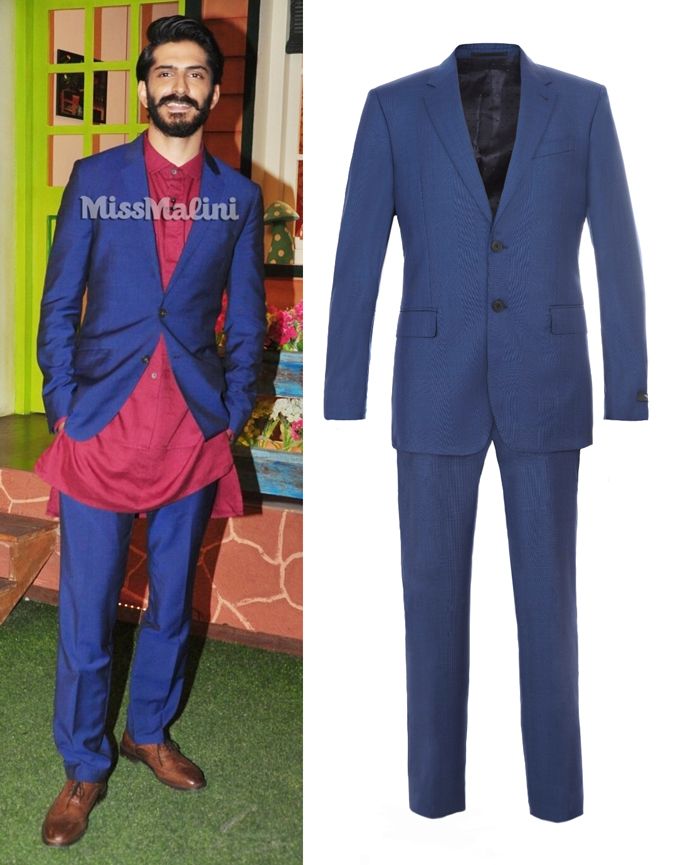 It takes imagination and confidence to experiment with your tailoring and that is exactly what Harsh has been doing during the Mirzya promotion trail. Take, for instance, his appearance at The Kapil Sharma Show, which saw him slip in a burgundy long-line shirt from Vaibhav Singh under a navy mélange wool suit from Paul Smith. Tan full brogues from H by Hudson made for appropriate finishing touch to this unerringly contemporary look.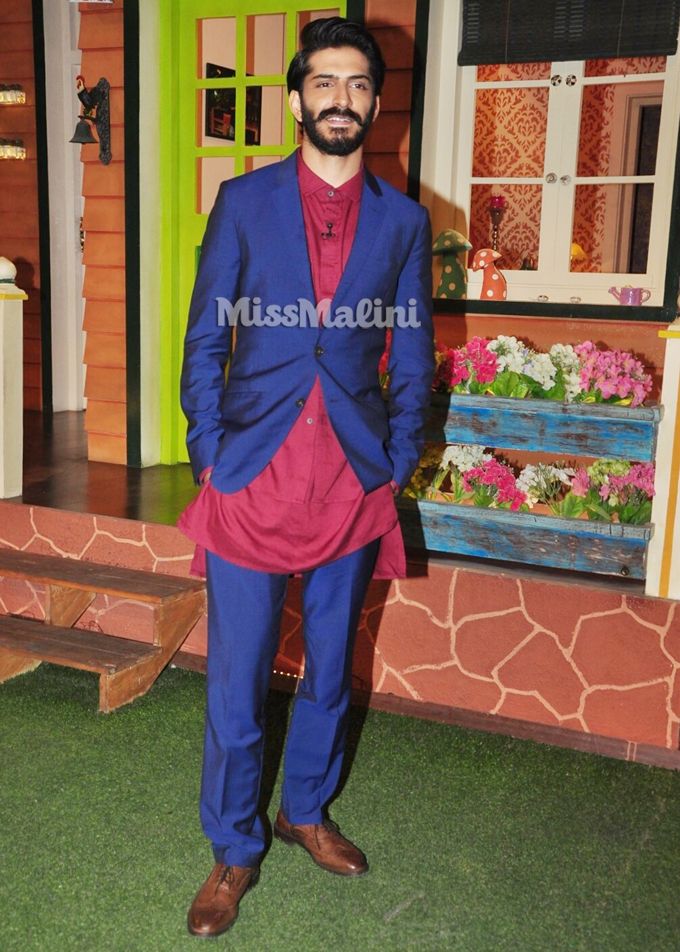 It was a subversive take on the age-old suit-and-shirt combo, and I for one was thoroughly on board with it. In fact, I'd go so far as to say that this combo is fast becoming a Harsh Kapoor signature style move, 'cos this is the third time in three weeks that we've seen him deploy it.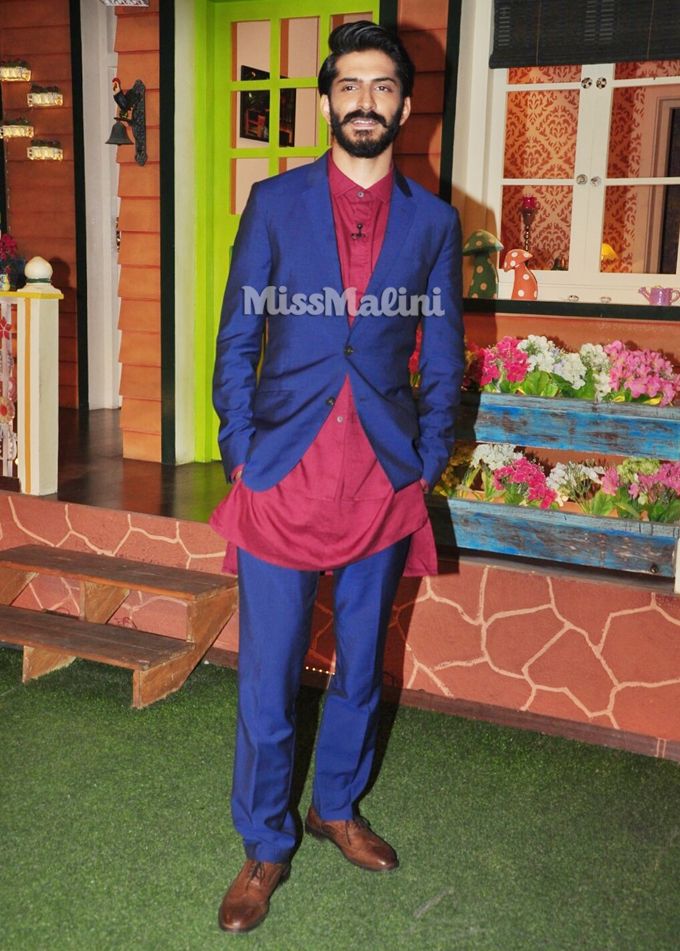 Also, I loved the colour combination here: it never occurred to me that burgundy and navy could contrast this happily! Cheers for the idea, Rhea Kapoor 🙂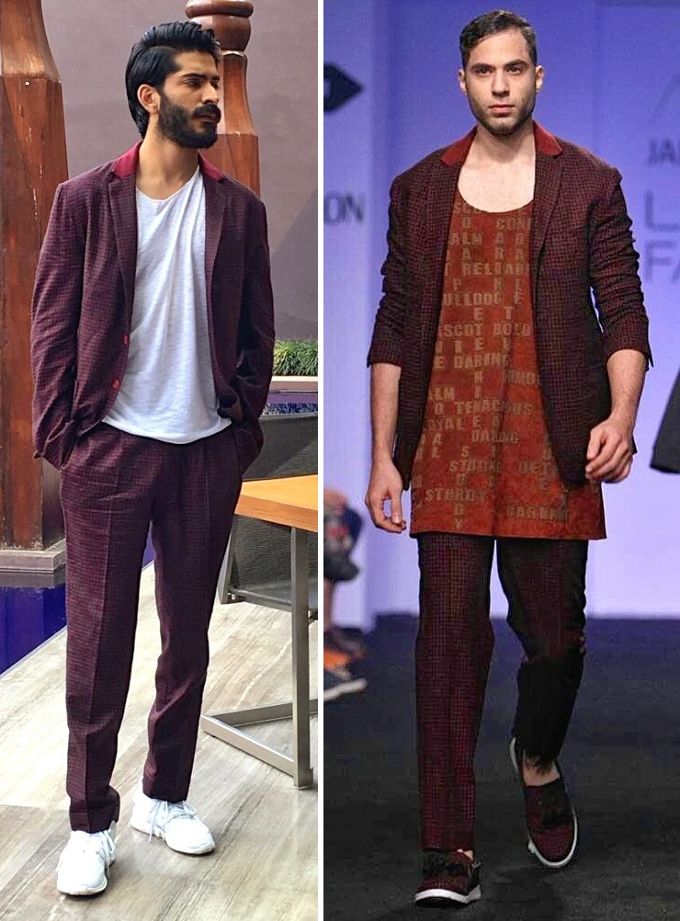 Then, he wore a maroon suit with faint black stripes from Manish Bansal's Winter-Festive '15/16 collection during one of the stops on the Mirzya promotion train to Delhi. I told you, tailoring is anything but rigorous when it comes to Harsh. The relaxed cut of the suit meant that the number needed equally breezy companions and Abhilsha Devnani, Harsh's stylist, obliged. She picked a white tee and a pair of white trainers from Adidas Originals to go with the hip number. It's criminal to look so laidback yet smart, Harsh!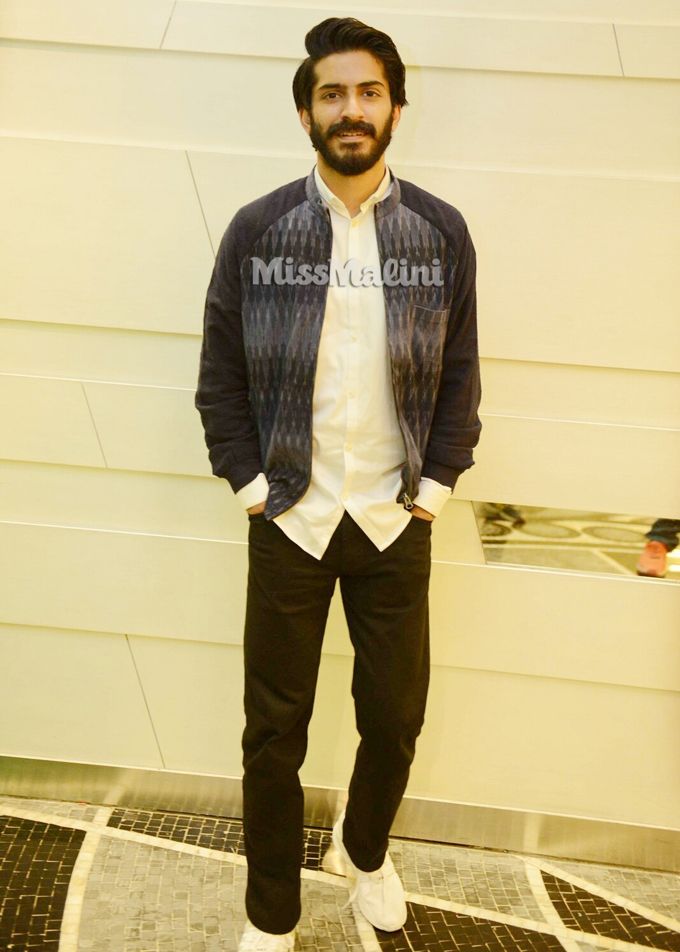 It's not all tailoring that comprised Harsh's Mirzya promotion wardrobe; he wore routine stuff like bomber jackets and jeans as well.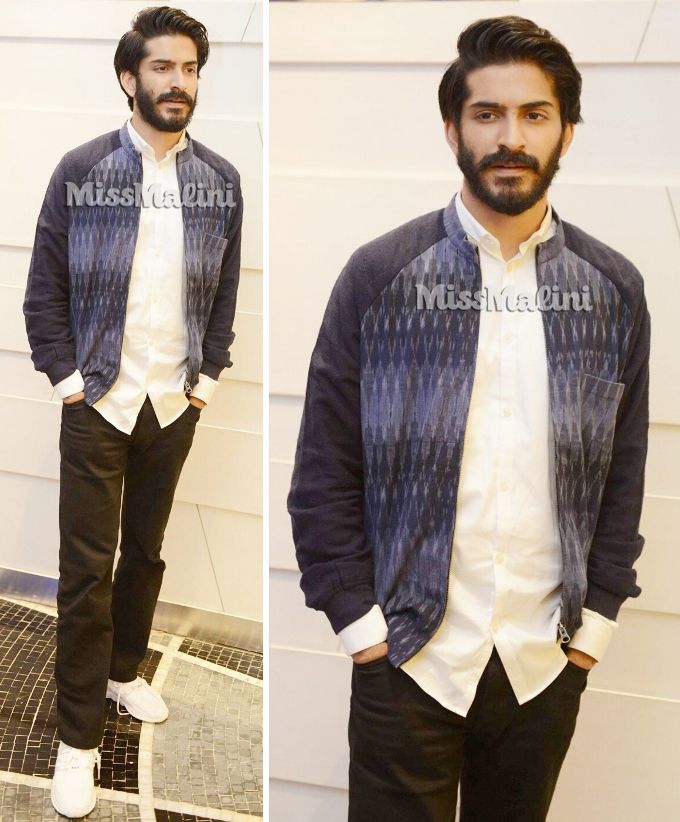 I particularly liked the ensemble of Suket Dhir bomber, Jack & Jones shirt, Armani Jeans black denims and Adidas trainers. That Suket Dhir number is a thing of absolute beaut and thank heavens, Abhilasha let it be the focal point of the look. It's a nice, breezy look — what's not to love, right?
P.S – Mirzya releases today, so do catch it in a theatre near you. All the best, Harsh and Saiyami Kher!