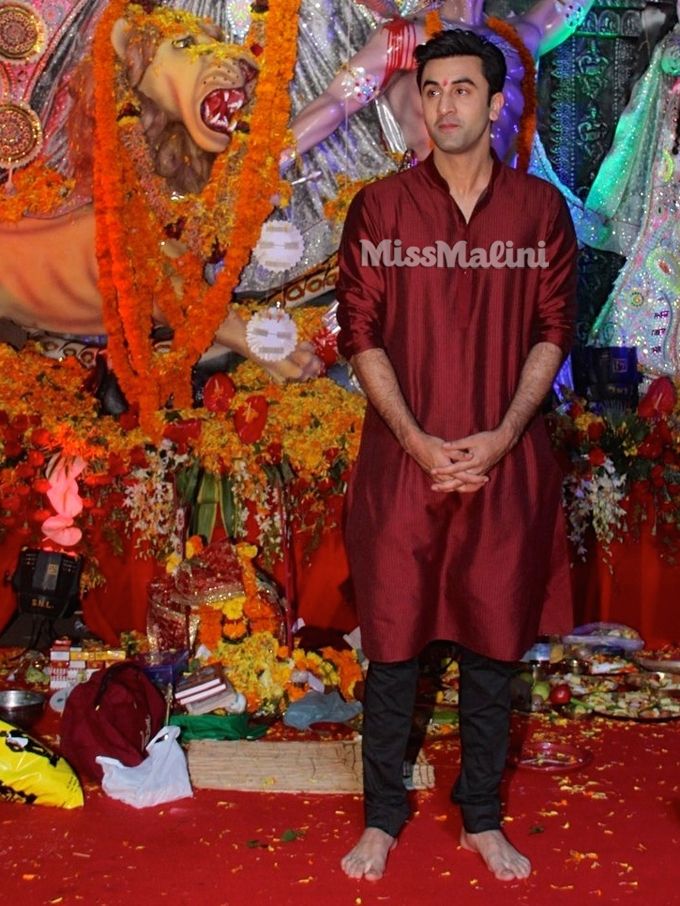 Ranbir Kapoor attended the North Bombay Sarbojanin Durga Puja Samiti 2016 a few days back suitably dressed in a maroon silk kurta and black churidaars from Raghavendra Rathore. I'm a sucker for desi menswear but that outfit had me at the lush colour!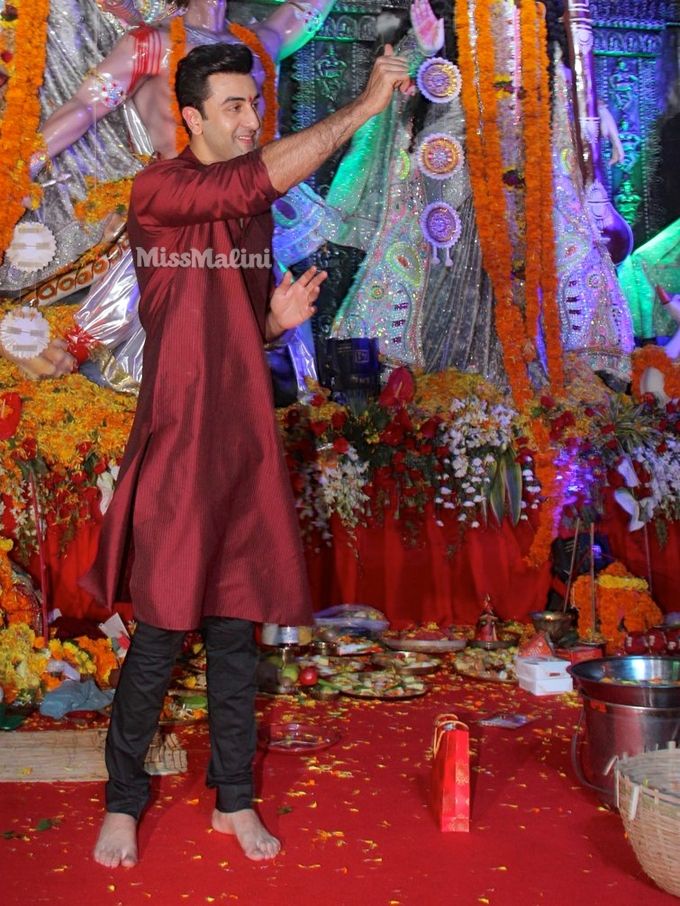 But there's another thing I want to bring your attention towards: the fit of his churidaars. It's perfect! And this is possibly the first time I've seen a Bollywood hombre sport churidaars that are not sagging and for that props must be given to his stylist, Vainglorious.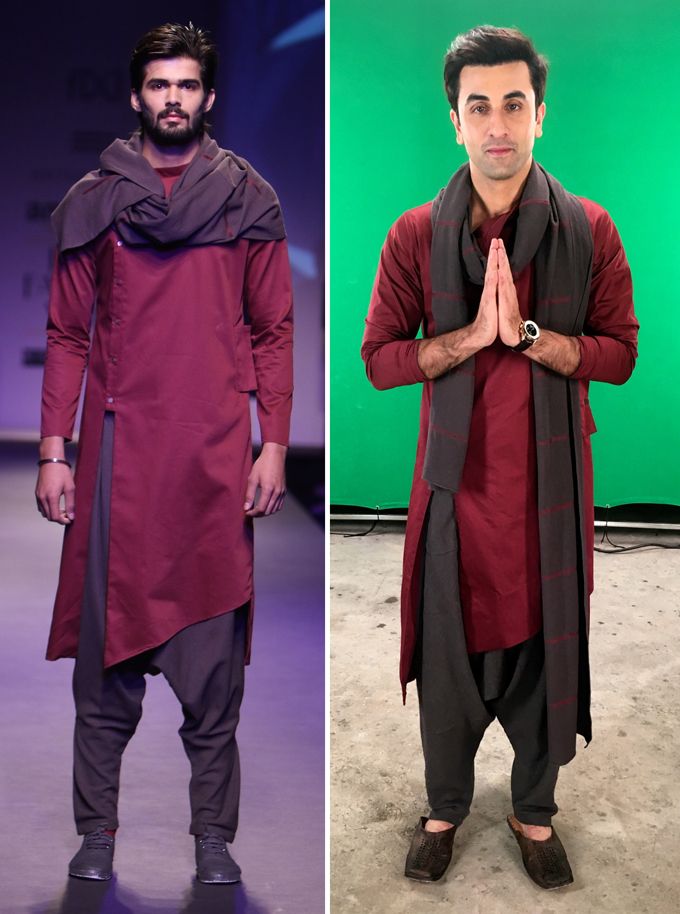 He must really like maroon for desi wear 'cos he sported it earlier in the Ae Dil Hai Mushkil promotion trail: a claret deconstructed salwar suit from Antar-Agni's Autumn/Winter'16 collection. Ranbir looked just so dashing in it — hubba-hubba!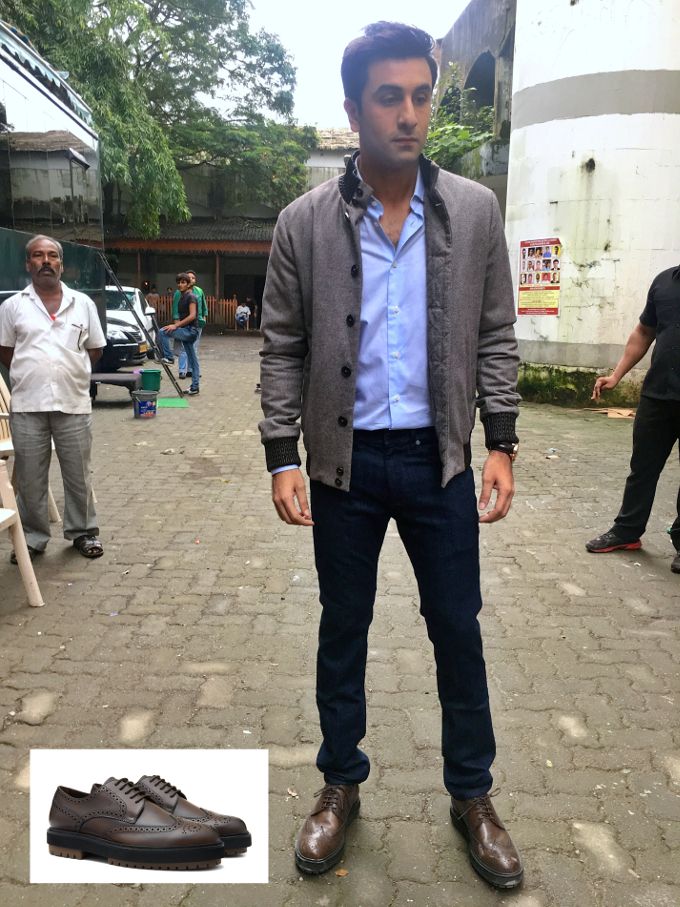 Corneliani jacket, Ermenegildo Zegna shirt, Neil Barrett jeans and Tod's leather wingtip brogues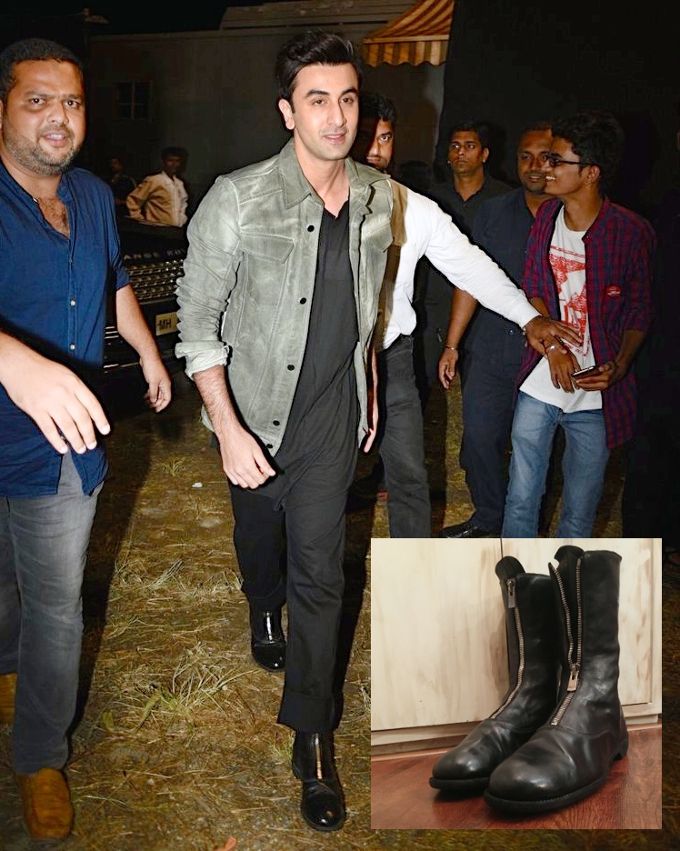 Andrea Ya'aqov jacket, Lost & Found Ria Dunn T-shirt, Rajesh Pratap Singh trousers and Guidi front-zip shin-length boots at the Close-Up First Move Party 2016
Burberry jacket, Neil Barrett T-shirt and jeans, and OFF-WHITE c/o VIRGIL ABLOH™ sneakers on the sets of Dance+ season 2 grand finale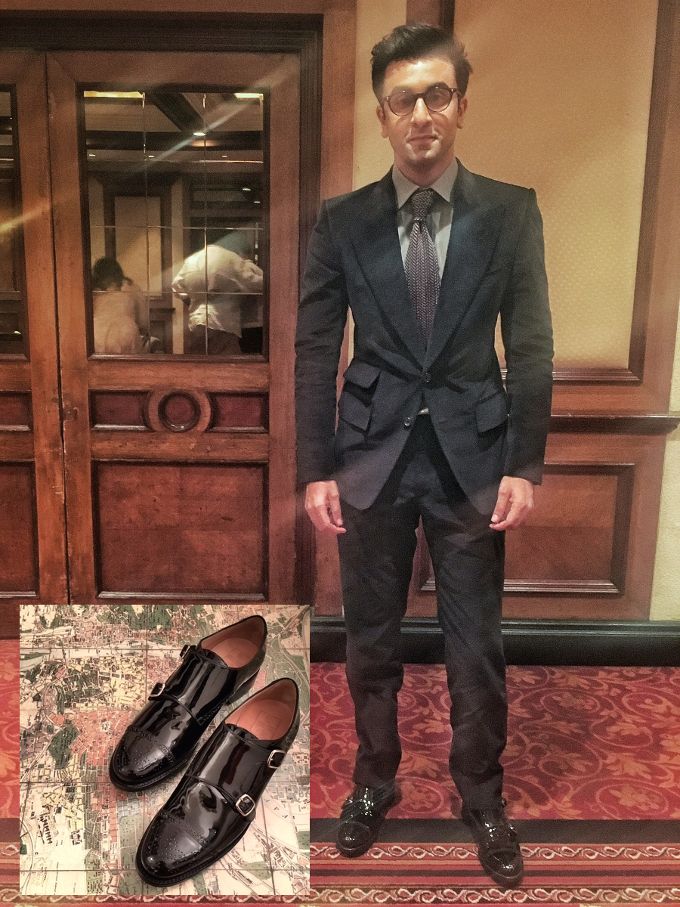 Ranbir Kapoor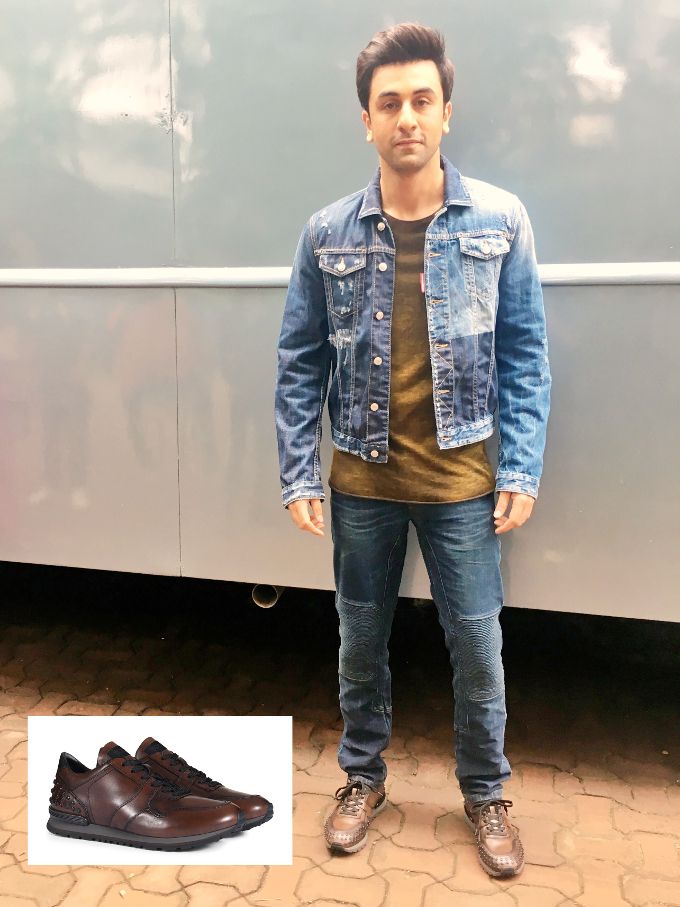 Dsquared2 jacket, Avant Toi knitwear, Belstaff Spring/Summer'17 biker jeans and Tod's studded leather sneakers on the sets of Super Dancer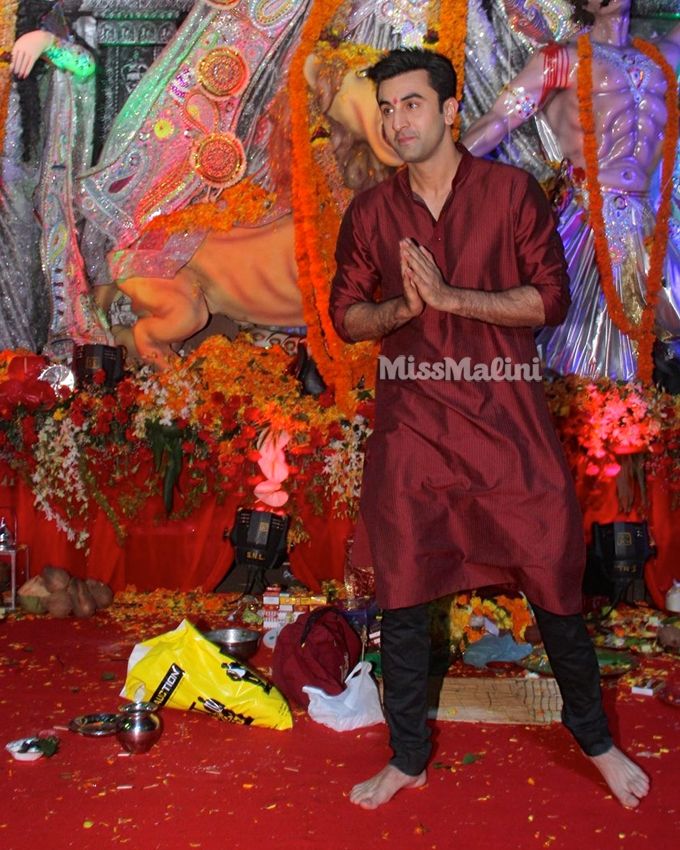 Raghavendra Rathore at the North Bombay Sarbojanin Durga Puja Samiti 2016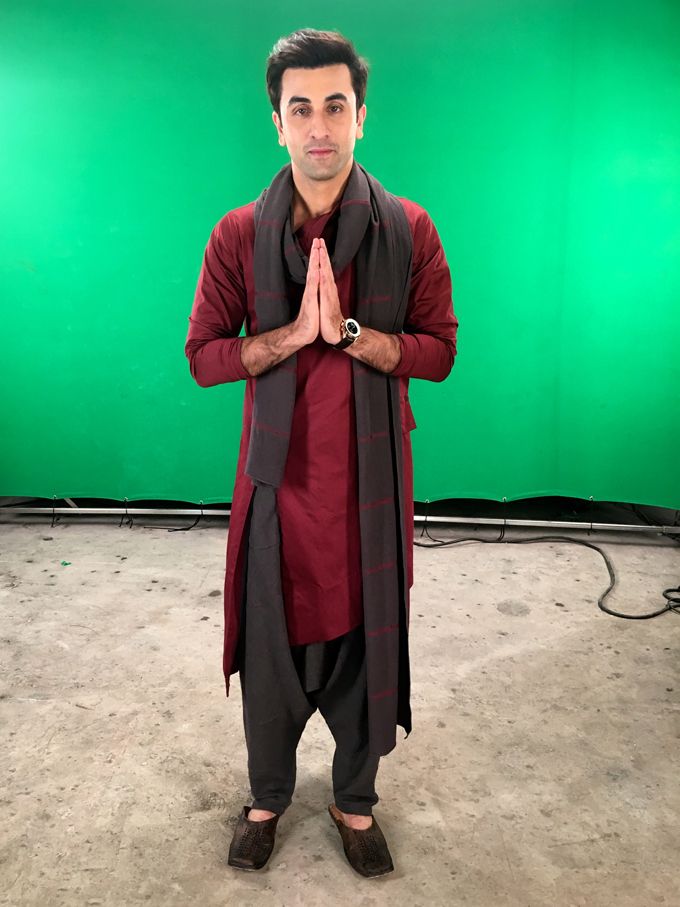 Antar-Agni Autumn/Winter'16
Speaking of Ae Dil Hain Mushkil promotions, it looks like Ranbir is on a mission to prove that he really is the 'male Sonam Kapoor', 'cos like her, he too has been sporting brands that are either high-end or for those in-the-know — and is looking rather rakish while at it. So far, he was seen in high-end designer brands such as Tom Ford, Burberry, Tod's, Corneliani, Ermenegildo Zegna, Neil Barrett, Belstaff and Dsquared2, which he mixed up with niche or streetwear-inspired brands like Andrea Ya'aqov, Guidi, Avant Toi, Lost & Found Ria Dunn, O'Keeffe and OFF-WHITE c/o VIRGIL ABLOH™.
But it was the sighting of OFF-WHITE c/o VIRGIL ABLOH™ during the Dance+ finale that got my attention. For the uninitiated, OFF-WHITE c/o VIRGIL ABLOH™ is THE buzzy brand of the moment, seen on the likes on Rihanna, Kanye West, Gigi Hadid, Justin Bieber, Joe Jonas and the other cool cats du jour. It is designed by Virgil Abloh, Kanye West's long-time creative consultant, who blends an edgy streetwear aesthetic with luxury-level construction and positioning. Ranbir sported the black 'Diagonals' lo-tops from the brand's Spring/Summer'16 collection, pairing it with skinny-ish black jeans and white 'Lightning Bolt' t-shirt from Neil Barrett, and dark taupe satin bomber from Burberry. Mighty impressive stuff!
So, which one of Ranbir's looks so far from the Ae Dil Hail Mushkil press junket is your fave? Mine — in case you haven't figured yet! — was the one to the Dance+ finale. It was imbued with youthful attitude, it was contemporary — and he looked confident and comfortable in it, which is the definition of effortless.
PS- Speaking of his stylists, did you know that one half of the stylish duo was featured on The Sartorialist? It's THE Sartoriaist I'm talking about, in case that hasn't sunk in.
Pix: Viral Bhayani for MissMalini and Vainglorious