If you've been watching this space you'll know just how eagerly we're waiting for the cool part of December (the weekend of 17th and 18th to be exact) to come around so we can spend a high energy weekend at Aamby Valley, Lonavala. The folks behind the much awaited Enchanted Valley Carnival have come at us with another super dealio!
This track's blowing up on the radio and the clubs ATM and if you've bought your festival ticket thinking this hit maker's first ever concert in India was gonna be the highlight of your EVC experience then you're in for a sweet treat.
Here's your chance to meet one of the festival headlines – the man behind the massive ear-worm "Faded" – Alan Walker!
Lean in and listen close folks…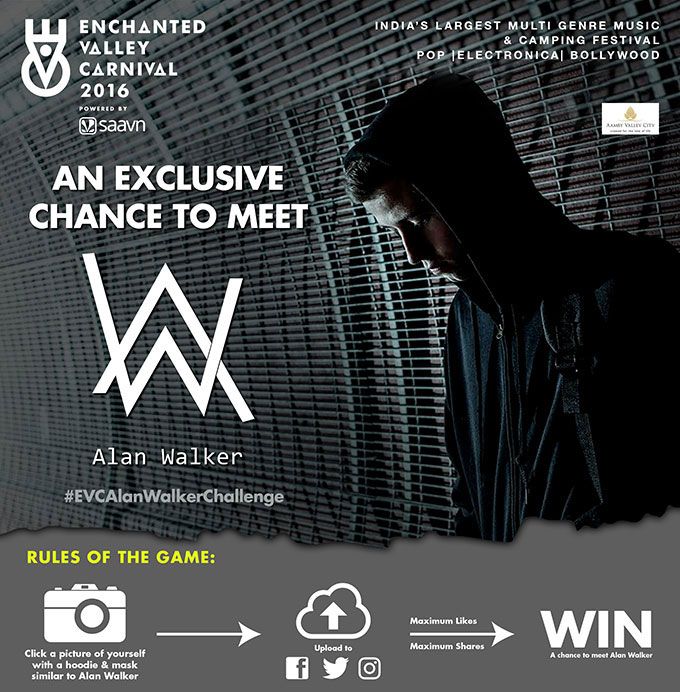 All you have to do is post a picture of yourself in the patent Alan Walker black hoodie and mask, posing just like the mysterious producer, onto Facebook, Twitter or Instagram with the hashtag #EVCAlanWalkerChallenge. Then send that link to all your friends and family to like and send to their friends and families to like cos TWO lucky fans with the highest likes and shares could win a chance to meet the producer himself at EVC 2016. We've got the inside scoop that there's some other cool beanz to be won (like exclusive signed merchandise and a backstage tour… yum!) so we highly recommend you give it a shot at least. But remember to do so before November 28th.
Click here to get your tickets to #JoinTheTribe and here for more contest details.
Good luck! And let us know if we'll be seeing you at #evc2016 by commenting below.