When I think of expressions of style and good taste there's nothing but Blenders Pride Fashion Tour that comes to my mind. The #BPFT 2016 already showcased in Delhi recently and over the weekend it was time for Mumbai to taste life in style! That's what got me and my fashion team excited for the night. Manish Arora showcased his never-seen-before collection filled with pops of colour and masterful craftsmanship. Check out 8 things that made the night one hell of an event!
1. Opening The Fashion Show On A Musical Note
Raghu Dixit and MIDIval Punditz opened the show with their foot tapping music, which almost made me think that I am attending a live concert!
2. Gorgeous Circus Of Bridal Wear
When traditional bridal wear breaks the stereotype of red – it gives us Manish Arora's bridal collection filled with intricate work and bags full of bright hues. Manish Arora said "The collection – 'Indian' resonates the spirit of the contemporary Indian woman. It is a dynamic kaleidoscope of artistries from across the world. The aim was to create a harmonious style narrative that reiterates the fact that 'life is beautiful' and Blenders Pride Fashion Tour, with its core theme as multiple reflections of style is the perfect association to showcase my collection."
3. Lavish Head Gears Spotted On The Ramp
From floral head gears to metallic decorations, they only made the entire affair more opulent. Plus, I'm pretty sure they'll make one hella' fierce bride with these head gears!
4. Big Hair Don't Care Moment
The runway made me crave for more volume in my hair as they totally nailed the #BigHairDontCare trend.
5. Kangana Ranaut's Fierce Walk
And then came the moment of Queen Bee closing the glamorous night with her edgy outfit and stunning walk. The energy of everyone there went up a notch or two higher and the blame for that goes to Kangana!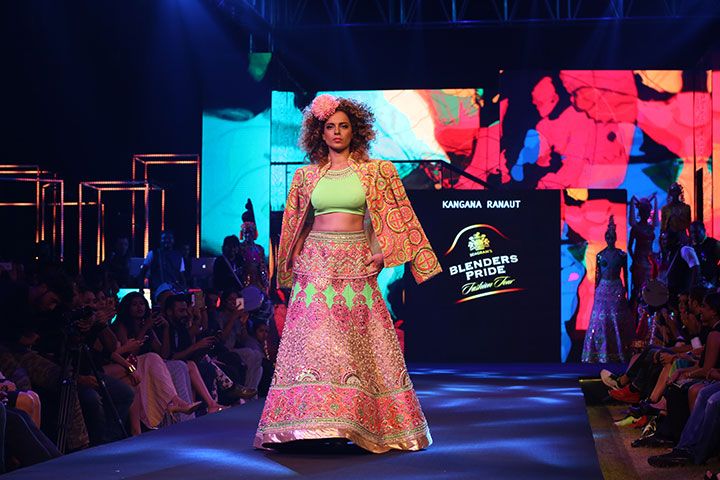 6. Manish Arora's Show Stopping Hug
A designer's proudest moment is when he sees his designs come to life with the perfect show stopper. That moment was captured beautifully as Manish hugged Kangana for being an absolute stunner in his designs. *Tears of joy*
7. The Final Line Up Of Colours
The colour riot reached it's peak with a breathtaking line-up of all the pretty outfits and head gears sported by the models. So much extravagance and colour on one stage made it a momentous affair.
That's how amazing the night was folks! If you missed the fiesta then make sure you catch up their next show featuring Masaba and
Falguni & Shane Peacock at The Leela Palace, Bengaluru.  
This post is in partnership with Blenders Pride.*