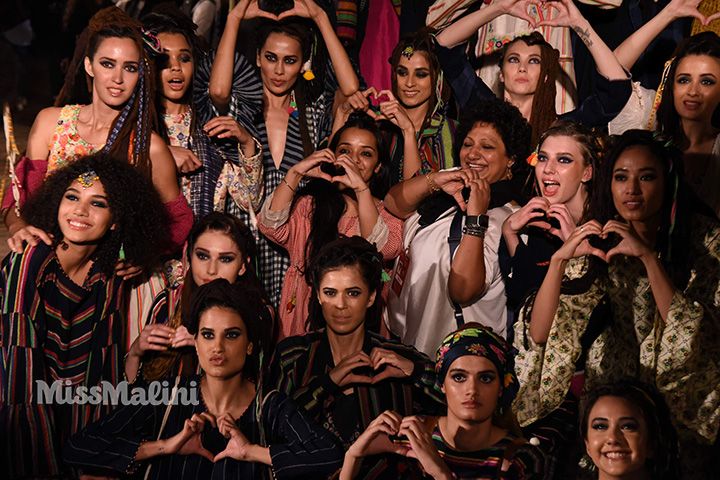 And it's not about the fashion shows. Don't get me wrong though. Still reeling from what we saw on the runway (from start to finish!), but the fun actually continues off the ramp as well.
How so? People watching of course.
With a venue filled with fashion lovers (much like us), everyone is just so sharply dressed. And usually turn out to have such interesting stories to share. So here are some of the city's creative minds whom we got to know a little bit better this time at fashion week.
Surabhi Chauhan
Founder of lovestruckcow, her take on fashion is fresh, fun and honest. She notices the details we often miss. Gotta love it.
Also love her for her love for saris.
And dogs.
Tanya Maheshwari
A design student, she's already collaborating with interesting homegrown brands like BIAS.
Akanksha Sharma
A designer at IKEA, her top knots and outfits are just always on point. Vogue agrees.
Pranav Sawhney
When it comes to food, fashion and footwear, he's your go-to guy. Also the Co-Founder of Dameriino.
PS: Their shoes even took to the runway this season for the Dhruv Vaish showcase at #AIFWAW17.
Shyma Shetty
Co-Founder of HUEMN, this fierce designer is also a serial doodler, pro-Beyonce and always up to something interesting.
Harsh Nambiar
This gifted Delhi-based artist is about to have his first viewing. Stay tuned.
Prakash Ranjan
Founder of Tribeaisle, from sustainable energy to sense of style, really like what Prakash has to say. Featured in the recent #HuemnStories, here's a bit more about him.
Ibrahim Rayintakath
A gifted graphic designer and illustrator, he was part of the creative team that came together to create the stunning Pero travel diaries this season at #AIFWAW17.
Slay.
Following them already? Same.