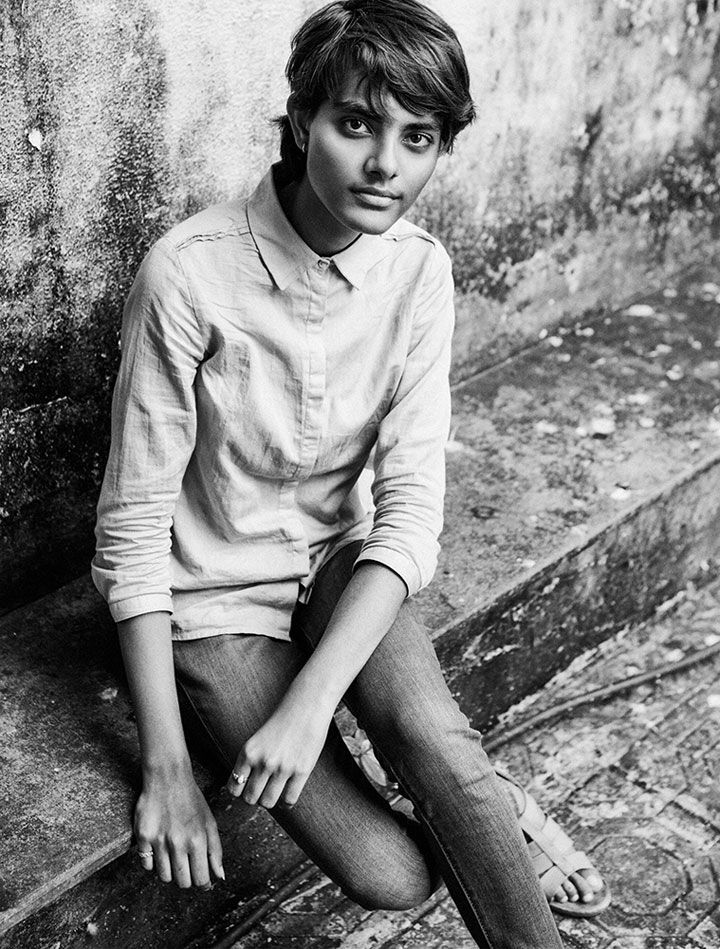 Komal Gajjar is the next big thing to hit the fashion industry and we could not be more thrilled for her! This small town girl from Ahmedabad was discovered by IMG Models Worldwide—The same model management company that represents the industry's biggest models such as Gigi Hadid, Bella Hadid, and Karlie Kloss, to name a few. And you'll never believe how they discovered her—Via social media! Talk about a Cinderella story…With Komal's bold brows, tomboy pixie-cut, even-toned complexion, and androgynous aesthetic, it's no surprise IMG knew they struck gold when they laid eyes on her bare-faced selfies. We got to know this beauty and found out she's as lovely on the inside as she is on the outside.
Have you always wanted to be a model?
No, I never wanted to be a model after seeing my friend trying to be one and not getting a good response. But few of my friends told me that I look like a model and I should try for this field. So, I was very thrilled to get a response from IMG and thought to myself that let's give this a try!
How did you get signed by IMG? Did you audition or did someone discover you?
I was discovered by IMG model management via social media. I was overwhelmed and wondered if this is really true? When one of the top notch modelling agency representative tells you that you are cool enough to be a part of their agency, it's definitely an amazing news! Especially, for a girl like me who's been so tom boyish.
How does it make you feel to know you were picked up by the same agency that signed Gigi Hadid, Karlie Kloss, and Gisele?
Obviously, I feel very proud. I am thankful to all the people who helped me to be a part of this prestigious agency and to be surrounded by such lovely people. My stay in London was one of the most awesome experiences of my life. All the things that I wanted to do like visiting Tower Bridge in windy weather, walking on Oxford Street and travelling in tube…. everything was new for me. I even got to meet some really nice people during my castings.
What was the most exciting shoot you've ever done?
So far, I have done just one shoot for i-D and it was pretty cool! The shoot was all about colourful clothes and coloured faces.
What is your dream modeling job? For what designer or magazine?
For runway it would be Victoria's Secret and for magazine I want to be on the cover of Elle, Vogue (the list goes on…)
Do you have to diet or workout to stay fit?
I eat homemade food only. That just might be my diet secret.
What is the most difficult part about being a model?
To fit in any kind of clothes might be the hardest thing for me.
What is the best part about being a model?
I got to meet so many creative people and this has really helped me become more confident. The best thing is that you can start a conservation with any random person on any random topic. The most enthralling part is that you get to learn something new every day and I like to learn new things every second.
Do you get to travel a lot? Where have you traveled to?
Modelling means travelling a lot. I never left India before I moved to London and had to live there alone without my parents. The experience was life changing and incredible. I will thank IMG for everything. From my childhood days I wanted to visit all the places I see in newspapers and magazines. Now, I have seen some of the best places from that list!
If you ever quit modeling, what would you like to do instead?
Maybe, I would be an artist or a musician. I would like to be in movies too. Movies are the best storytellers and like every person in the world I like stories. In my school days I wanted to be a film director.
Which model is your inspiration?
Kate moss, Cara Delivigne and Miranda Kerr.
Thanks for sharing your story with us Komal. You've made India very proud and we wish you all the success!
Check out Komal's Instagram @the_komalgajjar to see the photos that caught IMG's attention.