Omergaaah what a birthday week it has been! I started off in Cannes and ended up in Singapore. In fact I flew Mumbai to Nice, drove to Cannes, drove back to Nice, flew to Zurich then flew to Singapore. Took a cruise to Penang and Phuket, cruised back to Singapore and finally flew back from Singapore to Mumbai!!! Phew.
So obviously I have a gazillion things to blog about; starting with my luxurious ride over to Nice courtesy Air France – because #FranceIsInTheAir (now isn't that a clever hashtag? I love clever hashtags. 5 brownie points to you Air France!) To a glorious two days of #LifeAtCannes with Deepika Padukone and L'Oréal Paris. (Blog in progress.)
But this blog is dedicated to the child in me.
While we were parked at the luxurious St Regis Singapore…
(How about that tub!)
And I was just casually chilling in this bathrobe (ok, lets be honest, mostly trying to do a sexy leg mirror selfie – as you do!)
The good people over at Universal Studios Singapore in Resorts World Sentosa invited us over for a play date!!!
Now remember boys and girls; when your playdate involves a theme park with roller coaster rides and a giant revolving globe, you put your kicks on and hop to it!
I also had the mega bonus of going with a bunch of my besties which made it feel like a pretty awesome school trip, right out of the 5th grade (and I assure you we 100% behaved the part – just ask our troop leader Ami!)
So I thought it would be fun to tell you what each of my friends loved best about our little field trip! Here we go…
1. The Iconic Globe!
Kruppa: You're off to great places, today is your day, your mountain is waiting, so get on your way. – Dr. Seuss quote.
Ami: "We are all Universally connected now… forever!"
Pun-master Chetan: The Atlas who didn't shrug…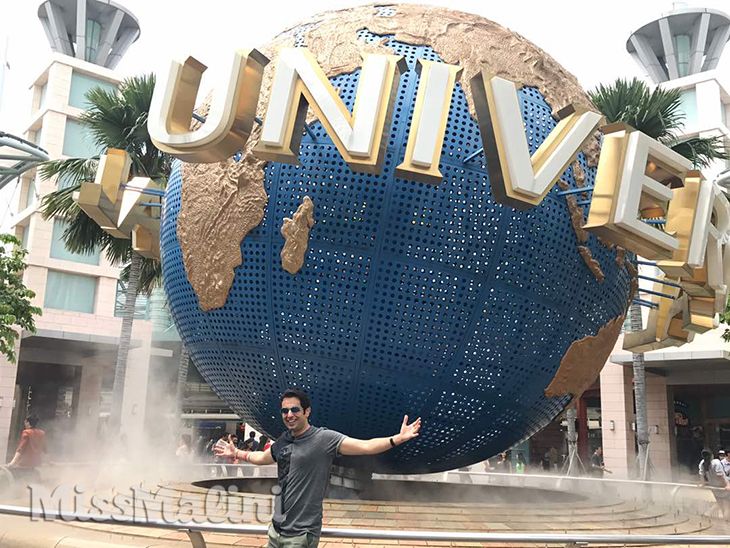 I mean what is more iconic than the Universal Studios logo in 3D! (You won't believe the boomerangs we tried and failed at in front of this thing in the rain. LOL.)
2. The Cop Stop.
The King of Clubs: Police Academy try outs!
(This cop car was a clear favourite photo opp btw!)
Huzaifa: Playing bad cop, good cop!
Chetan Kapoor: Retrosexuals say: standing next to a cop car is so much better than being in one.
3. The Tree!
Nowshad: Because who doesn't love an entire theme park zone dedicated to Madagascar!
4. Shrek in 4D!
Arshiya: A trip to A Land Far Far Away…
5. Love In Egypt…
MissMalini: Look its Cleopatra!
King of Clubs: Chetan go ask her for her number.
Chetan: Hey Cleo watchya doing later?
Cleopatra: …
6. The Frog Prince.
Ami: Because I believe in fairytales!
Meanwhile at Cannes look who was channeling Disney Princess vibes herself!
7. Trans-portation!
Hands down (or rather up in the air screaming our heads off) the Transformers ride was the best thing ever.
Nowshad: It's what every 4D movie should be!
8. Coaster Battles.
Nowshad: Coaster junkies shouldn't miss Battlestar Galactica, on the duelling rollercoasters! Pick Cylon (blue) if you're a thrill-seeker or hit up Human (red) if you're slightly more faint of heart, but still want a coaster experience.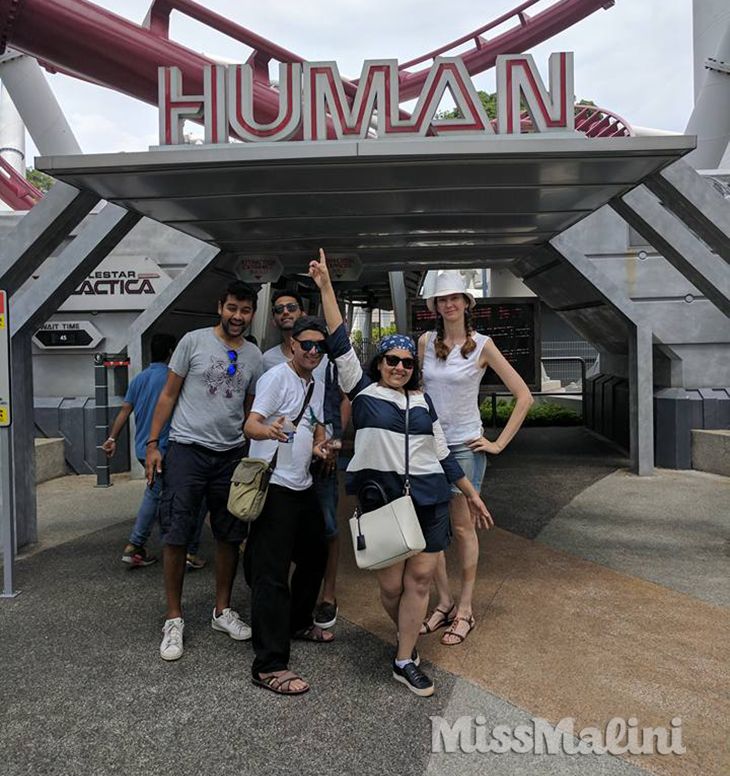 9. Those Yellow Fellows.
Who doesn't love Minions! In fact there's a whole Minion Mart. Nuff' said!
10. The Cruisers!
Because I mean what a sign! Considering we were 24 hours away from boarding my mammoth birthday cruise!
And there you have it, my first ever visit to Universal Studios and and memories for a lifetime, thank you Elmo, we'll be back in a flash! xoxo 🙂