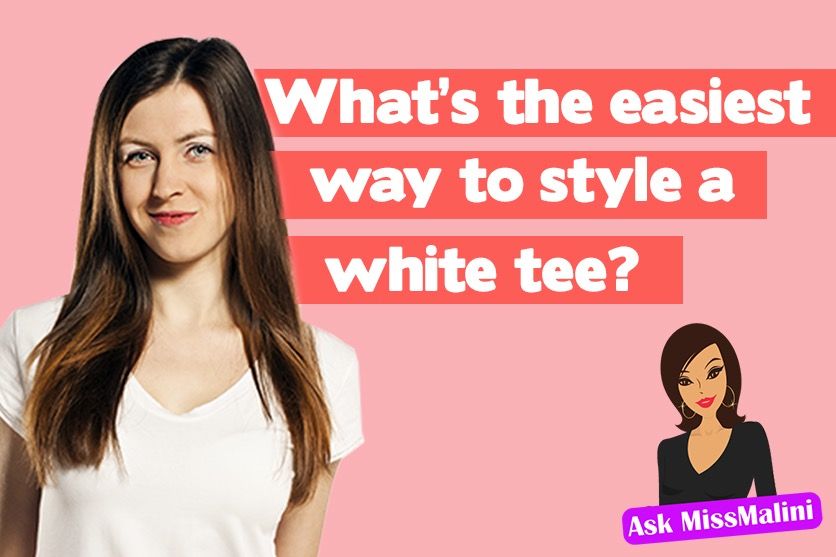 What's the easiest way to style a white t-shirt?
– Tanya, 21, Pune.
A white tee is probably the most versatile piece of clothing in your wardrobe. And if you know the degree of styles you can experiment it with, then it also makes it to the list of being the absolute wardrobe essential. So how do we style this essential effortlessly?
In my opinion, a pair of boyfriends jeans with a statement belt is the most easy way to style your white t-shirt. I consider the boyfriend jeans as the most versatile denims of all times, as it complements every body shape. So by bringing together two versatile pieces, you're bound to look effortlessly stylish!
Apart from the above look, I have hunted down some more styling inspiration for you. See what works best for you, Tanya.
1. Tuck it under your formal pants and fold your pants to give it a casual look. Finish the look off with a bright pair of pumps!
2. You can also style it with a pair of excessively frayed shorts. See-through glasses and a top knot will add all the cool vibes to your look.
3. Or pair it with a button down skirt and accessorise it with a statement necklace & a bag.
4. A white t-shirt is such a simple piece that you can try an OTT item (like this fur coat) from your wardrobe and it will go with it flawlessly!
5. You can also knot your tee to make your look street-stylish in a jiffy!
6. Layering your t-shirt with a trench coat is another way to get your OOTD chic!
I hope you've got enough inspiration on styling your white t-shirt! Go forth and have fun with it.
If you have a fashion or a beauty question? Send it to us at askmissmalini@missmalini.com and our experts will tell you everything you need to know!