The world's largest comic book and pop culture festival, Comic-Con took place at home-base, San Diego (USA), this past weekend. It's basically a four day convention showcasing primarily comic books and science fiction/fantasy related film, television, and similar popular arts. Known as the THE safe place where geeks (like, let's face it, all of us) let their freak flag fly high, this event is especially famous for the amazing cos-play on display. Seeing as how every 2nd blockbuster Hollywood film and TV show takes inspiration from a comic book or graphic novel, this event is now a major pit-stop on the promo tour for most of our top TV and film stars. Which means, there's bound to be some fun summer fashion on display.
So here are our top five (read: wearable) summer looks from the weekend:
Krysten Ritter in Prabal Gurung
We love the monochrome, playful sheer and solid work on this outfit. Plus the Jessica Jones actress makes it look bad-a$$ AF!
Nina Dobrev in Emanuel Ungaro
Nina's outfit, styled by celebrity stylist, Ilaria Urbinati is one of the cutest things we've seen this action and Entourage star in. Pristine white looks nice!
Nathalie Emanuel in Etro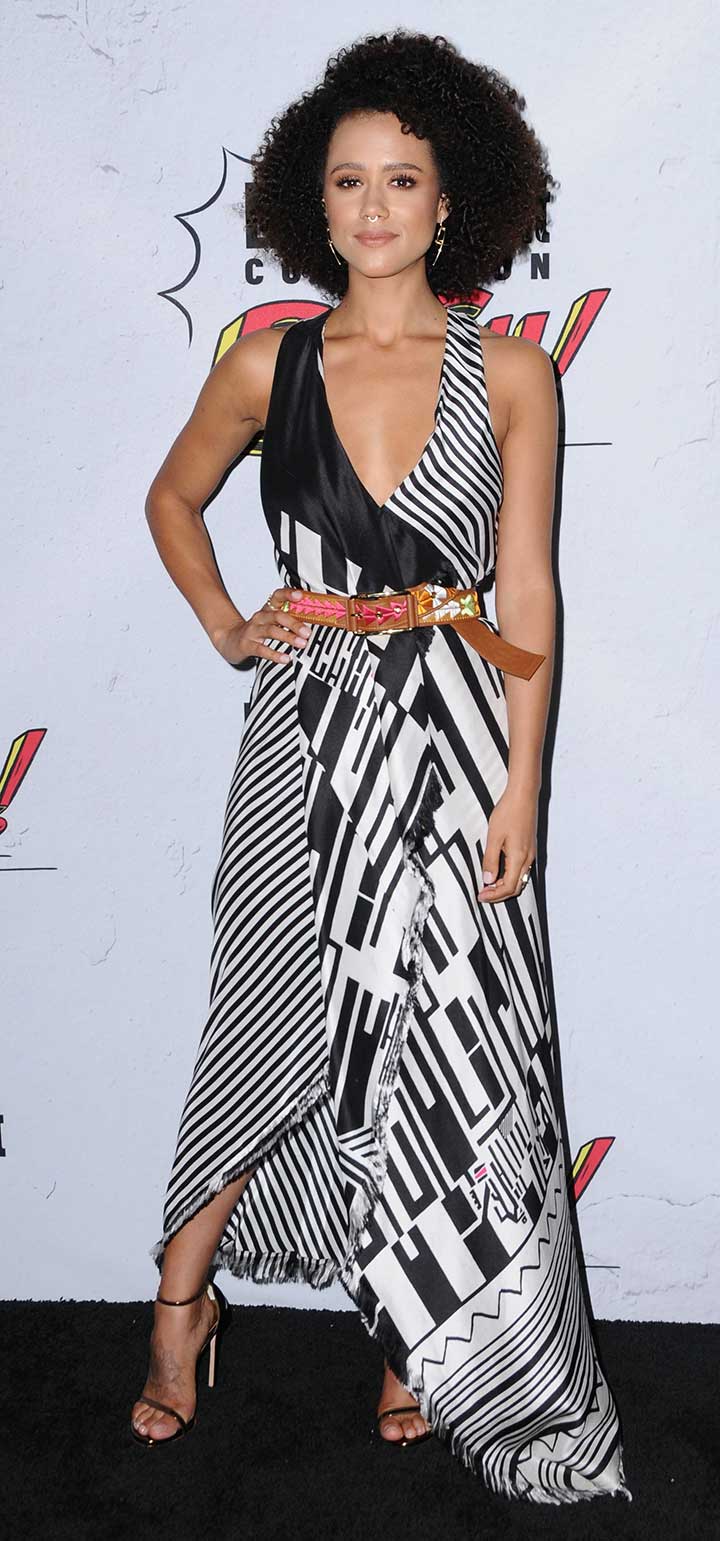 Missandei wears this black and silver evening dress, cut on the bias, with so much class, we lurve!
Dania Ramirez in Polite
The cool thing about this summer dress is that it's actually a two piece. Also that it mixes two big fashion trends – polka dots and camouflage – in the best way possible.
Halle Berry in Thomas Wylde
Halle Berry is basically ageless and this silky, short wrap dress hangs off her unbelievable figure oh so perfectly!
There's some great tips on summer dressing to take away from these ladies, don't you think? Tell us in your comments below and don't forget to follow @missmalinifashion for your quick fashion instagram fix!