All The Reasons We Can't Wait To Rave At Road To ULTRA India
Meg DSouza , 05 Sep 2017
If you're a EDM raver or festival junkie, then there's every chance you've heard of ULTRA Music Festival, which is undoubtedly, one of the new world's biggest music festivals. And if you're either, or both, of the above mentioned peeps then there's every chance you've already scored your tickets to Road To ULTRA India Tour which is all set to take place in New Delhi & Mumbai this coming week!
Of course, Team MissMalini will be hitting up the festival and needless to say, we are all hella excited! Want to know why? Read on:
The festival headliners are The Chainsmokers!
ooooohmagahhhh! The EDM duo has had a massive, almost mind-bending journey to the top of the charts ever since they released their debut hit, "Selfie" in 2014. Now armed with recognisable tunes like "Closer", "Don't Let Me Down" and "Paris", just to name a few, this Grammy winning outfit is going to make us shout, jump, scream and groove through the night. We're 100% sure of this!
2. The other artists on the line-up are rad too!
Exit
The rest of the festival line-up includes DJs, producers and electronic music acts, all of whom are fully on course to be the next big thing in the world of EDM. Artists like Sam Feldt, Lost Kings, DJ Mykris, Raiden, Rezz, Slushii and Getter are on our radar. Scroll through the gallery above to get familiar with them and if you haven't heard of them click on their names to check 'em out.
3. The infamous production and pyrotechnics.
Road to ULTRA events, the world over, showcase cutting-edge stage production. ULTRA has been perfecting the art of the festival experience for a good decade now, so, of course, we're expecting to get a taste of the Miami vibe. We're going to be treated to jaw-dropping and world-class visuals, lighting, kryogenics, pyrotechnics and stage designs that we've only ever seen plastered all over our social media feeds.
4. All the festival fashion.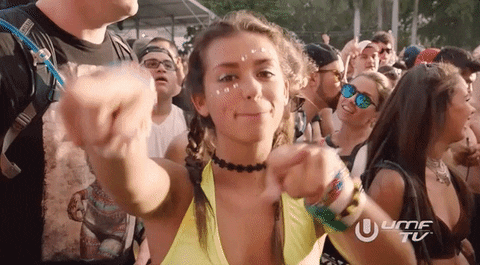 In our minds, while music and the crowd are the main highlights of any festival experience, deciding what to wear for the big day is THE only way to cope with the anticipation. Bindi's, accessories, and ergonomic (read: comfy) shoes and eyeshadows in bright rainbow colours or metallics are our go-to trends. Click here, here and here for some fashion and beauty inspo for the girls and if you're a boy, we've got a look-book for you here.
5. Celebrity spotting.
Speaking of fashion, we know there's going to be a tonne of it, on display, courtesy our favourite Bollywood celebrities. After all, there's every reason for them to want to party up with their squad at this gig too right? Pssst- We're hearing whispers that Farhan Akhtar and Shah Rukh Khan will be bringing their families to the show in Mumbai. Our very own #BossLady, MissMalini will mosdefs be backstage, side stage and in the audience too, so be assured that here's where you can find all the gossip and celeb spotting from the concert red carpet…Watch this space!
Road To ULTRA India featuring The Chainsmokers will be premiering the globally celebrated brand on 7th of September 2017 at Mahalaxmi Race Course, Mumbai followed by 8th of September 2017 at the India Exposition Mart, Greater Noida. Right about now is a good time to click here if you want to rave with us at this mega-event! Follow @missmalinilifestyle, @missmalinifashion and @missmalinibollywood to get real time updates and BTS shenanigans!