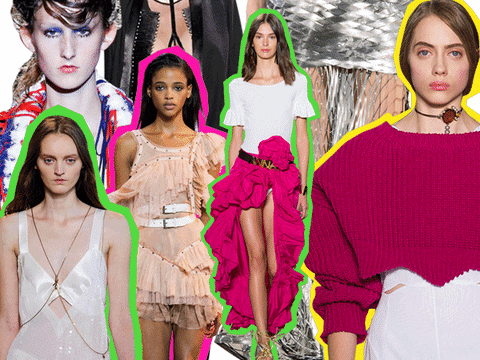 We can't believe that this year has already come to an end. This fast-paced year showed us many trends in beauty and fashion that are etched in our memory. So going for the ultimate fashion and beauty recap, here are all the trends that made us do a doubletake and probably a backflip! From the wackiest to the coolest—here's the top 10 on our list that deserve your attention.
Gucci had a major year with its iconic t-shirt being flaunted by everyone from celebs to fashion bloggers around the globe. The sheer versatility of this number made it trend on our timeline and the rage is not dying anytime soon. (I have got this in three colours, myself—Talk about getting with the trend!)
This year, whenever we opened our Instagram feeds it seemed like a new brow trend popped up. While some brows were notoriously pleasing like the braid brows and Instagram brows, some were downright astonishing like the curvy brows, Mc Donald's brows, dragon brows, box brows (and the list goes on). Hope 2018 gives the brows a little rest.
While the good old shirtdress has been in trend since years now, in 2017 we saw it getting a massive upgrade. New elements such as off-shoulder and zero silhouette added more glam to the classic shirt dress. We saw celebrity stylist Tanya Ghavri sport a Deme shirtdress and that was the last straw for making us fall in love with this trend.
The glitter did not stick to just clothing and eyeshadows this year but instead overflowed onto glitter brows, glitter armpits, glitter vagina, glitter boobs and every other imaginable part of your body. Clearly, everyone wanted to be a shining star in 2017 but the real question is—How far would you go to shine?
Sock boots have been one adorable/comfy trend that combined the classic heel with a smooth underlayer of socks. The versatility and stylish look of such boots stirred a major fashion frenzy, especially around the fashion blogging community. We approve this trend 100%.
6. Rainbow lashes
Black mascara-d lashes are so 2ooo and late! This year lashes got revamped with a pop of colour! From rainbow lashes to mermaid lashes, it was all about talking with your eyes. We loved how this allowed a whole new product range in the beauty sector. But all said and done we will miss our classic black mascara, won't we?
While #FreeTheNipples movement started in 2012, the heat continued in 2017 due to the tops made to accommodate the protest. We saw tops and t-shirts with underwire that needed no bra and our closet saw a new future all-together. While we were skeptical on how we would actually wear this blessing in disguise, we hope 2018 will give us the courage to flaunt it.
While we were obsessed with oversized sunglasses that we didn't realise when the miniature shades came to the scene and stole the show. Since Gigi Hadid has been at it with this quirky accessory, we feel the mini sunnies are here to stay with us in 2018 as well.
9. Monochrome Makeup
While most beauty trends in 2017 have been OTT, some have pleasantly been subtle and lovable like the gorgeous monochrome makeup. This look entailed having the same shade of colour throughout the face. From eye to lips one beautiful shade would dominate the look and make a statement. We're glad this look made an entry in 2017 because we're sure saving it for 2018.
While transparent/see-through glasses made a bang in 2016, this year shoes opted for the same strategy and hit the pop culture road. From see-through sandals to boots, this shoe has been selling greatly among the major fast fashion labels like H&M, Zara etc. Also, since it's so easy to style it, it's not a surprise why it's been such a heartthrob accessory.
You can love them or hate them but you just can't ignore them. So these are the trends that have made our 2017 memorable. Comment below and tell us the trend you will keep in 2018 and the one you're going to trash.