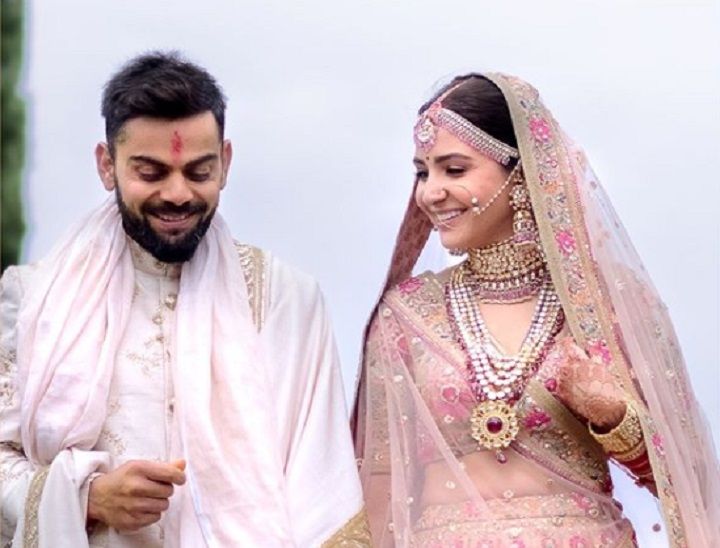 Anushka Sharma & Virat Kohli's wedding itself was enough to send us all in a tizzy and sigh endlessly about how beautiful everything was. Amongst other things that we were gushing about (the venue, for starters), the bride and groom's Sabyasachi designed outfits also created enough hype. Not to forget the inevitable Manyavar jokes!
I am pretty sure every girl who saw Anushka's bridal trousseau and her jewellery was in love with it & secretly wished for it. Her bridal lehenga especially, it was nothing less than a dream come true. Since I was obsessing over every tiny detail of the #Virushka wedding, Anushka's hairdo on her wedding day did not escape my attention.
A thing of beauty is joy forever, so take a look again:
The credit for the stunning masterpiece goes to Gabriel Georgiou, who revealed everything about his bride Anushka's hairstyle to a leading magazine.
Here are a few excepts:
"For her wedding rituals, Anushka wanted a look which was both minimal yet sophisticated. We went easy with her hair when it was open and when it was tied up, we decided to keep it extremely elegant and set so that it lasts for the entire day/night."
"The idea was to make her look like an Indian princess, looking beautiful in pastels right out of a fairytale with a modern twist to it. The way all those pastel flowers were placed made the entire look, all the more ethereal."
"The wedding day look obviously took the longest as everything was supposed to be perfect and even then, we took just about a couple of hours. Anushka has to be the calmest bride that I have ever worked with."
Clearly, Anushka was in expert hands. No wonder she gave us major #BrideGoals! Would you also like to replicate this style for your special day? Tell me in the comments below!