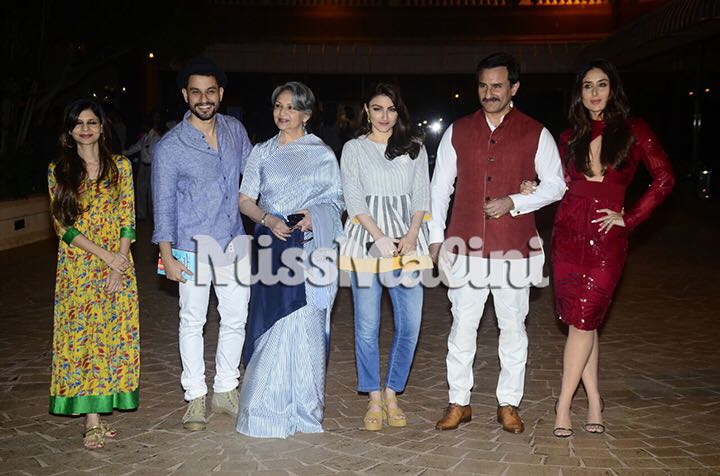 So, Taimur Ali Khan turns one this week and naturally, it's a big moment for his family. What's interesting is that it's not just the family celebrating but all their fans across the country are excited for this munchkin's birthday – he is after all the most famous in the family now (as Soha Ali Khan once said). Haha. The family has headed to Pataudi to enjoy some down time and ring in his birthday and contrary to popular belief, they're not throwing a lavish Bollywood style party, but it'll instead be a very low-key affair.
Karisma Kapoor, who is already in Pataudi posted this adorable photo of Taimur horse-riding with his papa Saif Ali Khan – you have to check it out! Anyway, Sharmila Tagore was asked about the family celebrations and here's what she told Deccan Chronicle.
He's too young to understand, let alone appreciate large gatherings. So it will just be the family this birthday for Taimur. Kareena's parents Babita and Randhir, her sister Karisma will also be there besides Saif, me, Saba and Soha. I think it's important for a child to do what he or she is comfortable with and not what we want for them.
Couldn't agree more. PS – Soha Ali Khan recently became a mother to a little baby girl Inaaya Naumi Kemmu, and Sharmila Tagore feels that with the latest arrival, her family is now complete. She also revealed one more thing,
I don't think Taimur or Inaaya would have a sibling anytime soon. So I am glad they have each other.
Can you imagine these two cuties playing together? 🙂