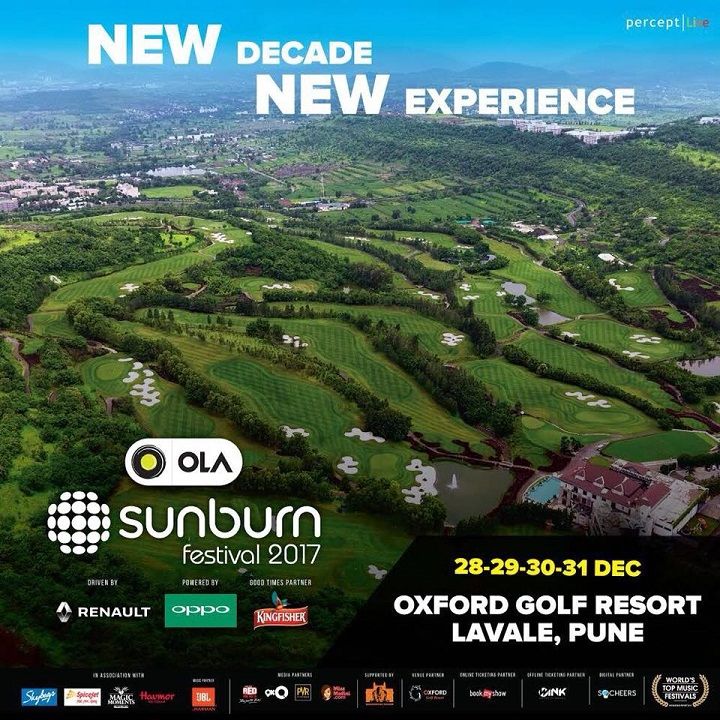 The thing about successful properties is that they are their own biggest competition. And ever since the birth of the Sunburn Festival in 2007, it has grown to levels unimaginable. This year, a decade after its debut as Asia's biggest music festival, Sunburn is moving base from Vagator, Goa to Lavale in Pune. And mind you, this location wasn't chosen lightly. After all, every real estate agent's adage is "location, location, location" for a reason. To ensure that every festival goer has the ultimate Sunburn experience, the organisers looked far and wide before settling on the final location. And voilà! Enter the sprawling Oxford Golf Resort in Lavale, Pune, a stunning expanse of  over 100 acres of land, covered with greenery and surrounded by hills on all sides.
Lavale is located right by the Mumbai- Pune highway, which means that it's easy access too; approximately 25 kilometers from the Pune Airport and just 9 kilometers from the University Circle (Pune City Centre), and just about 2 and half hour drive from Mumbai. All the better to get  to headliners Martin Garrix, DJ Snake, Dimitri Vegas, Like Mike, Kshmr and AfroJack quicker, we say!
Sunburn has also partnered with OLA who in turn has sorted out all the local travel within Pune. There will be a free shuttle service available from the parking to the box office. There will be offers codes available to all attendees on the official app.
Artists You Can't Miss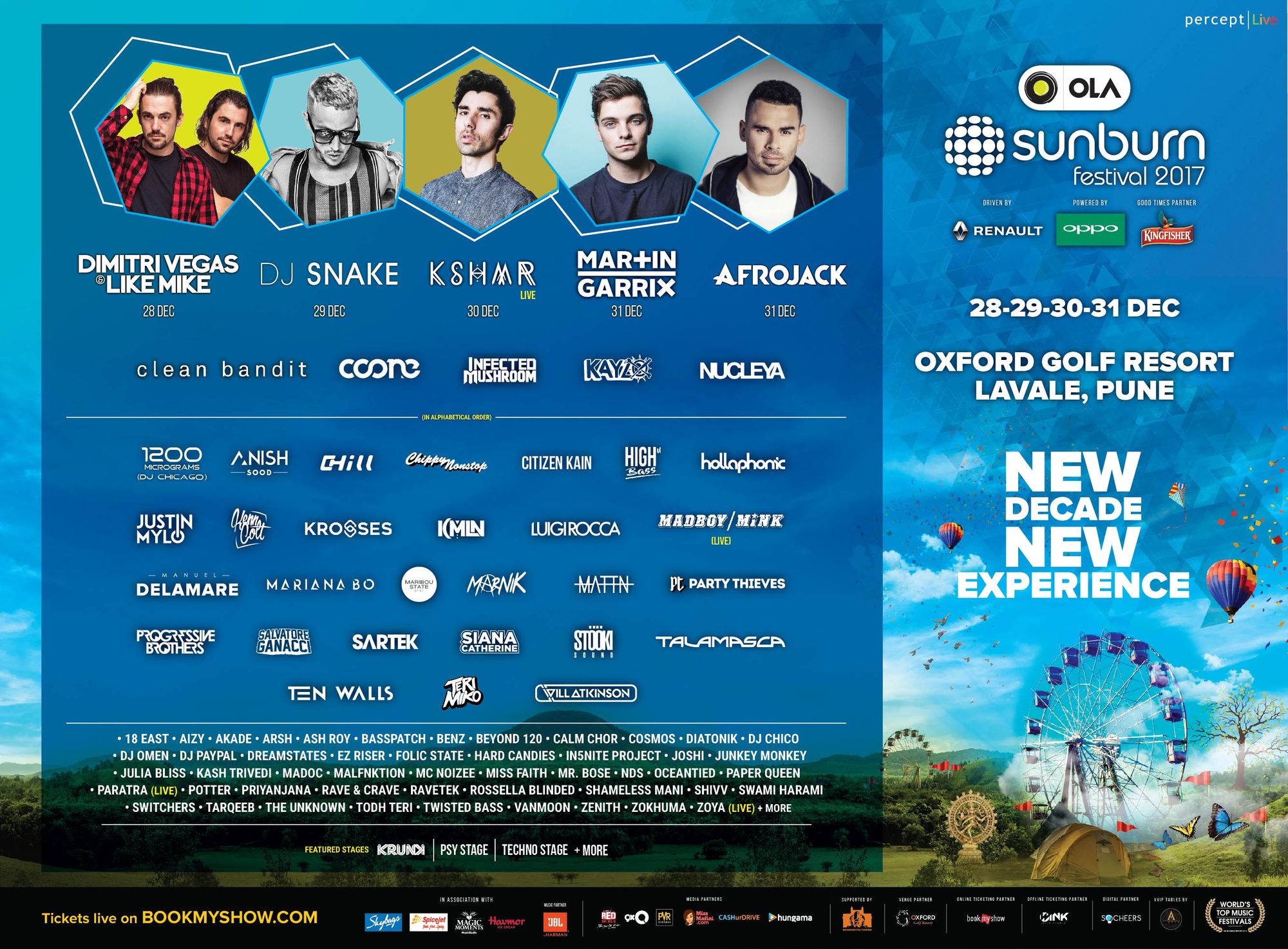 This year, at Ola Sunburn Festival 2017, there will be four stages – The Sunburn Main Stage, the Krunk Showcase Stage, The Psy Stage and the Techno Stage with more than 95 artists performing over the course of the four days.
Martin Garrix
He will be performing whilst bringing in NYE with all his fans, so bring in 2018 with 2017's World number 1 DJ.
AfroJack
AfroJack's gig promises to be a full party. After all,  he regularly features in the top 10 of DJ Mag Top 100 DJs.
Infected Mushroom
Psychedelic stars Infected Mushroom have been around since 1996 so you can trust that they know how to party.
Dimitri Vegas & Like Mike
Never a dull moment when Dimitri Vegas and Like Mike take the stage.
Clean Bandit
Hit-makers Clean Bandit, known for songs like Rather Be and Rockabye are going to be performing for you guys, need any more reason than that?
Nucleya
He's gotta be one of India's most famous homegrown DJs ever.
KSHMR
KSHMR got his stage name from his home state in India, Kashmir, but he's from Berkley California. Who doesn't love a classic ABCD combo?
Justin Mylo
Another Dutch DJ, this dude is our pick for an up and comer. He's only 22!
Everything Else Essential
Technology
Sunburn 2017 is hell bent of upgrading the entire festival experience for India's EDM fans. From seamless parking to an in-venue cashless experience with the tech-equipped OLA Sunburn Smart Band for all internal purchases, fans can expect a world class experience. In addition, the festival will be live-streamed on all days, on multiple platforms including Facebook with a multi-camera setup and live editing. Considering last year reached 55 million people, we can only imagine what this year's numbers are going to be. Also, it's good news for all those fans who for one reason or another cannot make it to Pune. Finally, Vodafone and Airtel are recommended service providers at the Sunburn venue, and there will also be a Free Wifi Zone at the Sunburn Square inside the venue too.
Stay
If you're looking for places to stay, fret not because Sunburn has also partnered with Yatra to provide a wide range of stay options around the festival venue. The options range from 2 star to 5 star hotels around the sunburn venue. But if you want to ditch the usual accommodation and try something more fun, read on.
Camping
There will be on-site luxury camping, or should we say, glamping options with a luxury breakfast included in the package, that starts at Rs. 8,400.
Food
You can be sure that you won't go hungry during the 4-day long festival thanks to the epic curated food experience by Eat Play Love. This will include live counters and world cuisine favourites.  Even more amazing is the fact that for the first time ever, Sunburn will have sit-down dining experience too! Say whaaa?
Activities
There's more, you guys. If at one point or another you get a little fatigued listening to music or standing in front of a stage, there will be a tonne of activities to choose from; yoga, movie screenings, jam sessions, jugglers, kite flyers, bonfires and much more. Golf games and lessons will be available too!
This is all too much to take in, so we must try to keep calm and just wait for the awesomeness in store from the 28th to the 31st of December 2017!
Book now by clicking here, and also, don't forget to follow Ola Sunburn Festival on Facebook, Twitter and Instagram for live updates leading up to D-day!
This post is in partnership with Sunburn Festival.