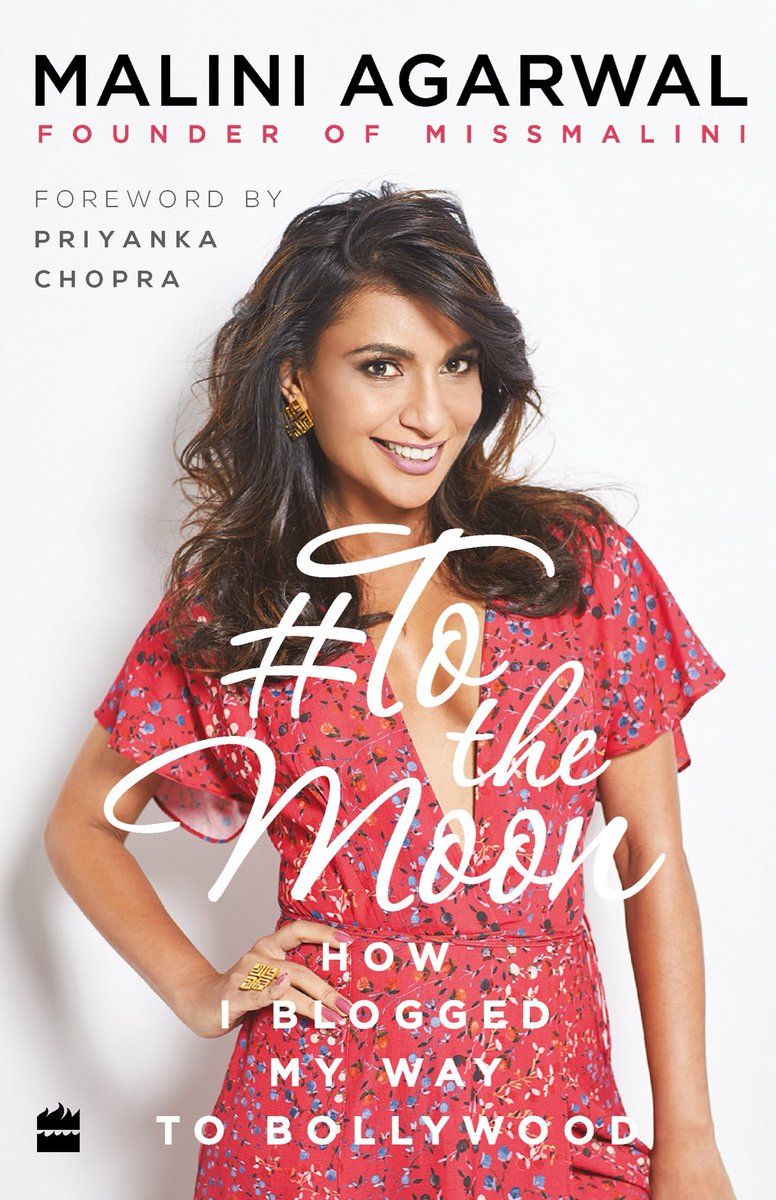 Work until you no longer have to introduce yourself.
She designed a life she loves.
Empower the women around you.
Hustle until your haters ask if you're hiring.
Well, these were just a bunch of cool quotes I had once read on Pinterest. But now, they mean so much more to me! And that's because I work with someone who's a walking talking example of each of these, my boss lady – MissMalini. An inspiration to thousands of other dreamy-eyed youngsters like myself, social media jedi Malini Agarwal has now published her first book.  The autobiography traces her journey in the entertainment industry so far and how she started out as an aspiring VJ but ended up becoming one of the most successful and loved bloggers of our country.
I am super overwhelmed right now as I've just finished reading it. And I'm sure you will also equally enjoy this super interesting roller-coaster ride. Here are a few reasons why you must check out 'How I Blogged My Way To Bollywood' #ToTheMoon
1. Foreword By Priyanka Chopra
"I connect with Malini because carving your own path is one of my strongest beliefs," writes PeeCee. From one boss lady to another – find out what the world renowned Bollywood actress has to say about MissMalini.
2. Kahaani Puri Filmi Hai
This one's not just another preachy biography. This is a super filmi story of a young girl who comes to Mumbai with two suitcases and just one dream – to live a life less ordinary. And guess what? The dream comes to. How? – That's exactly what this book is about. And the story is peppered with some dramas, some thrill, some heartbreaking moments, some romance and a lot more.
3. Life Lessons From MissMalini
At the end of every chapter, MissMalini has penned down some #MMProTips like "Giving up on one dream doesn't make you a quitter. Quitting dreaming does", "Be kind, even to your competition" and many more. She has learned these the hard way – from her experiences. But you are getting a cheat sheet, so go for it! I'm sure you'll learn at least a thing or two, if not more. I learned plenty!
4. Social Media Tips & Tricks
There's an entire section titled 'The A-Z of Digital Entrepreneurship'. From WordPress to Facebook, from Twitter to Instagram, from hashtags to emoji – there's everything you need to know about how to make your presence felt on the internet.
5. Fun Celebrity Encounters
One of the most celebrated interviewers of our country, MissMalini once had a rather awkward chat on air with Abhishek Bachchan, during her radio days. It's hard to believe, right? But it happened! And then one fine day, she interviewed AB Jr. once again, only this time, it was for her own TV show! It was held at 4 o'clock in the morning. Interestingly, he was accompanied by Shah Rukh Khan and the rest of the cast of Happy New Year. From Karan Johar to Farhan Akhtar – MissMalini has shared a few excerpts of her chats with several other Bollywood bigwigs. Not just that, various members of Team MissMalini have also shared their fun BTS moments with the celebs.
You can pre-order the book here. If you're still not convinced, I'm sure you'll be tempted to grab a copy after watching these!
Here's what MissMalini has to say about her book:
I believe that everyone has a book in them, but finding the words to tell the story is always the hardest part. Writing a novel has forever been on my bucket list, so I was absolutely thrilled when HarperCollins Publishers India approached me with this opportunity to write not one but two! This story is told in 4 sections – Mumbai, I Love You, My Radio Days, 0 to Bombay and How to Build A Brand – in an effort to share my journey, and to perhaps help guide those who have a digital dream of their own.
I live in the movies and think of us as the protagonists of our own little dramas. But, honestly, as long as you think of life as a comedy (maybe a romantic one), I think we will all be alright.
People ask me why I say #tothemoon all the time. It's because I loved how it was used frequently in the Leonardo DiCaprio film Catch Me If You Can and in the song 'Fly Me To The Moon' by Frank Sinatra, and of course in every other Bollywood love song. I like the idea of loading up a sparkling rocket ship and launching into outer space with a crew of fantastic people to share the ride. Thank you for wanting to come on this one. I hope it'll make you smile. And more than anything, I hope it will convince you to follow your passion and live your dream because, as you can see, I am living proof that if you believe, the universe ensures that you shall receive. (So come with me, hitch a ride to a galaxy far, far away and forgive me for all the Star Wars references!) Remember just one thing – you are the universe's finest work of art. Paint the world with your adventures. Love, laugh, hope and dream. Make your life extraordinary.
Pre-order #ToTheMoon: How I Blogged My Way to Bollywood now! #OMGIWroteABook