5 K-Pop Bands That Will Make You Bust A Move Any Minute
Atmaj Vyas , 30 Jan 2018
It's hard to deny that music is an ever-changing industry. With new voices and everyone competing to get to the top of the charts, we have been treated to some major hits and a few misses over the years. But that's the thing about trends in music, there is a constant change in the preferences of the music market now, and so we are treated to new cultures and sounds all the time. One such gem came to us in 2012 in the form of Psy's Gangnam Style, which quickly went viral and for the first time, put the spotlight on 'K-Pop'. And the worldwide obsession just snowballed from there. So, here are 5 of best K-pop groups you need to check out, if you haven't already.
1. EXO
This boy band is 12 members strong and is divided into 2 sub-groups, Exo-K and Exo-M, who perform in Korean and Mandarin respectively. Since its debut in 2012, EXO has gone on to become the second best-selling band in terms of physical sales.
Songs to hear: Ko Ko Bop, Monster and CALL ME BABY.
2. Girls Generation
Girls Generation also known as SNSD, is one of the oldest girl groups on the K-Pop scene. Formerly consisting of 9 members (8 now), SNSD debuted back in 2007, but it wasn't until 2009 that they rose to popularity. Their hit single Gee had a record-smashing 9 weeks at top of the charts and further releases only cemented their popularity.
Songs to hear: Oh!, Gee, Run Devil Run and Tell Me Your Wish.
3. BTS
BTS aka Bangtan Boys debuted in 2013 with their hit single, No More Dreams. With a second album that peaked at number 26 on the Billboard Top 200, they became one of the only K-pop groups to get a ranking on this list. In subsequent years, they have tasted major success by also becoming the highest ranked Asian artists on the Billboard 200 with Love Yourself: Her. With one of the largest social media followings, this group is a force to be reckoned with.
Songs to hear: Love Yourself: Her, Mic Drop, and DNA.
4. SHINee
This boy-band was formed in 2008, originally with 5 members. After the recent, tragic and sudden death of one of their members, Jonghyun, the group decided to take a break for a while. They launched with the idea of being trendsetters in all areas of fashion, music, dance, etc. They were even credited with starting their own trend called the SHINee trend. With some of the most well-synchronised and complex dance moves and boasting the best live vocals, this was certainly a group that was on an upward trajectory. While their next move is unclear, their music is still there for all of us to enjoy.
Songs to hear: Replay, Ring Ding Dong, and Lucifer.
5. 2NE1
Unlike other groups, 2NE1 disbanded in 2016. However, their music still remains as iconic as ever. Considered one of the best girl groups ever and boasting the highest record sales, they have often been referred to as 'The K-Pop Group Of The Decade.' With world-class performances and sold-out concerts, they were truly a group that many aspired to be like. With their last single dropping in 2017, it's a happy-yet-sad goodbye to one of the best.
Songs to hear: Try To Follow Me, Go Away, Lonely, and Good Bye.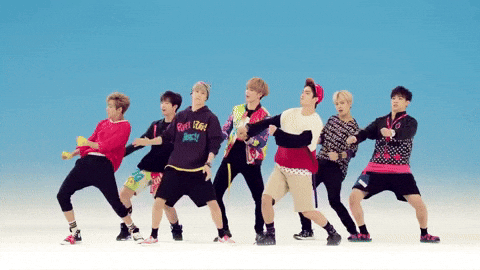 Who is your favourite K-Pop group? Let us know in the comments below!
Don't forget to follow us at @missmalinilifestyle to never miss a beat!