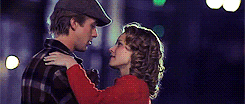 We know that chick flicks and rom-coms are hardly real life, but it's precisely for that reason that you should indulge once in a while. And if you've given up on love, these movies will make you believe again, if only for just a little while. So, don't lose hope this Valentine's Day; lose that negative, gloomy vibe instead. And maybe, these movies might inspire you to meet someone, who knows?
1. You've Got Mail
In the digital age, it's possible you might meet someone online. We're not talking about Tinder per-se, but it could be from any of the thousand different apps nowadays. In this epic throwback rom-com, Tom Hanks and Meg Ryan found love on e-mail in the age of the dawn of the internet.
2. The Notebook
Maybe you get introduced to someone in an amusement park, by a close friend? Plausible, right? You could land up having the love affair of the century, just like Noah and Allie. Side note: Ryan Reynolds and Rachel McAdams really kill it in this mush fest of a movie.
3. Notting Hill
Whoa! Imagine meeting a celebrity and falling in love with each other. How great would that be in the land of Bollywood? Julia Roberts and Hugh Grant are super cute in this old-school movie.
4. Beauty And The Beast
Maybe someone isn't that good looking, but they might love you with all their heart. Just open your mind a little. Better a beast on the outside than a Gaston, who's a beast on the inside! And also, Emma Watson is just beautiful. So, there's that.
5. Prince And Me
Can you picture falling in love with a prince whose hidden his identity just to see who really falls in love with his inner-self? Maybe that guy who's been hitting on you is actually a prince!
6. Serendipity
Leave it up to faith! It will happen when it has to. Love will come to you when you least expect it. Plus, what's wrong with seeing John Cusack and Kate Beckinsale again? We'll tell you…nothing.
7. The Proposal
We're not suggesting that the love of your life is your boss or assistant. But work place romances are more common than ever! Maybe not a current one, but someone you've worked with in the past.
8. A Lot Like Love
What if your path always crosses this other charming person's path too many times to ignore? It's possible you're meant to be together. Give it a shot. This Ashton Kutcher – Amanda Peet starrer has a great soundtrack too!
9. Letters To Juliet
Take a trip to Vienna through this movie. And think about the possibility of a Shakespearan holiday romance for yourself. Stranger things have happened, let us tell you.
10. 13 Going On 30
You don't have to be 30 to realise you're actually in love with your best friend. If this is the case, don't hold back, use this romantic day to tell them you love them. Jennifer Garner and Mark Ruffalo are so cute together also.
These movies are more than romantic. They give you hope. That someday, you might meet someone in either a conventional or an unconventional way. Tell us how you imagine meeting someone, or you actually did. Share your story in the comments below.
Don't forget to follow us at @missmalinilifestyle to never miss a beat!