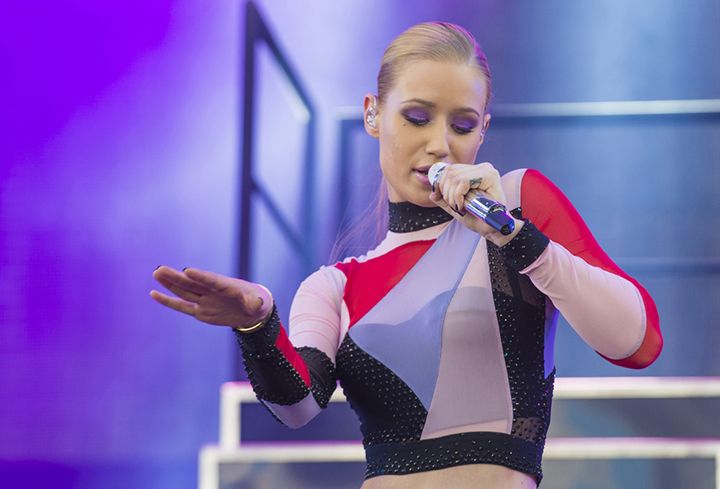 The Hip Hop industry has given us some great female rap artists: Missy Elliott, Salt-N-Pepa, Rah Digga, Queen Latifah, to name a few. But there are more from the current generation that should definitely be on your radar. Some have already carved out a niche in the industry, while the others are still getting there.  Here are 7 female rap artists who can totally kick some butt!
1. Nicki Minaj
Real name: Onika Tanya Maraj
Well, who doesn't know Nicki Minaj? An inspiration for all the upcoming rap artists, she was discovered by Lil' Wayne and signed to his record label, Young Money Entertainment back in 2009. Needless to say, her talent and sheer dedication to her work have made her one of the best female rappers in the hip-hop industry today. She has collaborated with some of the best music artists. Anaconda is her most popular song and was the most viewed video in 2014 after it received 19.6 million views in just 24 hours.
Fun fact: Nicki Minaj was the first female singer to top Billboard's Hot Rap Songs Chart since 2002.
2. Iggy Azalea
Real name: Amethyst Amelia Kelly
The Australian rapper began rapping at 14 and says that her father was her biggest inspiration. She came into the music scene after her explicit video went viral in 2011. Post that T.I. took her in his crew and mentored her. She had captured the Indian audience with the music video of her song, Bounce, which was shot in Mumbai. Fancy featuring Charlie XCX, Black Widow featuring Rita Ora and Team are some of her other popular numbers.
Fun fact: Her stage name is a combination of her childhood dog, Iggy and the street she was brought up on, Azalea street.
3. Raja Kumari
Real name: Svetha Rao
Indian-American singer, songwriter and rap artist, Raja Kumari is known for blending her Indian classical roots with hip-hop influences to create a unique style. She loves Indian art and culture and is a professional Bharatnatyam dancer. Her rap has gained a lot of recognition in India off late. Apart from dropping hit singles, she has written songs for artists like Iggy Azalea, Gwen Stefani and Fifth Harmony. She was also mentored by AR Rahman. Her song, City Slums with Indian rapper Divine has gone viral.
Fun fact: The first song she penned down, Change Your Life was for Iggy Azalea and got nominated for a Grammy award.
4. Cardi B
Real name: Belcalis Almanzar
25-year-old Bronx rapper Cardi B has certainly created a buzz after she released her single Bodack Yellow last year and rapped in G-Eazy's No Limit. Before hitting the top charts, she pursued a career as an exotic dancer at 18 but quit at 23 after becoming a social media star. Thereafter, she climbed the ladder to success at a good pace. She was a part of a Vh1 reality show named Love And Hip Hop: New York in 2015 that gave her enough fame to drop two mixtapes, Gangsta B*tch Vol 1 and Vol 2.
Fun fact: A lot of people have drawn similarities between Cardi B and Nicki Minaj. Rumour has it that Nicki dissed her on a track called No Flag but both have taken to social media to squash the rumours.
5. Young M.A
Real name: Katorah Marrero
Young M.A caught public eye in 2014 when her song, Brooklyn Chiraq Style went viral on the internet. She was criticised for its negative content but this controversy was an added advantage because more people became aware of her skill. She rose to fame when she released her single, Ooouuu in 2016 and had popular artists Nicki Minaj to French Montana create remixes of it. She is currently prepping for her new album, History In The Making.
Fun fact: Young MA is the first female rap artist to openly admit she is a lesbian and own her sexuality.
6. Kodie Shane
Real name: Kodie Williams
19-year-old artist, Kodi Shane is an Atlanta-born rapper who is part of Lil Yachty's Sailing Team. A young woman with her own style, she garnered attention with her first EP, Little Rocket. After that, she released two albums, 2060 and Zero Gravity, the latter being a standout, which includes her hit song Sad featuring Lil Yachty. Sad has crossed 8 million views on YouTube and has some sick beats!
Fun fact: Kodie Shane comes from a musical background and began rapping at just 14!
7. Noname
Real name: Fatimah Warner
Most artists use aggression in rap. However, Noname has a different take. She uses her knowledge and vocabulary to expresses rap through poetry. She gained recognition when she rapped on Chance The Rapper's mixtape, Acid Rap. She then went on to release her album Telefone in 2016, which spoke about widescreen issues in America. Her latest album Room 25 contemplates heartbreak. If you want to listen to a different side of rap, Noname should be on your list.
Fun fact: Her stage name is derived from her insistence on not being restricted to any sound, genre or vibe.
How many of these rap artists did you actually know? Let us know in the comments below!
Don't forget to follow @missmalinilifestyle to never miss a beat!