With so many animals getting abandoned or lost each year, it is essential that we focus on spreading the word of animal adoption. Not only do you save a life when you choose to adopt, you also help spread the word and help educate others about the importance. Many people still have a certain stigma when it comes to adopting an animal. It all starts with realising it's not something so uncommon. In fact, many celebrities that we love have in fact adopted their animal companions.  Here are a few of them.
1. Bella Thorne
Bella is known to be a complete animal lover. In fact, at one point, she had 6 cats! All of them were adopted from different places. She says that she just can't help her self. When she sees these furry friends, she just needs to take them home.
2. Miley Cyrus
Not only does Miley adopt, she also loves getting tattoos of her pets! From the posts that she puts up on Instagram, you can clearly tell just how deeply she cares about these animals.
3. Miranda Lambert
This gorgeous country singer ended up adopting a stray kitten when her friend found it roaming around on a highway. The singer couldn't help but adopt the little kitty. This isn't the first time she's adopted an animal and it sure as hell ain't the last.
4. John Legend
John actually has quite a few dogs and all of them are adopted. The cutest out of the bunch is Penny, who is his three-legged pup.
5. Kellan Lutz
This Hollywood heartthrob is a well-known animal advocate. In the past, he has volunteered and raised large sums of money for stray dogs. He also has a few rescues that he loves to take pictures with!
6. Tom Hardy
He might seem like a complete bad a**, but when it comes to animals, especially his dogs, he's a total softie. A quick glance through his Instagram and you'll know just how much he loves animals. In fact, he once even attended a movie afterparty with his dog in tow.
7. Kaley Cuoco
Kaley is another long-time advocate for #AdoptDontShop. She and her rescued pit bull, literally do everything together! That includes enjoying ice cream together.
8. Amanda Seyfried
After Amanda adopted her first pet back in 2009, the whole experience changed her life. It changed so much so that she decided to become a dedicated advocate for homeless animals.
9. Anne Hathaway
Before welcoming a child of their own, the Oscar winner and her husband Adam Shulman brought terrier mix Kenobi into their brood.
10. Liam Hemsworth
Both Miley and Liam are avid dog lovers. Liam actually found his love for strays while he was shooting for Hunger Games. Since then, he has adopted a few more pooches.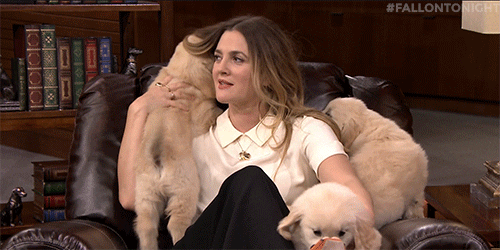 Even if you can't adopt an animal, help spread the message so that these loving souls can find a forever home. Be a voice for the voiceless. You'll be surprised just how little it takes to make a huge difference! Remember, #AdoptDontShop.
Don't forget to follow us at @missmalinilifestyle to never miss a beat!