Ahead of the TV premiere of Guardians Of The Galaxy Vol. 2, which is airing on 20th May at 1:00 PM and 9:00 PM on Star Movies, we caught up with Zoe Saldana, who also plays the character of Gamora in the MCU. We talked about Chris Pratt, Infinity War, GOG2 and how it is to be a part of such a huge franchise. Here's what she had to say.
What was Gamora's journey like through Guardians Of The Galaxy 2?
She is still the one that is rigid and takes herself a little too seriously than anyone else. I think it's because she still has all this baggage that she has to deal with. You know when you see the team in the second instalment, it's only been 3 or 4 months since the first movie. It's kind of the time frame that James Gunn wrote for us. So even though they are feeling much more familiar with each other they are still getting to know each other and acclimate to this new life together, as a family.
So Gamora is in the big sister role and Dave Batista was like "you know what you are the mother, you need to own it" and that's who Gamora is. She is sort of like the mother of the pack. I was correcting them, keeping them focused, letting them see how much of idiots they really are sometimes when they argue about things that are too arbitrary and I am always trying to be like let's finish the task at hand, focus. So I guess that makes me motherly.
What is it like to work with someone like Chris Pratt?
It's wonderful! It's very difficult to have a bad day or to have a bad moment around someone like Chris Pratt. He is so positive and always grateful to be where he is. He always keeps us together! I don't know, he is a great leader of a pack and what makes it more special is that he doesn't act like the leader, yet he leads us quiet beautifully. I have never felt so much at ease following someone, just following their lead and seeing how they blossomed into a megastar, who still remains the most humble, most grounded, funniest and approachable human being.
How would you describe your relationship with Nebula?
Friction! However, I think that they fight like any other sisters do. The difference is that they are from different planets and they have cybernetically enhanced abilities. So, instead of the name calling, it's more like; oh look at this gun that this spaceship has just dropped, let me pick it up and shoot it at my sister because she is very annoying right now. Those are the kinds of fights they have but it's really the same things that normal sisters would fight about.
Infinity War has been a pretty emotional and psychological journey for Gamora. How did you prepare and push yourself for this movie?
These kinds of movies have so much of action, entertainment and visual effects that really cater to all of our sense. However, we wouldn't be what we are in the Marvel universe if it wasn't for those emotional beats. That thread obviously involves the relationship between a parent and child. I speak on behalf of also Karen Gillian's character Nebula as well.
We had so much fun with the arc that the Russo Brothers and Kevin Feige spearheaded. With the relationship that the daughters have with their father, they finally get an opportunity to address what it was like to have a dad that's so complicated. It was fantastic, it was great!
Out of all the actors you worked with in Infinity War, who left you in awe the most?
Working with Robert Downey Jr was definitely a treat. I got to work with such an iconic actor! As someone who has followed his journey as an actor and even as a human being that has lived in the public eye, surviving through his adversities and still coming out on top, is nothing short of inspiring. He set the tone on set, he is a true leader and he set a wonderful example of camaraderie, love, unity and inclusivity. We all felt very comfortable and safe to be ourselves and we were a part of the narrative, so it was great.
What do you think about the change in perception with regard to women and the prominence of female characters in the MCU?
Change and evolution are inevitable. We can only slow down its pace but we can't really stop it. I think what shifted is that we as women, came together and formed the Time's Up Movement, where we provide a community that supports, listens and most importantly, takes action. We not only take action for ourselves, we also encourage our leaders and colleagues to take action as well in their respective fields.
I love the fact that Marvel and Kevin Feige has always encouraged their filmmakers to give a voice to all these female characters. They also hired really strong and very well-spoken actresses that are huge contributors to the narrative and that are not going to be silenced easily. So I feel that there was always this collaboration, which is perfect.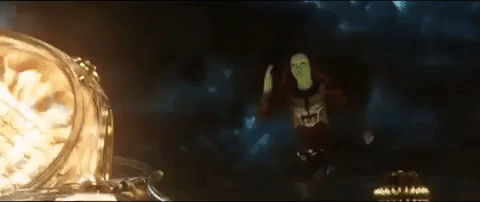 If you got the chance to ask this super talented actress one thing, what would it be? Let us know in the comments below. Also, if you haven't watched Guardians Of The Galaxy 2, don't forget to tune into Star Movies on 20th May and catch the TV premiere, at 1:00 PM and repeat telecast at 9:00 PM.
Don't forget to follow us at @missmalinilifestyle to never miss a beat!