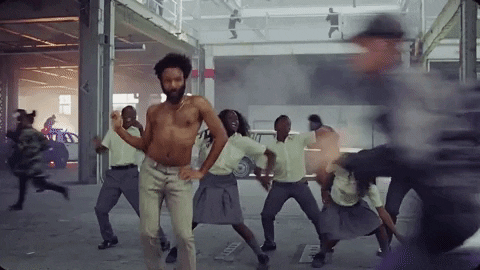 Lately, there has been a lot of negativity in the world in the form of terror attacks, gun violence, racism, sexual assaults, to name a few. A lot of people have started protesting about these rampant issues including people from the music industry. Through their music videos, singers have voiced their opinion and have made a statement. Here are 8 such songs by music artists that have attempted to tackle various social and political issues prevalent globally.
1. This Is America by Childish Gambino
Donald Glover aka Childish Gambino's viral video of his latest song, This is America is a powerful take on gun violence, racism and police brutality in America. The video has addressed a lot pf issues which have happened in recent news. The video features Donald dancing with a group of people but if you take that out of it, you will pay attention to hard-hitting facts that he has portrayed behind the dance sequences.
2. Youth by Shawn Mendes feat. Khalid
Shawn Mendes penned down the lyrics of his latest song Youth (featuring Khalid) after Manchester's terrorist attack that took place on May 22 at Ariana Grande's concert followed by another attack on the London Bridge on June 3, 2017. The opening lyrics to his song say,
Waking up to headlines, filled with devastation again / My heart is broken, but I keep going.
Shawn said in an interview that he felt that he is losing out on his youth because of the amount of violence he is seeing at his age. He wanted to make a statement with this song and also performed it with Khalid at the recent Billboard Music Awards as a tribute to students affected by gun violence. They brought students from Marjory Stoneman Douglas, the site of the February school shooting, to sing with them.
3. Surefire by John Legend
Surefire by John Legend attempts to battle issues such as fear of immigration and racism prevalent in American culture. The video shows an interracial couple who love each other and are struggling to tackle the people as well as laws that are trying to tear them apart.
4. Same Love by Macklemore and Ryan Lewis feat. Mary Lambert
The song celebrates gay culture. Macklemore tells the tale of his uncles who struggled because of their sexuality. He wanted to stop the homophobia in the hip-hop community. Through his lyrics he says that just because you're straight doesn't mean you cannot support homosexuality.
I might not be the same, But that's not important, No freedom till we are equal, Damn right I support it.
The chorus of the song was borrowed from Mary Lambert's song, She Keeps Me Warm. The lyrics say,
I can't change, Even if I tried, Even if I wanted to.
which means that sexuality isn't a choice because it is something you are born with.
5. Til It Happens To You by Lady Gaga
Lady Gaga claimed to channel her personal experience in the song as she is a rape survivor. The music video was a way of raising awareness and fighting against sexual assaults on college campuses. In fact, the music video was shortlisted for an Oscar nomination for best documentary feature.
6. Quiet by MILCK
MILCK (real name Connie Lim) had released a song Quiet to address the issues of anorexia and domestic abuse. When the Women's March took place last year as a protest against Donald Trump's agenda, MILCK decided to take her song to the streets at the rally and did a flash mob where she sang an a cappella of the song with some of the women present there. The song went viral and became an anti-Trump anthem! The song is a response to the pressures that the society puts on women and is a reminder to tell them to stay true to themselves.
7. Where Is The Love by Black Eyed Peas
As the name of the song suggests, Black Eyes Peas addresses the issues of gun violence, racism and discrimination. They asks their viewers where the love has disappeared. Every one only cares about money and their selfish desires and don't want to help and support one another.
8. All About That Bass by Meghan Trainor
Meghan Trainor's debut song All About That Bass tackles body shaming. Through this bold song, Meghan says that you should be proud to be who you are, love your body and accept yourself.
What is your opinion on these music videos? Let us know in the comments below.
Don't forget to follow @missmalinilifestyle to never miss a beat!