The Fibreplex Treatment That Saved My Almost Burnt Hair
Natasha Patel , 28 Jul 2018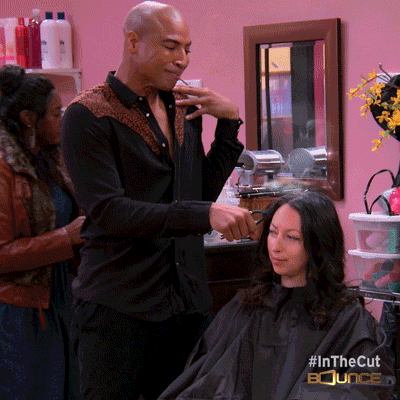 See that gif up there? Yup, that's exactly what happened to me—except it wasn't a hair salon's over-excited stylist that smoked up the hair, it was me… If anyone here is visioning me bald atm, stop, because I'm not there, yet! Although moments after the hair "barbecuing" (and for most parts of the next day), I felt that I could might as well pass off as bald. My hair literally smelt burnt. The texture was ridiculously brittle. And I kid you not, after a shampoo and hair mask, even a slight comb-through my damp hair and a part of the ends got cut off because it was just that frail—In short, it was burnt to a crisp and I was left shell shocked and destroyed.
But I did what any experienced beauty editor would do—I called my hair colourist, Sammy from Samantha's Salon and asked her to save me. She recomemned I do a new Fibreplex treatment that would be especially great since my hair was coloured too. So I booked an appointment the next day, asked her to say a prayer for my hair and hoped for the best!
Now that I've let out all of my emotions, we shall get into the technical details of this treatment!
What is Fibreplex? And how would it help?
Anything that's damaged has to be taken care of at the root! And the root of my problem was that due to excessive heat from styling tools my coloured hair lost its texture, shine and quality. Leave alone the newfound whiff of burnt hayair.
What the Fibreplex technology helps to do is to restore and maintain the bonds of the damaged cells especially for coloured or pre-lightened hair. It protects the fibres and strengthens the pH level so that the colour, shine and quality of the hair aren't harmed.
Here's how I experienced this treatment…
My hair before: Dry and lifeless
Step 1: Prepping
So we shampooed my hair and skipped the conditioner. I know, even I was like "Woaaah, no mask or conditioner!" But you'll see why soon enough. Next up, we towel-dried the hair and got ready for the main event.
Step 2: No.1 Bond Booster
The Bond Booster is a liquid. A mixture of 15 ml water with 5 ml of the Fiberplex liquid was added to an empty spray bottle. My hair was sectioned and sprayed, sectioned and sprayed with the mixture all over my hair. This step helps join the hair fibers to create a strong, structural bond. This was left on for 20 minutes.
Step 3: No. 2 Bond Sealer
Adding onto the the first step, Fiberplex No. 2 was applied to the hair, section by section. This was more of a masque-like consistency, thick and creamy. No. 2 seals the outer hair surface providing shine and softness. It balances the pH levels to lock in and protect the colour pigments so that they last longer. This was left on for another 20 minutes.
Step 4: Rinse out
Next up, was a rinse. No shampoo or conditioner was used. My hair was then towel and blast-dried naturally.
My hair after: Humansied!
If you notice (from the image below), the blast-dried hair looks a little sticky on the surface. But that's how the formula works. Sammy instructed me to wash and condition my hair the next day so that the treatment can really take full effect. And gurl, two days later, I sit here writing this because my hair feels so damn good!
Have you ever brunt your hair? Comment below and let me know if I'm not alone in this.
Follow @missmalinifashion and @missmalinibeauty on Instagram for more updates.