Deepika Padukone made her entry in Hollywood with xXx: Return Of Xander Cage opposite superstar, Vin Diesel. The actress played a badass character called, Serena Unger who could throw a knife, grab a problem by the balls… literally and fire a gun like no man's business. Fans all over the globe loved this avatar of Deepika and the chemistry between her and Vin was undeniable.
The movie also minted a lot of money at the box-office and the makers are now set to come back with another installment of the action extravaganza. And this may be good news to all of DP's fans too, the director of xXx: Return Of Xander Cage recently welcomed a new cast member, Wang Yuan via a tweet. As expected, the tweet made Deepika's fans curious whether Serena will be a part of the film too and Caruso confirmed the doubts with a single reply!
Check it out!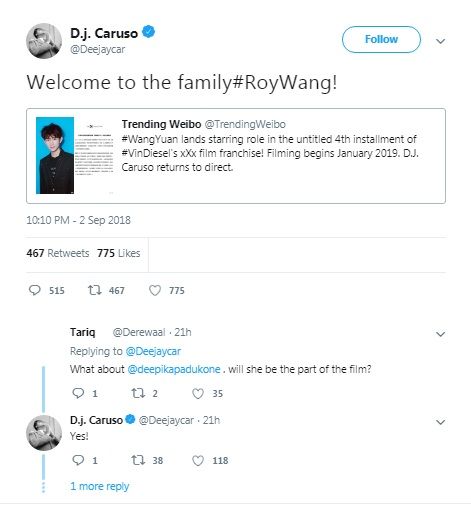 Woah! How cool is that?! Recently, there were multiple reports about Deepika's team pursuing more Hollywood projects for her and looks like this one's certainly happening.