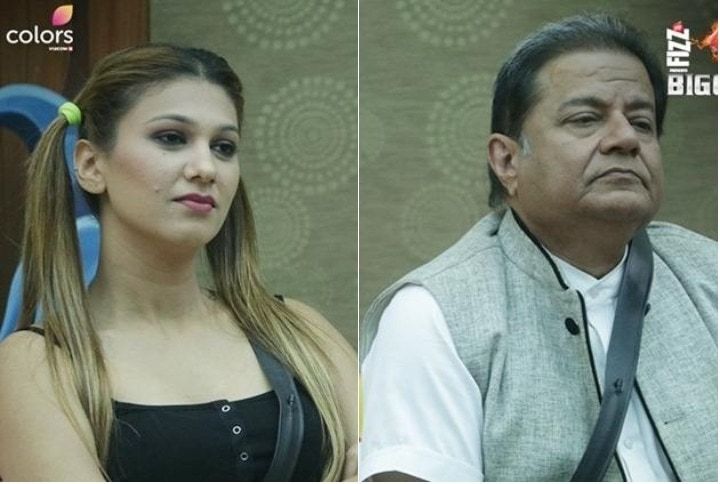 Bigg Boss 12 is running successfully on our television screens, giving us our daily dose of drama and controversy. While we already have our favourites, here's all that happened in the Bigg Boss house last night.
The show began with Karanvir Bohra continuing the nomination task and turned a kidnapper who kidnapped Urvashi Vani. To save their jodi from being nominated, Urvashi's partner Deepak Thakur shaved his head and beard off. After Deepak agreed to Karanvir's demand, Karanvir was nominated for eviction and Deepak-Urvashi got saved. After Deepak's episode, a fight breaks between Dipika Kakar and Surbhi Rana. Surbhi called Dipika inhuman for asking Anup Jalota's girlfriend Jasleen Matharu to destroy her clothes and make-up. Dipika replied to Surbhi saying that she was just doing her task and added that there was nothing wrong with it.
Srishty Rode turned a kidnapper as well and kidnapped Sourabh Patel. After kidnapping Sourabh, Srishty asked Shivashish Mishra to destroy Sourabh's clothes and family photo which Shivashish agreed too. While Shivashish listened to Srishty, she felt bad that her he was listening to everything she was asking for and thus decided to step back. After Srishty's decision, Shivashish and Shristy had a major fight where they called each other names. After Shristy stopped Shivashish, she got nominated herself and Sourabh and Shivashish were safe this week.
Sreesanth too turned a kidnapper and kidnapped Saba Khan. Saba's sister Somi Khan was asked by the ex-cricketer to cut her hair as well as destroy her clothes. Somi requested Sreesanth if she could just cut her hair an inch, which the cricketer agreed too. As Somi completed her task, Sreesanth was nominated and Nehha Pendse announced Sreesanth's name. The name of final nominated contestants was announced.
After Romil Choudhary and Surbhi were made a jodi on Monday, Deepak and Urvashi had a talk with Romil and asked him to make his partner Surbhi understand to not pick up unnecessary fights with people. Romil replied to the couple saying that he himself was scared of Surbhi post which Deepak was seen pulling his leg. While Deepak and Romil were fooling, the tension was brewing between Anup and Jasleen. Anup was disappointed that his girlfriend couldn't sacrifice her clothes for him. He also mentioned that he wasn't joking. Surbhi further instigated Anup by saying that if she was in Jasleen's place she would have given her clothes and make-up up.
The housemates got angry with Surbhi and were against her for instigating Anup. While the Khan sisters kept telling Surbhi to be out of their relationship, Surbhi kept saying that Anup was right. Anup, on the other hand, broke ties with Jasleen. He informed the housemates on the breakfast table about it and also said that he is alone on the show now. Anup said, "I am alone in this game now and if Bigg Boss wants me in the house he can keep me as a single." After calling their relationship off, Jasleen was seen crying in the garden area where Sreesanth explained Anup that he cannot take calls about relationship inside the Bigg Boss.
The end of the show witnessed a fight between Srishty and Shivashish. After taunting each other with songs, the duo started calling each other names. Nehha stepped up and asked Srishty to not instigate Shivashish. Srishty defended herself saying she was just singing songs and Shivashish had no right to use unsuitable words.
Will the fights finally come to an end? Will Anup and Jasleen re-unite? Only time will tell. What are your thoughts about this episode?