Tanushree Dutta's bold stance to bring her alleged harasser, Nana Patekar to justice opened a floodgate of conversations giving rise to the #MeTooIndia movement that has taken the country by a storm and perpetrators by their b@**s. Women across industries are coming forward and speaking up against the harassment they have faced and watched the accused get away without any damage.
Singer Abhijeet Bhattacharya is one such man who has been accused of sexual harassment by a woman who alleges he tried to kiss her at a pub.
Here's what her Facebook post read: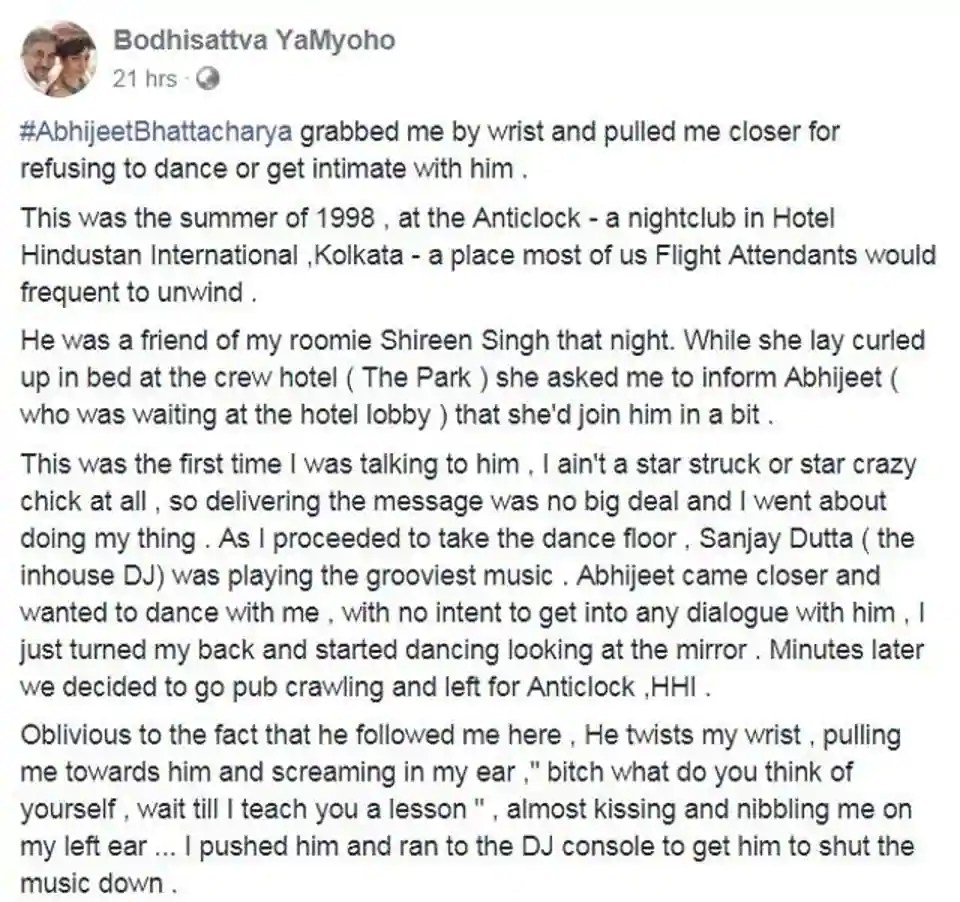 Most of the accused men are shamelessly hiding behind their legal teams and the standard, "I am innocent, the truth will come out" charade. However, Abhijeet has actually taken our disgust towards this kind of men even further by making a statement that is shallow, derogatory, and inappropriate in every sense but then 'inappropriate' is all some people can think, be, and act, no? He denied the allegations in a statement to DNA and said that the survivor was 'blatant lying'. He went on to deny it further during an interview with Indian Express.
Here's what his statement said:
Somebody told me over the call. I was not born at that time. I have never gone to pubs in my life. You'll never find me at any page 3 or filmy parties. My name sells. If someone's benefiting from it, good. Sometimes earning their bread and butter with my name, it's fine.
The man who has previously been accused of sexual harassment didn't stop there. He went on to say:
I don't know against whom should I take action. Why should I give attention to that person? You are giving it importance not me. Most of the people who are coming out right now are dirty, ugly people. Koi mota hai, koi patla hai. No one deserves (the attention). Just to grab some attention they are coming out. Most of the fat and ugly girls are blaming and I wasn't born at that time.
Yes, believe your eyes. Those are his actual words.
It's because of men and attitudes like this that we need this moment now more than ever before. More power to all the courageous women coming forward and showing the wrongdoers that their #timeisup.