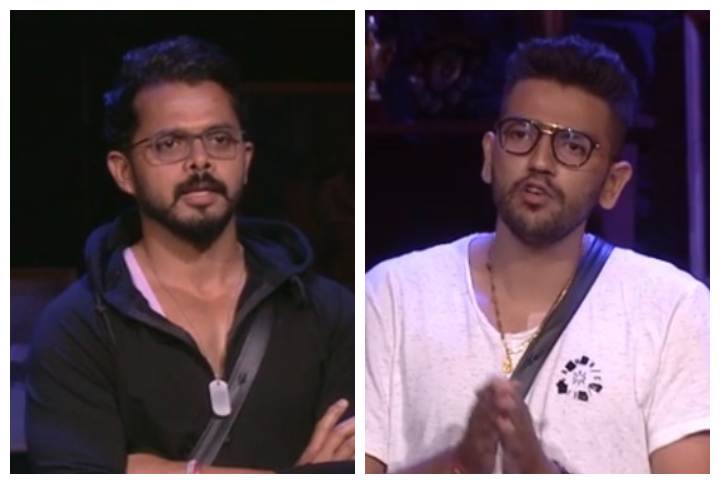 They call it the Weekend ka Vaar for a reason and it's pretty clear that Bigg Boss is only going to get more entertaining with each passing week. Last night's episode had a big dose of celebrity guests, drama and emotions as well which began with Karanvir Bohra receiving a special surprise. Salman Khan sent Karanvir into the room where he received a special video message from his wife Teejay and his kids. Karanvir was seen getting emotional as his wife asked him to be strong and fight his own battle in the house.
Salman then called upon Manish Naggdev, Bhuvaneshvari Sreesanth and Shoaib Ibrahim on the stage where they were asked to take the stand. News anchor Dibang who had made an appearance earlier as well was asked to analyze what they had to say about everything going on in the house. Dipika's husband, Shoaib is seen defending his wife as Bhuvaneshvari blames Dipika for dominating Sreesanth and voting against him. While Manish Naagdev is of the view that Dipika has been influencing everyone except Srishty in the Singles team.
Bhuvaneshvari and Manish also take the stand but while Manish fails to defend Srishty and her actions in the house, Sreesanth's wife gracefully tackled all the accusations against Sreesanth and bowled over the audience and the other guests. Salman also seems impressed with her way of defending her other half on the show.
Coming back to the Bigg Boss house, Salman calls Romil Chaudhary and Sreesanth to the Sultani Akhada. Dipika is seen supporting Sreesanth but gets thrown-off as Romil starts taking his pants-off and changing clothes in front of her. Dipika complains about it to Karanvir and Romil later apologizes to Dipika for his behaviour. The Sultani Akhada begins with Romil and Sreesanth verbally proving why they should be in the game where Sreesanth with the first round with his answers and earns all the votes from the contestants. The second round, however, was more intense where the two contestants had to balance each other using a prop. Romil wins the second round and beats Sreesanth.
Salman also shares an emotional video with the housemates and tells them he has lost someone special to him. Unless you've been living under a rock you know, that Salman lost his pet dog earlier this week. The housemates also get emotional looking at the video.
Salman then announces that Saba Khan and Jasleen Matharu are safe for the week. He then discloses that Saurabh received the least amount of votes and is being evicted from the show. Sreesanth is seen confronting Dipika as to why she wanted to send Jasleen to the torture room and Dipika walks away saying that it's her choice to make. Later, Romil and Sreesanth are seen discussing the accusations they made and the points they raised during the Sultani Akhada.
Before leaving the stage to return next week, Salman intimates that very soon, things will turn wild as there will be Wild Card entries in the Bigg Boss house. That has definitely taken my excitement a few notches higher! Will the wild card entries receive a warm welcome in the house? Or will they create more drama? I am definitely rooting for the latter. What about you?