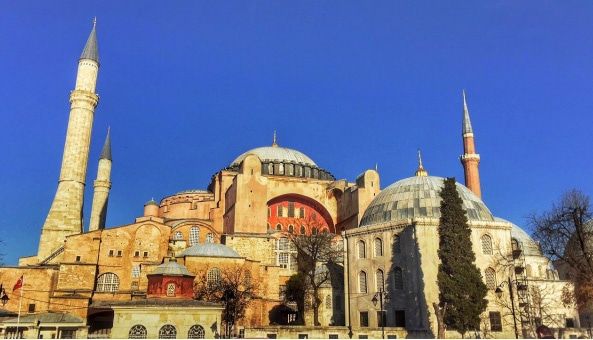 A transcontinental city in Eurasia, straddling Europe and Asia across the Bosphorus Strait, Istanbul is an eclectic mix of both cultures. In a city where the West meets the East; as a traveller, you'll get to experience the cultural influences of the empires that ruled this land. It is one of the most populated cities of Turkey, buzzing with people and life. The happy coexistence and co-habitation of two continents and the diverse religions and cultures make the city a prominent travel destination. You have to experience how the city oscillates between being a traditional and contemporary haven, it's delightfully confusing in a way. The city has a rich history and beautiful architecture; the innumerable mosques and churches standing adjacent to each other genuinely make for a remarkable sight. I visited Istanbul – the city of mosques & minarets and stayed there for 4 days! And here are the 10 things you should definitely do when you're in Istanbul.
1. Visit The Mosques & Minarets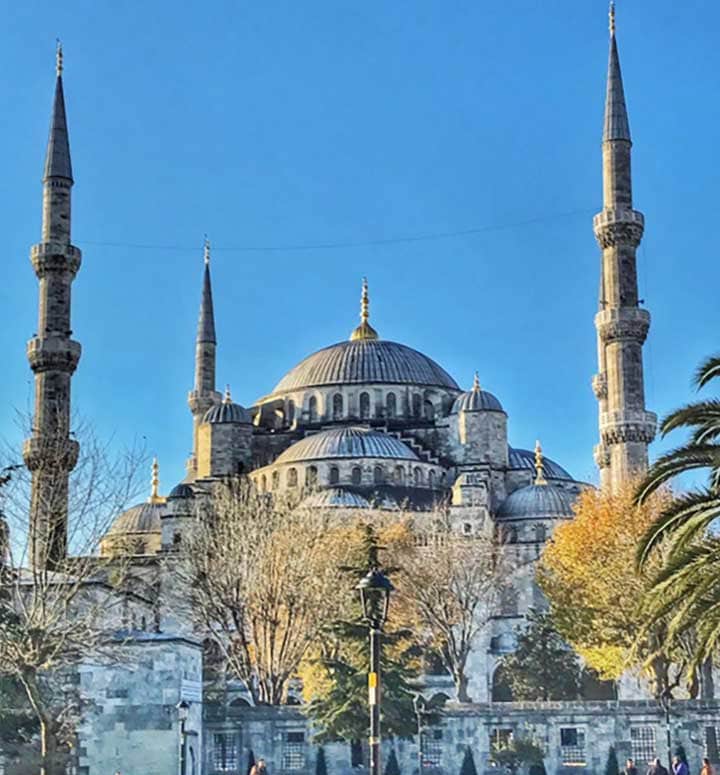 There are about a hundred mosques and minarets in Istanbul. The city is known for the enchanting
architecture of these Ottoman mosques. The most popular and the most beautiful of them is the Blue
Mosque. The sight of it is spectacular and breathtaking. It's believed to be the most majestic mosque
in the whole of Istanbul. You've got to see it, to believe it! This part of the old town is also home to the most
renowned Hagia Sophia! The history behind this place is worth reading. It was initially a patriarchal
basilica church, later a mosque and now a museum! YES! That's true! The splendour and opulence of this
Turkish heritage will leave you spellbound!
2. Take The Hop-On & Hop-Off Bosphorus Tour
The hop-on hop-off Bosphorus tour is the most fun thing you can do in Istanbul. I like the
concept of the hop-on-hop-off tour. The duration of the tour is around 1.45 hours. There are 5 stops
in total. Kabatas, Besiktas, Emirgan, Kucuksu and Beylerbeyi. The tour starts at 11.45 in the morning and
the last ferry is at 18.45 in the evening. The fun part is that you buy a ticket and you can hop on at any
station, then hop-off and go around that part of the city, come back and take the next ferry. Just hop on!
I took the ferry from Besiktas and hopped off in Kucuksu and strolled around to have the best Turkish
street food. I also hopped off at Beylerbeyi to have the most amazing Turkish delight! By the
evening I was back in Besiktas. Awesome, isn't it? The ferry ride was one of the best EVER. Vintage
palaces and mansions along the shores of Bosphorus will blow your mind away and you'll always
remember this glorious ferry ride across Bosphorus just in the middle of two frickin' continents!! The cherry
on the cake is that you pass underneath the iconic Bosphorus Bridge that connects these two continents.
3. Experience The Famous "HAMMAM" – Turkish Bath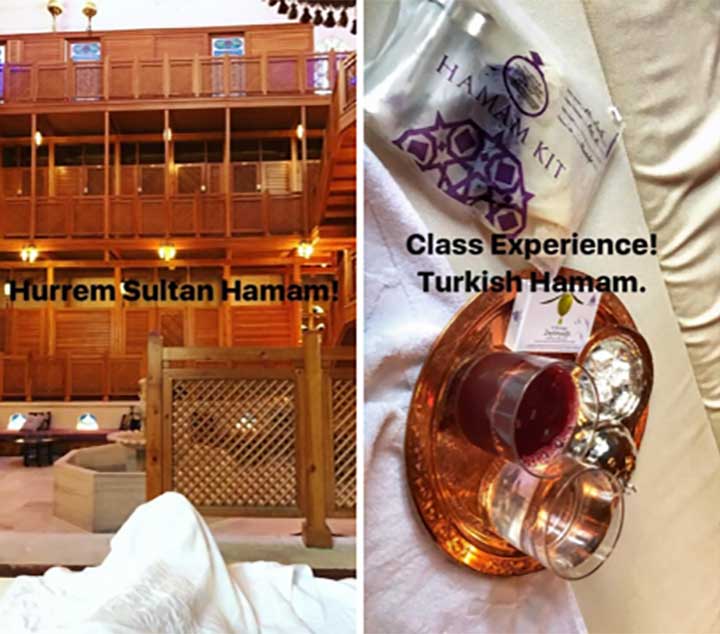 OMG. This experience has by far been one of the most exotic and unique experiences I have ever had
in life. It's ineffable. There are many places in Istanbul where you can get a Turkish bath, however, be
informed about the places you're going in. I would recommend, you go in for a hammam bath that's
well known. Turkish bath mainly consists of sauna, steam and body wash, finishing off with a massage.
It's certainly not the usual. You would feel rejuvenated entirely and re-spirited post the Ottoman royalty
bath. It's majestic and a total must-do when in Istanbul.
Where: Ayasofya
The chief Ottoman architect in 1556 built the Ayasofya Hurrem Sultan Hamam in Istanbul.
Yessss! It dates back to that era and it's an architectural gem. One cannot believe how a marvellous
beauty like this one was built way back then! The moment you enter the hammam you'll be in awe of the
architecture, which is all tastefully and craft-fully done in white marble. It is Istanbul's innovation in Turkish
bath architecture and has different sections for men and women constructed on the same axis as mirror
images of each other. What's all the more amazing is that it stands just next to the famous Blue
Mosque and Hagia Sophia. Clicking pictures inside the bath is obviously not allowed. So, this is all I have
for you guys.
4. Visit Grand Bazaar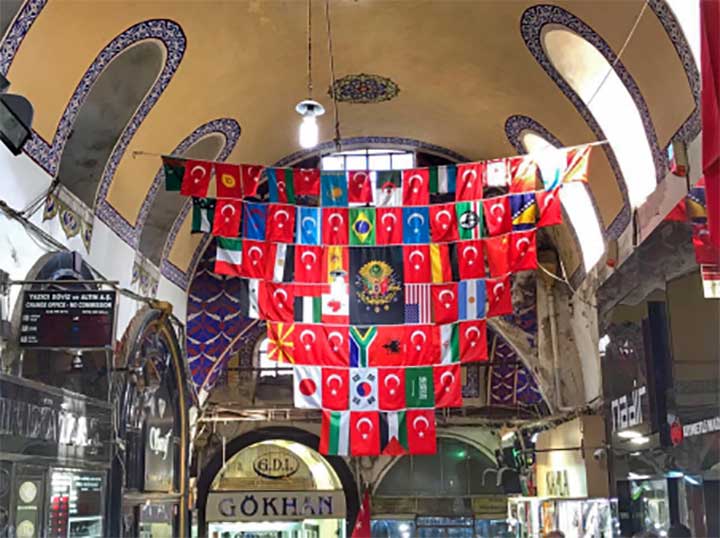 The largest and the most attractive covered market in this whole wide world – yes, that's Grand Bazaar
for you all. The market is so beautiful and colourful, and you will get everything under the sun in this
market – ancient and archaic, new and novel. The whole market is an intersection of lanes, so make sure
you don't get lost in there! And remember, don't forget to bargain!
5. Have Turkish Street Food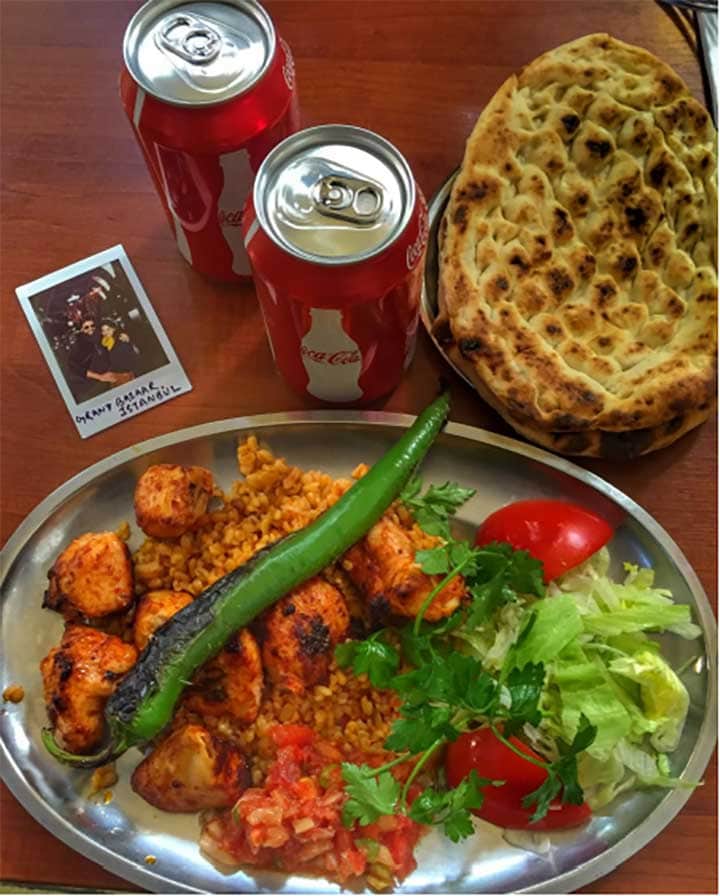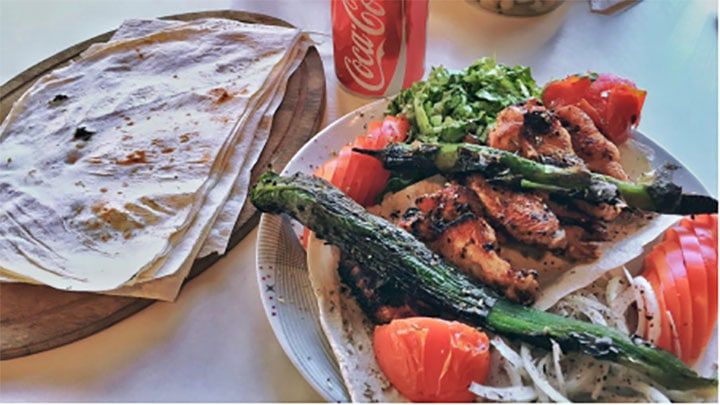 Turkish cuisine is known all over the world, so when in Istanbul it's a must try! Turkish table is one hell
of a delicious affair. Their diverse and native cuisine is full of infusing flavours that keep your taste buds
craving for more. The food scene here is awesome and it's quite heavenly for a foodie to be here. I was particularly in love with their Tavuk Duruk, Tavuk Durum, Kumpir, Kebap, Tavuk Kanat, Kulah. Ya, now if you're reading this blog and are a connoisseur of food, go google these!
6. Explore The Old Town Neighborhood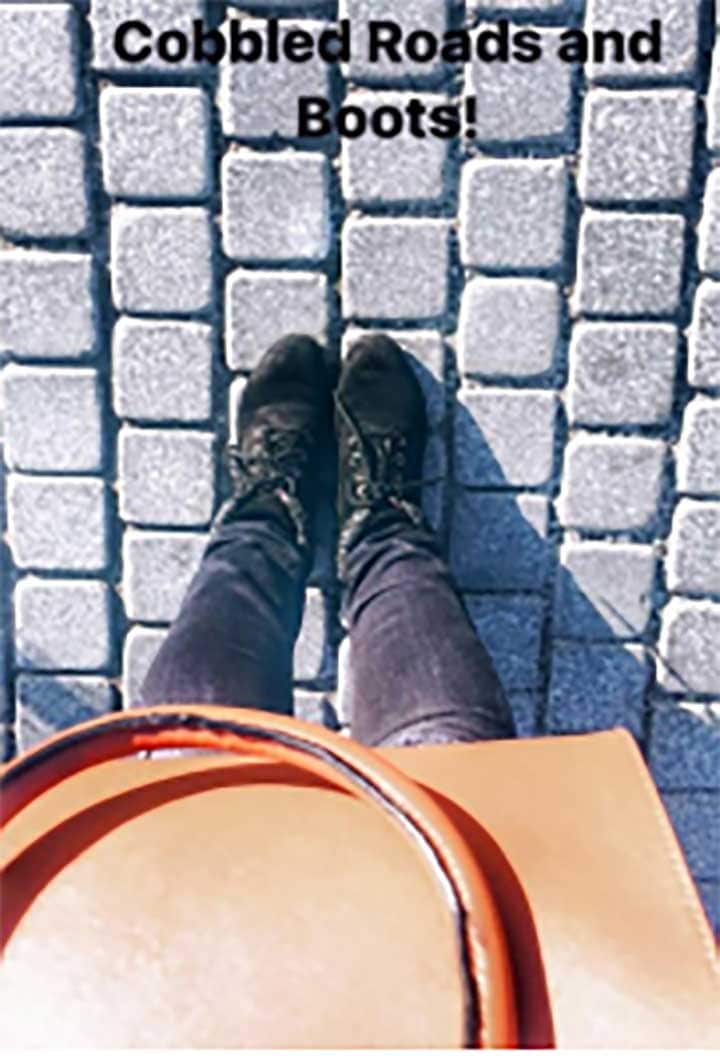 The city has an old world charm that just cannot be missed. The red brick roofs, trams, old architecture,
cobbled roads will make you fall in love with the city. A walk around the Hippodrome and Sultanahmet
square will make your jaws drop. It's that alluring! If you have time, visit Camlica Hills and get the view
of the entire city from there!
7. Have Turkish Delight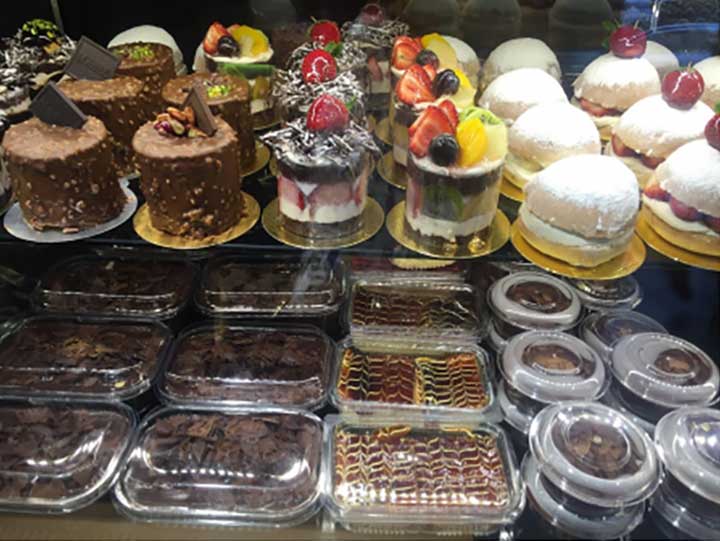 Who's not heard of Turkish delight? We all have, haven't we? How awesome would it be to actually
land in Turkey and have a first-hand experience of relishing it! These sweets here are an integral part
of Istanbul's culinary life. These appetizing desserts and exotic confections are enough to entice you and
leave you in a state of sweet reverie. No kidding! All I wish to have right now is Baklava!
8. Visit Taksim Square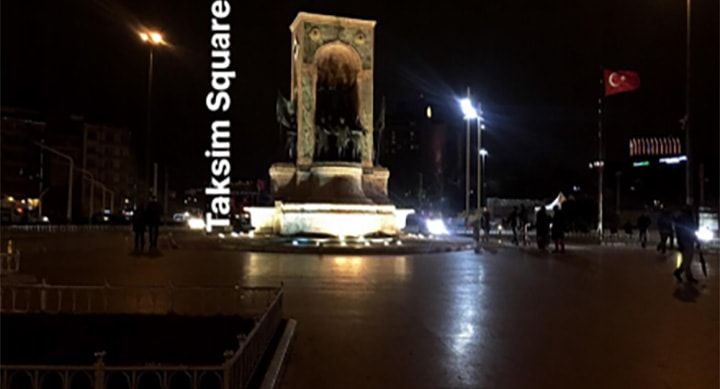 There are many squares in Istanbul, Taksim being the most popular and important one. It's in the heart
of modern Europe buzzing with people and life. This square is often in the news for the various
protests that originate from right here, at the monument of the Republic. Be it social gatherings,
parades or celebrations, they all happen here. My favourite lane in Istanbul – Istiklal ends at Taksim
Square. This lane is quite a find for a shopper because you'll find every brand imaginable—from local
to international. Also, a nostalgic tram runs through the square. Take a ride!
9. Communicate With The Locals & Explore The Neighborhood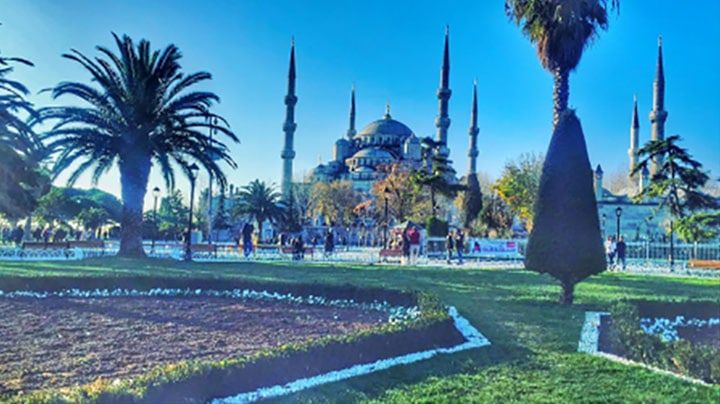 The most amazing part of my stay in Istanbul was the fact that people there did not understand
English. They only knew a few basic English words and I used to communicate with them either in sign
language or using google translator! It's funny how everyone there used the word problem when
they wanted to say no. Also, many of them used to say Kuch Kuch Hota Hai when they got to know
that I am an Indian! The one thing I realized during my stay here that language is never a barrier when two people wish to communicate.
10. Take A Good View Of Ataturk Airport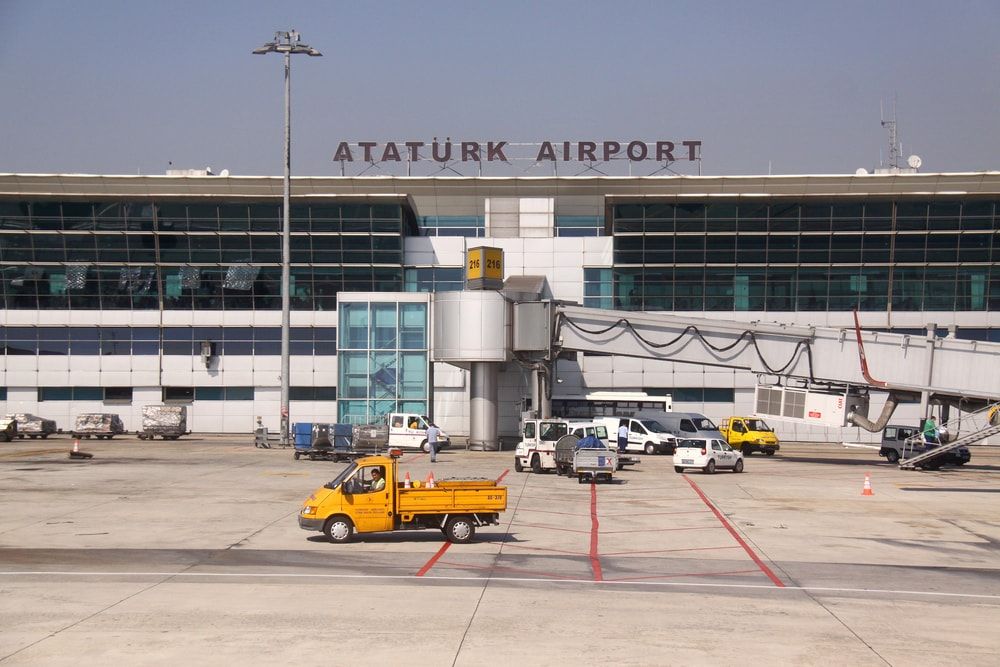 The airport is beautiful and is the biggest airport in Turkey by the total number of passengers, aircraft
movements and destinations served. As an avid traveller, I believe that airports are an integral part of
any of our trips! For some reason, airports fill me with happiness and excitement, to either start a
vacation or come back home.
Where I stayed: Hotel Conrad, Besiktas
Price per night: 260 Turkish Lira per night (approximately 4200 INR)
The month I visited: December
Climate: Cold, 6-12 deg Celsius
If you're planning on visiting Istanbul anytime in the future ping us for any travel tips and we would
be happy to help! Also, tag us using the hashtag #desigirltraveler and you might get featured on MM!
Happy Travelling!