The Ultimate Beauty-At-Home Guide To Being Your Best Self This Diwali
Alisha Fernandes , 02 Nov 2018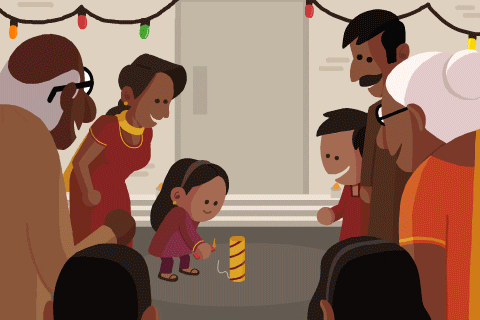 The festive season makes me so happy! Starting with Ganesh Chaturthi and Dussehra a while after that, to Diwali, Christmas and everything in between, there is so much to celebrate and get excited for. And living in a city like Mumbai means you get to experience all these festivals in the grandest displays. And none more so than Diwali. With the festival of lights around the corner, there is one thing for sure, it's PARTY TIME!
But we know, us millennials are so caught up with work and other responsibilities that we often forget things that are in general considered the most basic, yet the most essential prep for the party season. Yes, I'm talking about all that grooming. You wake up one morning, realise the next day is Diwali and for a moment you're happy and excited till you glance into the mirror and realise – you've forgotten to wax, to thread your upper lip and eyebrows, to do any kind of skin pampering and then it's panic mode ON. Suddenly, you're scrambling to get salon appointments but everything is booked. Sounds familiar, right? But we're here to tell you that thankfully we live in a day and age that you can get all your beauty treatments done at home without having to deal with the stress of an appointment. And trust us when we say, it's so simple and straightforward, you might swear off salon visits for good!  With the lack of time and 100 other things to sort out, we know grooming can sometimes take a backseat. But fret not, because there is a quick and easy way to sort out all your grooming problems—#JustVeetIt!  Between your grandma's home remedies and some of Veet's genius products, you'll be good to go in a jiff! Let's dive in, shall we?
Face
Multani mitti face packs and haldi have been touted as the best home remedies for glowing skin, but there are many more. What is of prime concern during festivities is that your skin is glowing, and looking dewy fresh, amirite? And for that, I suggest a two-pronged approach. First, exfoliate to remove all the dead skin cells and then use a pack to moisturise. There is a third step, but we'll get to that shortly.
For exfoliation
Ingredients:
2 tbsp ground oatmeal
1 tbsp honey
1 tbsp warm water
Method:
Mix thoroughly and apply to the face while the consistency is paste-y. Keep it on for 5 minutes and then rinse off with a washcloth or simply with just warm water.
For nourishment
Ingredients:
Half a ripe banana
1 tsp honey
2 tbsp orange juice
Method:
Mash it together, mix it well and apply it all over your face and neck. Leave it on for 20 minutes. Then, wash your face with water and tap dry.
Finally, step 3 is where Veet's Electric Trimmer comes in. It has an attachment that can take care of facial hair. Goodbye pesky moustache! And being waterproof, the trimmer can be used in the shower, so that sorts you out as well, saving time yet again.
Eyes
For problems like puffiness and dark circles, there are also multiple home remedies like cucumber slices to cool down tired eyes. But there is another ingenious way to take care of puffiness.
Ingredients:
Method:
Place the used tea bags in the freezer till they're nice and cold and then place them over your closed eyes till the puffiness reduces.
After the pampering is done, and right before you start with your makeup, use the Veet Electric Trimmer yet again to get the perfect brows. It has another adjustable head that is supposed to be specifically for eyebrow sculpting with utmost precision 'coz as we all know, brows are it, nowadays!
Body
Technically you don't need any reason to dress as fabulously as you like, but Diwali provides the perfect excuse to do so. This is one of the first things you need to think about and plan as the days' inch nearer. What are you feeling this Diwali? There are so many routes you can take from lehengas cholis to salwar suits bedecked with embroidery and embellishment, to sarees, anarkalis and indo-western fusion outfits. But then, if you want to #Bring InSexyBack this Diwali, you're probably going to need help with your hair removal, right? And like we said, with salons booked up, you need another, quicker option—Veet.
If trimmers aren't for you but you obviously want to#BringInSexyBack with all your sleeveless and backless outfits without worrying about unwanted body hair, don't worry, there are other options that are more time-efficient than rushing off to the salon. Presenting Veet Cold Wax Strips. I legit have these at home and they are so easy to use! All you have to do is peel, apply on the patch of hair and pull in the opposite direction of hair growth. It works like magic! Aside from easy usage, the other positives include the price that is Rs 174 for a complete waxing strip and post-use moisturising wipes. The Veet Cold Wax strips are coated with gel wax that enables the removal of even short hairs that salons can't and most importantly, it's minimum mess and fuss.
But okay, if you're still unconvinced, there's yet another painless and easy option for you and that is Veet Hair Removal Cream that comes in three variants, for normal, dry and sensitive skin. You can show off your mid-riff or wear your backless choli with minimum stress because all you have to do is apply the cream on the desired area, leave for 3-6 minutes, depending on the hair growth and voila, you're done!
Hair
Your luscious locks need some care too, considering the number of styling products and tools you'll be using over the next week, so to nourish your hair and make it glow here's what you need to do. Please note that the quantities mentioned are for medium length hair, so adjust accordingly.
For nourishment and glow
Ingredients:
1 egg
3 tbsp coconut oil
2 tbsp of milk
Method:
Mix all the ingredients and apply it to the length of your hair. Keep it on for 20-30 minutes and then wash it off thoroughly.
And that is it, my friends! A few simple ingredients from your kitchen pantry and some Veet products are all you need to address any and every grooming concern you might have from the comfort of your own home. Happy Diwali! Leave us a comment if you've tried any of the suggestions above!
Don't forget to follow Veet India on Facebook, Twitter & Instagram. 
This post is in partnership with Veet India.