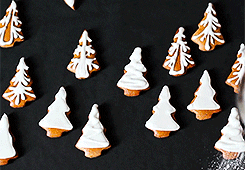 Christmas is everyone's favourite time of the year. Some of the things that make Christmas so special are the cosy get-togethers, the festive decorations, the gifts and of course, the food! Most of us spend our time during Christmas at cosy dinners and brunches surrounded by our loved ones. And cooking for our close ones adds a personal touch even the fanciest of restaurants can't compete with. So with that in mind, here are 5 simple recipes to try out his Christmas that will have everyone's mouth watering.
1. Chocolate Peppermint Bark
What you'll need:
6 ounces of chopped white baking chocolate
1 cup crushed peppermint or spearmint candies
1 cup (6 ounces) semi-sweet chocolate chips
Here's how you can put it together:
Melt some white chocolate in a microwave and stir until it reaches a smooth consistency. Add 1/3 cup crushed candies and stir again. Repeat the same with chocolate chips and an additional 1/3 cup of candies. Alternately drop a few spoonfuls of chocolate and white chocolate mixtures onto a waxed paper-lined baking sheet.
Using a metal spatula, cut through the candy to swirl and spread to 1/4-in. thickness. Sprinkle with remaining crushed candies. Refrigerate until it is firm and break it into pieces.
Recipe Courtesy: www.tasteofhome.com
2. Mincemeat Pies
What you'll need:
225g diced cold butter
350g plain flour
100g golden caster sugar
280g mincemeat
1 small egg
icing sugar
Here's how you can put it together:
Mincemeat isn't what you think it is. When it comes to Christmas sweets, Mincemeat refers to a well-balanced mixture of dried fruits, ground almonds, and spices that will jazz up your usual Christmas menu. Here's how you can make the pies.
For the pastry, rub the cold, diced butter into plain flour then mix in the golden caster sugar and a pinch of salt. Combine the pastry into a ball and knead it. The dough should feel firm.
Pre-heat the oven. Line the holes of patty tins, by pressing small walnut-sized balls of pastry into each hole. Spoon mincemeat into the pies. Take slightly smaller balls of pastry than before and pat them out between your hands to make round lids, big enough to cover the pies. Top the pies with their lids, pressing the edges gently together to seal them shut. Beat the egg and brush the tops of the pies with it. Bake for 20 mins until golden. Leave to cool in the tin for 5 mins, then remove on to a wire rack
To serve, lightly dust with icing sugar. They can be kept for up to 3-4 days in an airtight container.
Recipe Courtesy: Orlando Murrin | www.bbcgoodfood.com
3. Holiday Salad
What you'll need:
2 juiced lemons
1/2 lemon
1 teaspoon sea salt
1/2 teaspoon freshly ground black pepper
1/4 cup and 2 tablespoons extra-virgin olive oil
5 medium heads Belgian endives, ends trimmed and cut into 1-inch circles
1 medium green apple, peeled, cored, and cut into 1-inch cubes
1/4 pound Gruyere cheese, rind removed and diced into 1-inch cubes
1/2 avocado, diced into 1-inch cubes
2 tablespoons dried cranberries, or the seeds of 1 small pomegranate
2/3 cup defrosted corn kernels or 1/2 ear corn, cooked and kernels removed
How you can put it all together:
In a small bowl whisk together the lemon juice, salt, pepper, and olive oil—This will be your dressing. Put the endive and apples into a large decorative serving bowl. Squeeze the juice of half a lemon into the bowl and toss it all together to coat the endive and apples so they don't turn brown. Add the cheese and avocado, and then further add the corn and cranberries.
Pour the dressing over the salad and mix it well just before serving.
Recipe Courtesy: Giada De Laurentiis| www.cookingchanneltv.com
4. Chocolate Marzipan
What you'll need:
1 cup of cashews
1 cup sugar
1 tablespoon vanilla powder
2 tablespoons cocoa powder
4 tablespoon of water
1/2 cup desiccated coconut
Sunflower oil as required
How you can put it together:
Grind the cashews with enough water to make a smooth paste. Add sugar and 4 tablespoons of water in a pan and heat the pan to melt the sugar. Next add the cashew paste to the pan and mix it well. Add cocoa and vanilla powder, continue to mix and stir. When it is thick enough, cool the mixture and mould them in whichever shape you like with your hands. Roll the moulded marzipan in desiccated coconut, for that extra yummy flavour.
Recipe Courtesy: Dassana Amit | www.vegrecipesofindia.com
5. Chocolate Malted Cookies
What you'll need:
1 cup butter-flavored shortening
1-1/4 cups packed brown sugar
1/2 cup malted milk powder
2 tablespoons chocolate syrup
1 tablespoon vanilla extract
1 large egg
2 cups all-purpose flour
1 teaspoon baking soda
1/2 teaspoon salt
1-1/2 cups semisweet chocolate chunks
1 cup milk chocolate chips
How you can put it together:
In a large bowl, beat the shortening, chocolate syrup, brown sugar, malted milk powder and vanilla for 2 minutes. Add the egg to this mixture. Next, combine the flour, baking soda and salt; gradually add the dry ingredients to the creamed mixture, mix it well. Add chunks and chips of chocolate and stir. Shape into 2 inch balls and place 3 inches apart on baking sheets. Bake at 375° for 12-14 minutes or until golden brown. Let it cool for 2 minutes before removing it onto a wire rack.
Recipe Courtesy: www.tasteofhome.com
Which one of these recipes are you going to try for Christmas? Do let us know in the comments below.
Don't forget to follow us at @missmalinilifestyle to never miss a beat!