Celebrity Fitness Specialist Yasmin Karachiwala Shares 5 At-Home Exercises To Help You Get In Shape In 2019
Pallavi Manoj , 29 Dec 2018
Many of us end up skipping our daily workouts mostly because they involve having some free time, a gym membership, a couple of equipments, weightlifting and a personal trainer. Turns out, that is not true at all. Recently, our serial home invader, Priyam Saha invaded celebrity fitness trainer, Yasmin Karachiwala's super spacious and stunning duplex apartment in Mumbai thanks to Pepperfry. And interestingly, the latter busted some of our common myths about fitness. When you get fitness gyan from the lady behind the sculpted and toned bodies of Katrina Kaif, Deepika Padukone and Alia Bhatt, you take it to heart and try it out, of course!
So, we asked the pilates goddess if she had any tips for us noobs to get our bodies in shape in 2019 and she obliged.
Here are the 5 at-home exercises you can do to get fitter:
1. 1 minute of wide squat pulse with heels lifted
First, stand with your feet wider than hip-width apart while maintaining your balance. Go into a squat, lift your heels up and pulse for 20 reps. After that, come up, lower your heels and repeat the same for 1 minute. These squat pulses are great to achieve toned thighs and strengthen your legs.
2. 1 minute of plank holdout
Come down to a forearm plank with shoulders directly over your elbows and lift the knees off the floor to stand in a plank position. Hold the plank for a minute. This is a great workout for your core and it helps boost your energy. It also improves your flexibility, balance, and posture.
https://www.instagram.com/yasminkarachiwala/p/BhbqemvBtsr/
3. 20 reps of tricep dips
Begin by sitting down on the mat with your knees bent and feet on the floor. Then place your hands behind and under your shoulders with your fingers facing towards your hips. Now lift your hips to hover and push back down. Repeat for 20 counts. This is the easiest way to get toned arms without any equipment at all!
4. 15 reps of pushups
Assume a plank position but make sure you set your hands at a distance that is slightly wider than the shoulders. Steadily lower yourself until your elbows are at 90 degrees or smaller. Make sure your arms are straight, butt clenched and abs braced. Along with strengthening your abdominal, muscles push-ups also helps strengthen your upper body including your chest, shoulders, and arms.
5. 25 reps of jumping jacks
Begin by standing straight with your arms by your side. Then jump up and spread your feet beyond your hip-width while bringing your arms above your head to almost touch. Then lower your arms and bring your feet together. This is the best cardio that you can get and it helps with over-all toning of the body by increasing your heart rate and working your abs, arms, back, shoulders and legs.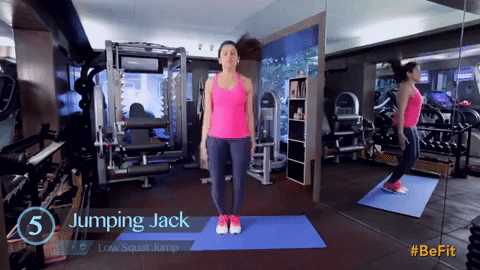 Yup, she says it's that simple. As you can see, all of these are exercises that can be done at home. Yasmin even revealed that she mostly works out at home too. To see where the fitness expert works out at her gorgeous Mumbai home, watch our latest episode of Home Invasion.
Check it out:

That's one swanky home, isn't it?
Thank you for being a wonderful host and giving us these effective fitness tips.
To check out some of Yasmin's favourite picks from Pepperfry, click here.
This post is in partnership with Pepperfry. You can follow them on Facebook, Twitter, and Instagram.