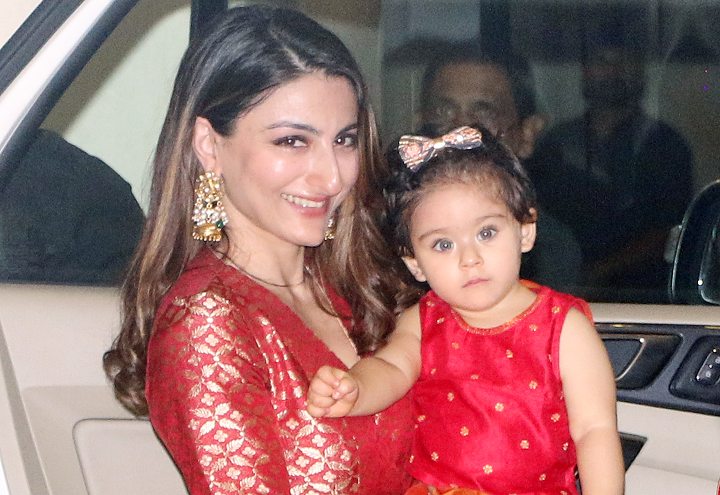 According to www.UrbanDictionary.com,
In film and television, a meet-cute is a scene in which the two people who will form a future romantic couple meet for the first time. This type of scene is a staple of romantic comedies.
In other words, every romantic story has a meet-cute where a boy meets a girl. And sometimes, real-life romances are even sweeter than those we watch on TV. Today, we're telling you about some of the cutest celebrity meet-cutes that are sure to make your heart melt! Here they are:
1. John Legend & Chrissy Teigen
John and Chrissy met on the sets of his hit single Stereo back in 2007. She was cast to perform in the animated short film and according to John, it wasn't 'love at first sight', but after a couple of years, the feeling grew on him.
2. Olivia Wilde & Jason Sudeikis
These two met on the finale of Saturday Night Live in 2011 where there were indefinite sparks between the two. They didn't go out on a date for 6 months and once they did, they kept the restaurant on till 2 am. He didn't kiss her on that date and she told a magazine that she was madly in love with him! They married a couple of years later.
3. Prince William & Kate Middleton
Kate and William were both studying at St. Andrews University. While they were both friends for a while, he didn't fall in love with her until she walked the infamous university fashion show very confidently. He even whispered "She's hot" to his classmate. After being together for so many years, William finally popped the question in 2010 and they had a royal wedding to remember!
4. Priyanka Chopra & Nick Jonas
Priyanka and Nick have been all over our Instagram feed as they recently got married in India. But what's interesting is the way they first met. Everyone has been under the impression that they first met at the 2017 Met Gala. Interestingly, that's not their first encounter. Apparently, Jonas slipped into Priyanka's Twitter DMs back in 2016 and that's when she told him to text her instead. They even met at the Vanity Fair Oscars after party in 2017 for a brief amount of time before she had to fly back to Mumbai. They then met at the Gala and that's when the flirting was in full form. They then met pretty often and finally said 'I do' this month!
5. Prince Harry & Meghan Markle
Man, we wish every blind date we've ever gone on would turn out to be someone like Prince Harry. The risk totally paid off back in 2016 when their friends set them up together. Only two dates in, Harry asked Meghan to join him on a trip to Botswana and they both had the most private and romantic getaway they needed to fall in love with each other. They tied the knot in 2018 and are now expecting their first born!
6. Blake Lively & Ryan Reynolds
These two cuties met at the sets of The Green Lantern (I know, right?). They didn't go out immediately but only after a year when they both went on a double date (not with each other) and had the most awkward date ever. Both of them, however, had a ball. "It was like the most awkward date for the respective parties because we were just like fireworks coming across," Reynolds told the media. They eventually started dating and tied the knot in 2012. They're the quirkiest and cutest couple in H-Town.
7. David Beckham & Victoria Beckham
Posh Spice and Man-U footballer David Beckham instantly fell in love in 1996 when she went to one of his soccer matches. They met right after the match at the Player's Bar and that's when he spoke to her.
For the first three months, it was amazing because no one found out about us being together. We loved that because we could sneak around. Our first kiss was in the car park of a restaurant. We used to drive to places and just spend as much time together as possible. That was an amazing time in our relationship.
David told the media. They've been married for over 20 years with 4 beautiful children.
8. Emily Blunt & John Krasinski
These two had the cutest meet-cute if you ask us. Emily was at a restaurant having dinner with a mutual friend when her friend said: "Oh my god, there's my friend John". When Krasinski came over to talk to them, she almost already knew he was the one. They've been married 8 years now and still give us major #CoupleGoals.
9. Channing Tatum & Jenna Dewan
Even though this couple split up this year, you can't take away their cute story. They met on the sets of Step Up back in 2006. When they first met, Channing was 'running away' from Jenna as he just got out of a long relationship. But one night, he got drunk and showed up at her door wearing a Sombrero hat he stole from a restaurant. They hung out for long that night and eventually got hitched in 2009. However, they announced their separation in April 2018.
So, aren't these just the cutest? Which story was your favourite? Tell us in the comments below.
Don't forget to follow us at @missmalinilifestyle to never miss a beat!