DietSabya, India's very own fashion police is loved by some, hated by some and blocked by many. Taking a leaf out of all that  DietPrada is doing internationally, DietSabya built loyal followers, lovers, and haters all on Instagram. The profile added a new post to their feed today accusing Anamika Khanna of stealing an idea that originally belonged to Anna Wintour.
Anamika Khanna created custom designer outfits for the Kapoor Sisters that had the words 'EVERYTHING IS AK-OK' written on them, that was similar to Anna Wintour's sign off which is written as 'AWOK'.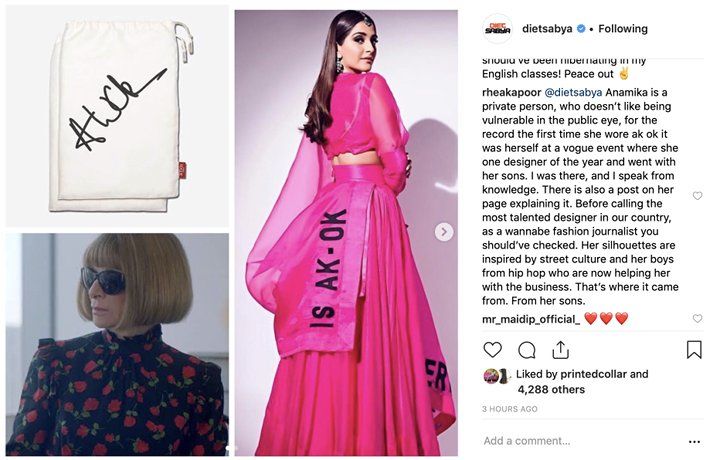 Rhea Kapoor, Anamika Khanna's close friend swooped in to tell everyone the reason and bring clarity to the situation. Where she explained the reason why the designer began marking her clothes with this particular phrase.
Rhea commented and said,
Anamika Khanna went through a major health crisis last year, in order to bring her back to her work after an almost year-long sabbatical, her sons @thevisheshkhanna and @viraj_khanna started saying, "Everything is AK-OK, mom" and that's where this has come from. Thanks.
Rhea further clarified by saying,
Anamika is a private person who doesn't like being vulnerable in the public eye, for the record the first time she wore AK-OK it was herself at a Vogue event where she won designer of the year and went with her sons. I was there, and I speak from knowledge. There is also a post on her page explaining it. Before calling out the most talented designer in our country, as a wannabe fashion journalist you should've checked. Her silhouettes are inspired by street culture and her boys from hip-hop who are now helping her with the business. That's where it came from. From Her sons.
Sonam Kapoor Ahuja also put up a post and showed love and appreciation for Anamika and her work.
There was much controversy around this post and was soon taken down by DietSabya, as dictated by a poll that the profile put up on their story. Do you think this was a plagiarist move on Anamika Khanna's part or was DietSabya completely out of line with his post?
Let's discuss this in the comments below!
Follow @missmalinifashion and @missmalinibeauty on Instagram for more updates.