Keeping Up with the Kardashians is one hell of a masaaledaar show. If you're new to it, understanding the family tree might take some time but once you're in it, there is no going back. The show has been running for 15 damn seasons, with new controversies and scandals coming up in each one of them. Apart from seeing the Kardashian and Jenner fam, there is someone else who has been very tight-knit with them. Yup, it's none other than the talk of the hour, Jordyn Woods, Kylie Jenner's best friend since she was 13 years old!
If you've been living under a rock and don't know why your social media feed is flooded with these people's names, allow me to take you through this mess, step by step. I'd suggest you grab a bowl of popcorn before starting this because I've tasted the tea and it's piping hot!
Khloe Kardashian's baby daddy Tristian Thompson had previously cheated on her, a week or two before she gave birth to his baby. Later, she forgave him and things cooled down. Until Jordyn decided to mess it all up by hooking up with Tristian. Things went downhill from there and the internet cannot stop (hilariously) commenting on this news. Check it out.
1. Me when I woke up to the news
me: i don't care about the kardashians i think they're a waste of my ti-

TMZ: khloe kardashian and tristan thompson split over cheating allegations involving kylie jenner's best friend, jordyn woods

me: pic.twitter.com/ixwryhLzqP

— bucky's tick (@lgtbstevebucky) February 20, 2019
2. My boyfriend cannot wait for the KUWTK episode featuring the scandal now
Me explaining to my boyfriend the Khloe – Tristan – Jordyn – Kylie drama. pic.twitter.com/Afkc4V09dt

— Karla (@karlapink) February 21, 2019
3. Tell me this is a lie, Kris!
[Keeping Up With the Kardashians season 16 writers' room]

KRIS: Okay, so in episode 5, Tristan and Jordyn will hook up.

KHLOÉ: Wait, no, I just had a baby with him.

KYLIE: Yeah, and that's my best friend.

KRIS: pic.twitter.com/7RYV54xotS

— Michael🥴 (@michaelcollado) February 21, 2019
4. Thank you, next.
Kylie Jenner taking her friendship back from Jordyn Woods pic.twitter.com/f1G8MWr3pM

— Manny🤪 (@galindo1123) February 21, 2019
5. These memes are getting out of hand, gaiz!
#kyliecosmetics will be having a flash sale on the Kylie x #jordyn Collection. All products buy 1 get 10 free. Everything must go! Use the code "betrayal" for free shipping. pic.twitter.com/Pp44GkIX1Q

— Mike (@JoDeeFostarr) February 20, 2019
6. Wait, Kylie actually did it? Mind = Blown
Kylie really put the Jordy lipkit on sale for $13.50 on Kylie Cosmetics 😂 Jordyn done fucked up pic.twitter.com/ETCk0KhXqO

— KAY 🌻✨ (@KarlaJPerez) February 21, 2019
7. Hitting where it hurts.
Someone said Jordyn hasnt been online anymore bc Kylie cancelled her phone plan 💀💀 pic.twitter.com/WDmoyct28W

— liv (@livanthelife) February 20, 2019
8. Hey, Kylie! I can do a full split too, just saying.
Now that Jordyn is done if Kylie needs a new bff I'm available
pic.twitter.com/NMpBCWXikO

— B (@b8i661) February 20, 2019
9. When my full split will work its magic (obviously) :)
me being rich with kylie after i replace jordyn pic.twitter.com/WKnIYrMxhz

— Victor Sanchez 🌻 (@victxrrrs) February 20, 2019
10. Wait, why didn't I think of this before? Karma really is a bee, maybe.
y'all feel bad for Khloe ? not Khloe who starting talking to Tristin when he was in a relationship with a whole baby on the way wheww chile look at Karma, now you gotta see Tristin every time you look at yo baby 😩 #JordynWoods

— Junie B. Jones (@yassspetunia) February 19, 2019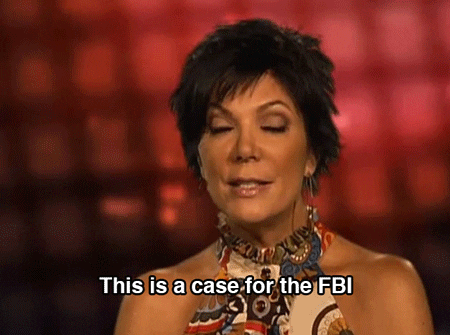 You're welcome. *Mic drop*