The content on television, social media, online streaming portals etc. is a major driving force in shaping the mindset of our youth. Therefore, it's very important that whatever is being put out there further broadens our horizon. Ekta Kapoor's Kehne Ko Humsafar Hain on ALTBalaji, which is currently in its second season, is one such web series. It revolves around 3 mature characters, Rohit, Poonam and Ananya played by Ronit Roy, Gurdeep Kohli and Mona Singh respectively.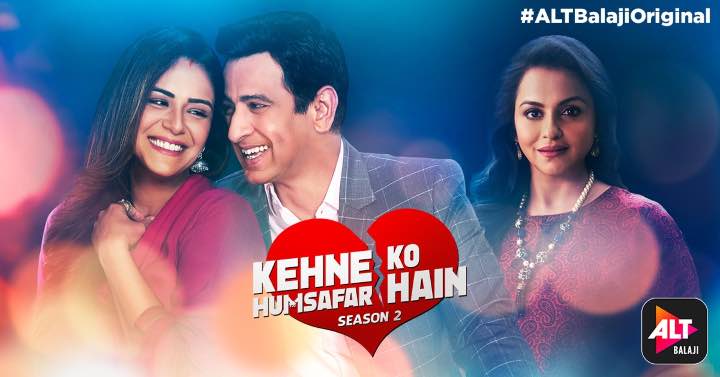 Ananya stands up for her individuality and doesn't let her personal life hinder her professional choices. Rohit realises that loving an emancipated woman is different from being married to one. Ananya's aspirational qualities drew him towards her initially, but later it bothered him that she prioritised her work over him. On the other hand, Poonam's life goes haywire post her divorce with Rohit but she slowly learns to adapt to an independent life without him.
Apart from complex relationships, mature storylines and grey characters, we give you 5 reasons to watch the show ASAP:
1. Ananya doesn't let her career take a backseat after marriage.
Unfortunately, it's a privilege if a woman isn't asked to give her work second priority after she gets married. Watching a reel life character like Ananya put her work first, without any guilt, somehow makes her very relatable. Being successful in your personal life isn't a crime, after all.
2. The equation between Ananya and Poonam.
There isn't any cat fight here, unlike what is expected from most women caught in this scenario. Despite their situation, Ananya and Poonam have a dignified and respectful bond and don't bad mouth each other. Kudos to the writers for moulding the script in a way that doesn't portray women as the cunning plotters who always wish for the other's downfall.
3. Both the ladies aren't afraid to speak their mind.
Ananya calls a spade a spade as she isn't afraid of telling Rohit where he is wrong. She doesn't feel she is liable to him because he has left behind his entire family to marry her. She is capable of differentiating between right and wrong without letting love cloud her judgement. Similarly for Poonam, she knows when to stand up for her rights and remind her ex-husband that he has responsibilities, despite their divorce.
4. They find their happiness from within.
If leaving behind her husband of few months and moving to Qatar for the next step of her career brings Ananya happiness and satisfaction, then be it. What's wrong with asking a man to compromise for a woman's profession if a woman is expected to do that in a heartbeat?! Poonam, on the other hand, also makes an effort to pick up the pieces and move on in her life. A woman doesn't need a man, she might just want him. Both the female characters are a fine example of surviving pretty well without being dependent on a man.
5. Defying norms doesn't mean Ananya compromises with her values.
Ananya didn't marry in her 20s, she prioritised her career, she married a divorcee with 2 young daughters and she definitely isn't the quintessential Indian bahu. She shattered norms in possibly every aspect of her life but her value system is strong and steady. It's time people come around to the idea that being modern doesn't make a woman 'loose' or 'unworthy'.
In conclusion, one of the key takeaways from the series is that a woman's life need not stop after either marriage or divorce. Kehne Ko Humsafar Hain Season 2 is a must watch for every woman who has been asked to surrender for a man or forced to push her career aside or is struggling to start afresh after a broken marriage.
New episodes of Kehne Ko Humsafar Hain streaming every Monday, Wednesday and Friday on ALTBalaji. Click here to watch.