It's the end of the month, like literally the last day! And all I have left is a single ₹500 note in my pocket. If you don't know me, let me fill you in on my biggest passion and love in life—FOOD! I live to eat and hence if I have ₹500 left in my pocket and bank balance combined, I obvio will spend it on food. Who's with me? So, I thought I'd explore my favourite part of the city and a part of my heart, Bandra for the ultimate street food experience.
I was born and brought up here, and I know every nook and corner of this area by the back fo my hand. I've taken it upon myself to prove to those who think you can't get much in Bandra for ₹500 that 'Bud, you can… You can, indeed'! I legit took that last ₹500 note with me, my pride and knowledge of Bandra and nothing else. JK, I also took some spare money for rickshaw spends. The real question is, will I actually be able to get a lot in this much cash? Scroll to find out!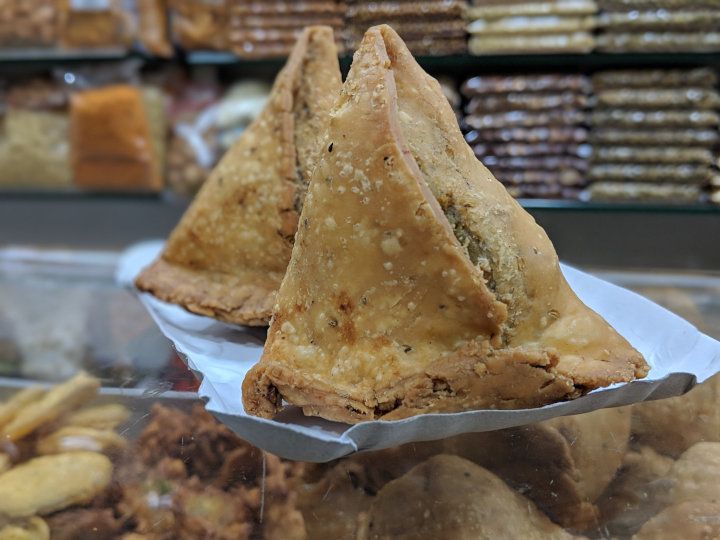 Bandra's ultimate go-to for all things snacks. This place not only has insanely fresh farsan, but it also houses innovative chips with some even more creative flavours. Ever thought frankie khakra and BBQ makhanas would be introduced to this world? Well, here's where you'll find them!
MM Recommends: Samosas
I usually never share the three crispy sides of these heavenly triangular snacks, but at Annapurna, I don't share a small speck that might have fallen in my hair too. It's too good to share.
Price Per Piece: ₹15 (I bought 2, so I spent ₹30 in all).
2. Candies
Been there since decades now so it's safe to call it a heritage of Bandra. I've grown up and grown big eating here. I went to the school right next to it, so we'd run out of our school straight in here. I'd order so many things, and this is one of the few places that has maintained flavours over all these years. Apart from mini desserts, you must try their Chicken Biryani, Quiches, American Club Sandwich, Rajasthani Bhindi, and a lot more.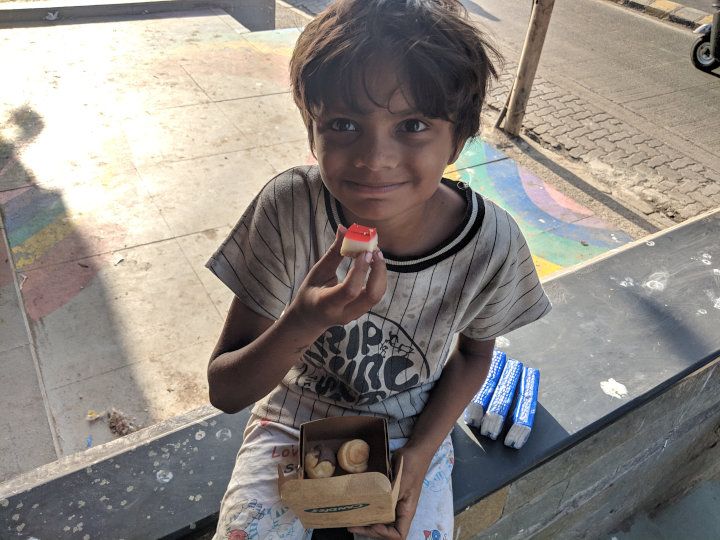 PS: I met this cutie outside Budapest Bakehouse and I decided to give him the jelly slices, eclairs and a Paneer cone from BBH too. He seems happy, don't you think?
MM Recommends: Jelly Slices And Mini Eclairs
These Jelly Slices will just melt in your mouth, plus that crust, tho! These mini eclairs are perfect to curb that sweet tooth after food. It's not too sweet, but not too bland either.
Price Per Piece: ₹10 (I bought 5, so I spent ₹50 in all).
3. The Budapest Bakehouse
A relatively new concept and a new joint in town too. Ever tried Butter Chicken/Paneer in a cone? What a great solution to man's on-the-go eating problems. Best. Idea. Ever.
MM Recommends: Paneer Cone
Hot and spicy paneer filling in a freshly baked bread cone. Need I say more?
Price Per Piece: ₹100
4. Hearsch Bakery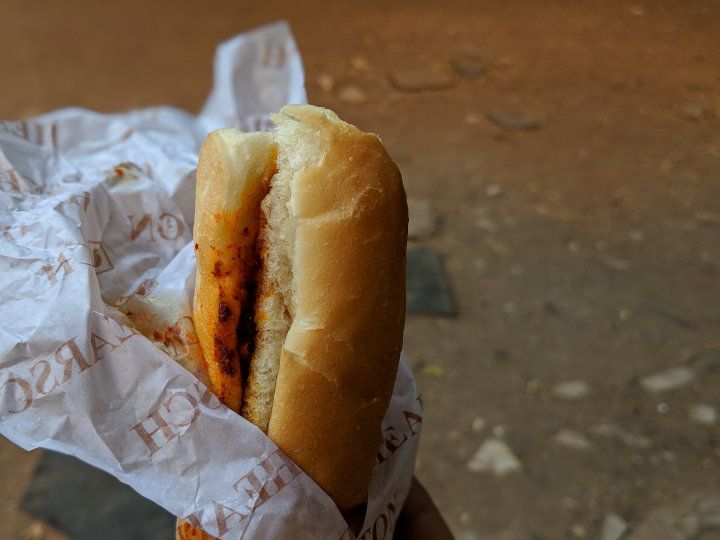 Another iconic spot in Bandra is Hearsch. Surrounded by a school, hospital and a college, you can expect it to crowd up in minutes. And rightly so, because the food here is BOMB! Apart from their rolls, you should try their frankies, bread pudding, and their chicken lollipops too.
MM Recommends: Mutton Roll
An absolute classic, if you ask me. This little guy has so much flavour and if that's not enough, it's covered with a fresh, soft bun that'll just disappear in your mouth after you take that first bite.
Price Per Piece: ₹45
5. A-1 Bakery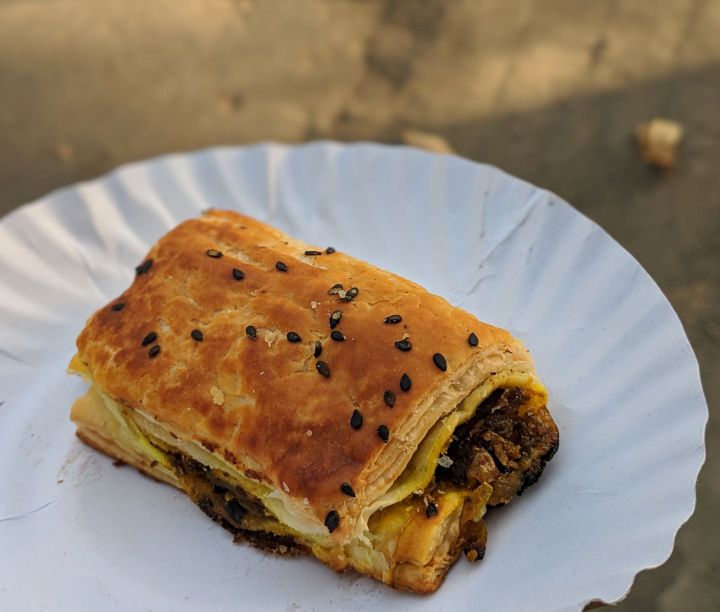 Bang opposite Hearsch Bakery stands A-1. This has always been Bandra's 5:00 AM "breakfast" option. My friends and I would party all night and wait till 5:00 AM for A-1 to bake their extremely fresh and melt-in-the-mouth pattices. Well, you can eat them in the day too, but the first batch early in the morning is some other deal altogether.
MM Recommends: Mutton Pattice
As I said, listen to your well-wisher and head to A-1 at 5:00 AM for that fresh pattice. And let that do all the talking for me.
Price Per Piece: ₹20
6. Ranjit Sev Puriwalla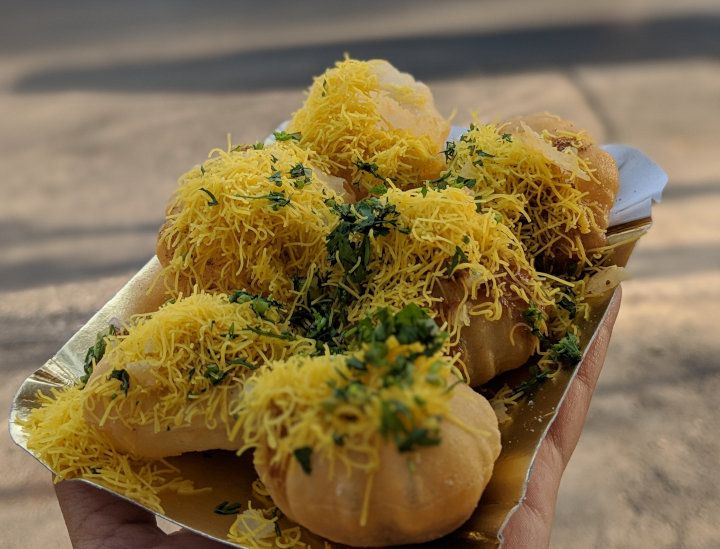 The cleanest chaatwalla in the city. He might be a small kiosk by the street, but boy is the chaat delish! I usually go half and half with the sev puri I eat, but you can even try his ragda puri if you like warm chaat.
MM Recommends: Half Meetha & Half Masala Sev Puri
Clean, hygienic and supremely delicious.
Price Per Piece: ₹30
7. Shree Sagar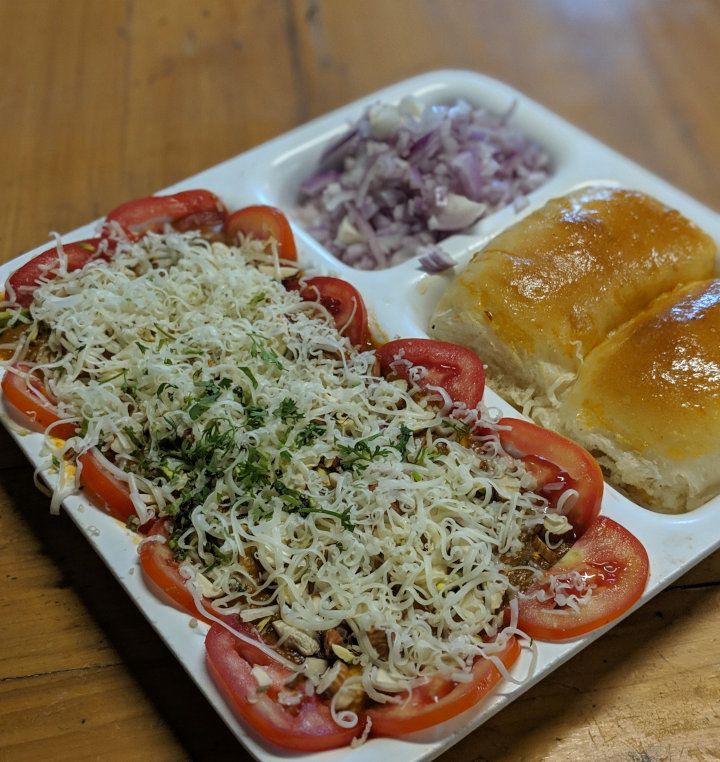 When you're hungry and one of the first few things you think of to eat doesn't include a buttery pav bhaji, you're not a true foodie. Thinking about it RN aren't you? I am too, TBH. So, I am gonna devour this freshly made special pav bhaji that consists of excessive cheese, butter, paneer and other ingredients that do not exist in regs pav bhaji. It might be priced steeper than other snacks on this list, but you'll know why once you taste it yourself.
MM Recommends: SS Special Pav Bhaji
You heard me—cheese, paneer, veggies and buttery pavs to go with it! Need I say more?
Price Per Piece: ₹220
Andddd boom! I nailed it, gaiz! With ₹5 to spare!
Whoa (self-proclaimed astonishment). I think I've made myself more than proud. This only goes to show, that if you're low on cash like me at the end of every month, try the places I went to, and you won't be disappointed. It's not just light on the pocket, but so Goddamn tasty that your taste buds will thank you (as you should thank me RN).
Don't forget to follow us at @missmalinilifestyle to never miss a beat!