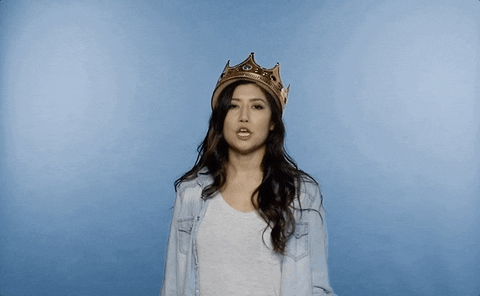 Ever since minimalism and 'no makeup' makeup looks became trendy, we have forgotten how to have fun with makeup! I don't know about you, but whenever I do my makeup I always reach out for the muted browns and taupes, instead of  all the other bright colours I own. Reading tons of beauty magazines and following a lot MUAs I've learnt that, a simple pop of colour goes a long way and can pull an outfit together. If you've been wanting to change up your everyday makeup look, here's some beauty inspo for you:
1. Coloured Eyeliner
If you want take your everyday look up a notch, swap your boring ol' black eyeliner with a coloured one. Find a colour that will bring out the natural hue of your eyes.
2. Fuchsia Lips
If you're into bold lips, the next colour to try out is definitely fuchsia! This bright shade is perfect to highlight your lips and make a statement. One thing to remember while going for a bold lip, is to keep the rest of your makeup minimal, so that your lips are the centre of attention.
3. Yellow Lids
Spice up your look with this unexpected pop of colour. Yellow is definitely going to be trending this season, so much so that Kylie Cosmetics included this bright colour in their latest eyeshadow palette.
4. Metallic Purple Eyeshadow
I'm extremely loyal to my standard brown eyeshadow and black winged eyeliner, but this metallic purple eyeshadow is giving me second thoughts!
5. Electric Blue Lash-Line Eyeliner
If you're feeling a little bold and very committed to adding colour to your look, this is definitely what you should go for.
6. Rose Gold Lids
This look is extremely wearable and an easy way to add colour into your makeup looks. Adding a glittery rose gold pigment to your eyeshadow will make your eyes stand out.
7. Rainbow Eyeliner
Got crazy eyeliner skills? If you do, then you have to try to attempt this gorgeous rainbow eyeliner look. If beauty mogul badgalriri tried this look, how can we not?
Let's hope these trendy looks helped you get inspired to add more colour into your makeup game.
Follow @missmalinibeauty on Instagram for more updates.