5 Waterproof & Affordable Beauty Products That'll Get You Through A Rainy Day
Eesha Kokane , 20 Jun 2019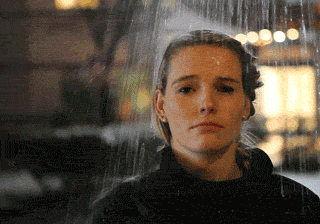 Remember that F.R.I.E.N.D.S episode, where everyone goes to Barbados and Monica's hair becomes thrice it's size due to the humidity? I've literally never related to a fictional character more. As much as I love curling up by the window with a cup of tea on a rainy day, I equally dread stepping out of the house. Every monsoon, we all face the sporadic outbursts of the rain and the crazy humidity that comes along with it. Nothing is worse than having your makeup melt down your face amirite? Fortunately these amazing waterproof and affordable beauty products have our backs this monsoon season:
1. Sugar Cosmetics Foundation Stick
The weather these days can do a complete 180°, in a matter of a few minutes. During these unpredictable times, it's best to play safe and stick to lightweight makeup. This foundation stick has a creamy texture that's very easy to blend. Its formula is waterproof and long-lasting with a matte finish. This waterproof beauty product is definitely essential to keep in your handbag.
Sugar Cosmetics Foundation Stick (Source: sugarcosmetics.com)
2. Wet n Wild Waterproof Mascara
This product is probably the underdog of mascaras! It has a waterproof formula, it drastically make your lashes look longer and it lasts all day long. I've personally used this mascara on my vacation and it lasted through all my beach trips and swim sessions. Plus the fact that this product is cruelty-free is just the icing on the cake!
3. Maybelline Waterproof Gel Pencil
These pencils are intensely pigmented and long-lasting. It has a gel formula that makes sure that your eyeliner stays smudge-free and lasts long. It's suitable for people with sensitive eyes and contact lens wearers. This waterproof makeup product is a great alternative to your usual liquid eyeliner or kajal.
4. Makeup Forever Aqua Seal
If you don't want to buy the waterproof versions of the makeup products you already have, then this product is for you. Adding a few drops of this product to your regular makeup will make it's texture waterproof. It makes your makeup water resistant, long lasting and smudge-proof.
5. The Body Shop Camomile Cleansing Butter
Waterproof makeup is a commitment! Once you have it on, it's very difficult to take it off. That's why you need a makeup remover that is specially formulated for waterproof makeup. This cleansing butter, can is tough on removing the makeup but gentle on the skin. It has natural ingredients and it helps you nourish your skin while simultaneously removing your makeup.
So, are you ready to put your best foot forward and slay this monsoon season without fear?
Follow @missmalinibeauty on Instagram for more updates.