There are hardly any days that go by without us spotting a funny comment by Arjun Kapoor on his friends' Instagram posts. Honestly, they're hilarious and we live for his comments. Whether it's Ranveer Singh, Katrina Kaif, Anushka Sharma or Varun Dhawan, he leaves a comment pulling their leg. Let's not forget his sisters – Anshula and Janhvi Kapoor as well. Today, his new target is Shraddha Kapoor and it's epic.
Yesterday, Shraddha took to Instagram to post some sultry pictures from the song – Enni Sona from her new movie Saaho alongside South Indian superstar Prabhas.
Take a look:
Beautiful, right?
While her fans were all heart eyes for this look of hers. Arjun Kapoor thought of something else of the last picture and his comment about it will leave you to LOL.
Check it out: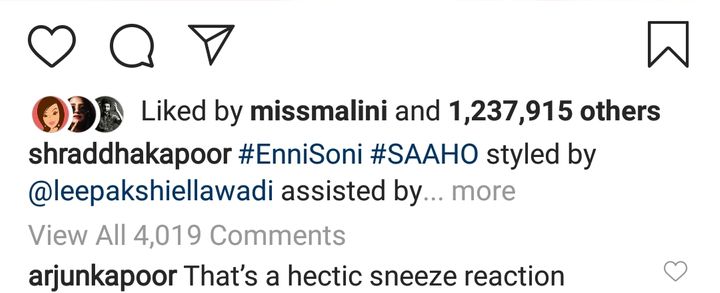 We absolutely love these comments from Arjun. I'll probably do another blog all his funniest comments on Instagram. Look out for that!