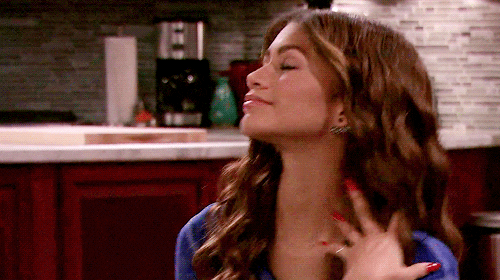 If someone put a drafting compass on my nose and traced around my face, you'd be able to see exactly how circular my face is. Striking cheekbones and a killer jawline are just hopes and dreams when you have a round face. Contouring can help you fake strong cheekbones and add some structure to your face. Although let's be honest, spending an hour contouring every day is just not feasible, amirite? So instead of spending extra time in front of the mirror, try out these cute hairstyles that are very flattering for people with round faces:
1. Short & Side Swept
Who said that girls with round faces can't have short hair? This gorgeous hairstyle on Priyanka Chopra is proof that short hair looks great on girls with fuller faces. If you want to try out this simple and sophisticated hairstyle then all you have to do is grab a comb and a curling iron. Part your hair and sweep it to the side and curl the ends of your hair and voila, you're ready!
2. Middle Part & Loose Waves
Parting your hair in the middle will make your face look more even and structured. All you have to do to recreate this hairstyle is to grab a rat tail comb and create a perfect parting right in the middle of your head. Once you've created the parting you can either use a blow dryer or a curling iron to create loose waves. This hairstyle is perfect for those mornings when you're in a hurry.
3. Half-Top Knot
Want to glam up your everyday look? Ditch your everyday ponytail and try out this half-top knot hairstyle. Start by making a half ponytail and secure it with a hair tie. Wrap the half ponytail around the hair tie and create a knot, secure this with a couple of bobby pins. If you want you can pull out a few strands of hair to frame your face. This hairstyle perfect for a casual Friday at work or a Saturday night rager!
https://www.instagram.com/p/BBKvrCpG1lR/?igshid=1kiv39xtdnuax
4. Sleek & Smooth
Long and straight hair will make your face appear slimmer. So if you want to change up your look, then grab a flat iron and straighten out your hair.
MM Pro Tip: Spritz on some heat protecting spray before you straighten your hair so that you can protect it from any damage.
5. Side Ponytail
This is definitely the hairstyle you should rock on your next date night. It's low effort and super quick to achieve. All you have to do is create a side parting and tie a side ponytail. To take it to the next level, pull out a few strands of hair from the side and curl them. You'll be able to do this look in less than 5 minutes!
6. Old Hollywood Curls
The next time you're getting ready for a big event, try out this super easy and glamorous hairstyle. All you have to do is create a side parting and curl the ends of your hair.
MM Pro Tip: Take small sections of your hair while curling it, so that you'll have tight and defined curls. Spritz on some hairspray onto the curls so that they'll last longer.
7. Beachy Waves
This easy and quick hairstyle is proof that you don't need a lot of time and products to make your hair look good. To achieve this hairdo, spray some sea salt spray on damp hair and let it air dry naturally. Within a few minutes, you'll have effortless wavy hair.
Which hairstyle are you going to try out next? Let us know in the comments below!
Follow @missmalinibeauty on Instagram for more updates.