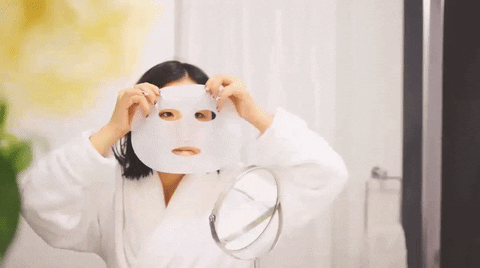 Let me start off by saying that if I could put a sheet mask on all my problems in life then I definitely would. If you're a Millennial like me, then you'll understand the hype behind using sheet masks. Netflix and sheet mask-ing is everyone's ideal way to unwind after a long day. From the soothing and comforting feel to boost of hydration, I love everything about them! However, one thing that bothers me about sheet masks is that they're only a one-time use product. There's always so much serum that comes along with the mask and it breaks my heart to throw it away. So, after doing some research and through trial and error and I found 6 genius hacks that'll help you get the most out of your sheet masks:
1. Refrigerate:
Take it from someone who's personally tried it before, refrigerating your skincare products is a game-changer! Especially when it comes to your sheet masks. A cool, soothing and hydrating mask at the end of a long day is nothing less than a spa sesh. Using a cold sheet mask is not only calming for your skin but it also de-puffs it. So, the next time you go skincare shopping store your products in the refrigerator.
2. Steam:
Steaming your face before you use any kind of mask is always a good idea. The steam will open up your pores and unclog your skin. So, when you use your mask after steaming your face, your skin will be able to absorb the serum much better.
MM Pro Tip: Add a few drops of essential oils into your steam, this will help your skin absorb more nutrients. I like to add a few drops of tea tree essential oil in my steam water since it really helps me control my breakouts.
3. Jade Roller:
What do you get when you use two of the best skincare products together? Glowing skin! Unless you've been living under a rock, you must've heard about jade rollers. They're an ancient Japanese tool used to de-puff skin and improve blood circulation. So, when you use it with a sheet mask your skin gets the added benefits of the serum. It can better absorb the ingredients from the mask due to the jade roller. If you want to get the most out of your sheet mask then start using a jade roller too.
4. Remove It Before It's Dry:
As a rule of thumb, don't let your sheet mask sit on your skin for more than 15-20 minutes. If your sheet mask dries completely, then starts to draw out moisture from your skin, rendering the whole process null. So, set a timer and remove it on time.
5. Store The Excess:
Since sheet masks come drenched in serum, we always end up throwing the excess serum and I have to say that doing this is one of the most heartbreaking things I've ever done. So in efforts to get the most out of my masks, I've started scooping out the excess serum and storing it in a mini-jar. The days I don't use a mask, I reach out for this mini-jar and use the serum instead. Talk about being resourceful, amirite?
6. Use Cotton Rounds:
If you want to save your money and get the most out of your sheet masks, then this hack will be perfect for you! Grab a couple of cotton rounds cut them in half and drench them in the excess serum from the mask. Store these serum drenched pads in the fridge overnight and use them as eye patches the next day. This way you'll get makeshift yet effective eye patches and you'll also make your money's worth. It's a win-win!
What's your favourite thing about sheet masks? Let us know in the comments below.
Follow @missmalinibeauty on Instagram for more updates.