9 Bollywood Fashionistas Nailing Workwear To The T
Snehal Fernandes , 16 Oct 2019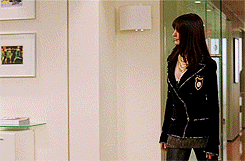 Waking up every day and managing to crawl out of bed to get to work is adulting enough, but having to think about what to wear for a 9-5 job is a whole different level of stress. Yes, even as a Fashion Editor, I seem to struggle with my workwear OOTDs, almost every second day. Sure, I could pull-off a Steve Jobs and get the same set of clothes to wear daily, to save time for more pressing matters at work. But let's be honest, it's a little depressing to do that. I mean, what's the fun in wearing the exact same outfit every single day, noh? And because I feel ya, I've put together a list of team MM's favourite fashionistas who put the boss in #GirlBoss with their amazing style. So get ready to take notes, y'all…
Tailored And Structured Pantsuits Should Be Your BFF!
Think like a boss, dress like a boss. Trust Sonam Kapoor, to give you the perfect inspo to nail power-dressing like no other. Clean cut blazers and tailored pants can be super stylish if you add some fun prints into the mix.
Flare Anything For A Fashionista Look!
If you're the fashionista in your office, then this look is perfect for you. Alia Bhatt not only proves that wearing the same colour head-to-toe can add length to your look but also, rocking a pair of flared pants instantly makes your outfit look more polished, classy and on-trend.
Ruffles Are Refreshing For An Office Glam Game!
Athiya Shetty made ruffles look so corporate-chic by teaming it with a dress shirt. This is a great style tip on how to repurpose your dressy clothes for an appropriate workwear look.
Culotte Jumpsuits Should Be Your Go-To!
Invest in smart pieces like a culotte jumpsuit just like Shraddha Kapoor, to keep it fun, yet workwear smart!
Indianwear With Contemporary Prints FTW!
Indian wear is great for an office look but if it has an interesting print, it's even better. Case in point: Kriti Sanon shows you how to do ethnic wear to work like a pro. Of course, you could switch to comfortable heels tho!
Oversized ERRTHANG For Maximum Comfort And Style!
Oversized anything and everything is a winning look for a long day at work. And no one rocks this trend better than Masaba Gupta!
Texture And Fun Colours For A Friyay Look!
Keep it cool and fun like Priyanka Chopra for an easy-chill Friday look. Playing with textures and colours is a great way to add fun to your boring work look.
T-Shirts Work Too…
Yep, t-shirts work for officewear if styled smartly. Kangana Ranaut sets the perfect example on how to make a casual tee look teamed with a pantsuit.
Pretty In Florals, Always!
Office parties deserve a stylish and glam look. And Anushka Sharma dressed in this floral number is the perfect inspo for a dressy look that's totes appropriate if you have a date-night post-work or drinks with the girls.
Now that you've seen our favourite workwear looks, why don't you tell us yours?
Follow @missmalinifashion on Instagram for more updates.