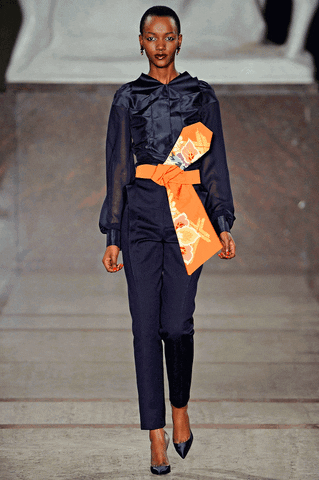 Think of belts as the underdog accessory that looks basic but can easily make or break any look. They're versatile, useful and you can really go cray with how you want to wear or style them. I personally think an outfit without a belt is incomplete. And with designers reinventing and cooking up cool renditions, there's really plenty to choose from. Cinch your waist, wear it with a saree or just knot them differently each time—trust me, you'll always end up with an Insta-worthy OOTD! Talking about Instagram, who better than our very own Insta-influencers to show us how to rock a belt, amirite?  So here we are, presenting 5 of our favourites who show you how to wear a belt with basically anything and errthang!
1. Belts With Ball Gowns FTW, Feat. Negin Mirsalehi!
Belts with ball gowns? Why not! Negin pulled off one of the coolest looks with a chunky waist belt on a gorgeous pink gown and boots—such a badass look noh?
2. Belted Saree Glam, Feat. Anushka Mulchandani!
Former MM resident cutie, Anushka Mulchandani has always blown us away with her style and nifty hacks. And I know, you've probably seen a belted saree look before but what I personally love about this look is that it's a sexy yet so chic. A saree teamed with a thigh-high slit skirt is probably the sexiest combination ever.
3. Size Matters Kinda Belt, Feat. Shaleena Nathani!
Size does matter…especially if we're talking about belts. Shaleena proves that the bigger the belt, the sexier the look. A long belt can be knotted in s many fun ways to make it even more interesting.
4. Belts That Break The Monotone, Feat. Amiee Song!
A belt is a cool way to break the monotony of any look. Amiee Song pulled a smart one by adding this gold belt to add that extra element to her outfit and we love it.
5. Cinched By Corset Belts, Feat. Santoshi Shetty!
A corset belt is super sexy and if it comes with a sporty look, it's even better. Trust street style queen, Santoshi to rock such a rad look using a corset belt.
And in case you're looking to up the ante with a normal belt, here are 3 cool ways to knot it for a new look:
Which belt styling did you love the most? Let me know in the comments below!
Follow @missmalinifashion on Instagram for more updates.