6 Real Girl Festive Looks From Team MissMalini
Snehal Fernandes , 28 Oct 2019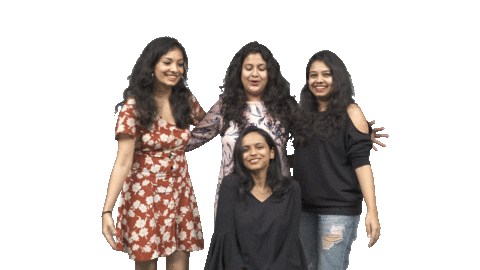 Team MissMalini is filled with fashionistas who blow me away with their style every single day. Whether it's rocking a #BossBabe look in blazers or keeping it super fun with their OOTDs on Fridays, we come with oodles of glam with a side of sass. Each one us has a unique sense of style and that's what I absolutely love. And with festivities, parties and the million weddings in toe, I decided to give you a peep at how we at MissMalini rock festive wear the real girl way. So trust me when I say this, there's something for everyone here to get inspired by…
Malini Agarwal, Boss Lady
How can I not start with our very own #BossyLady and founder, Malini? You'll often find her rocking the comfiest pair of shorts, tank tops and sneakers. But when our Optimus Prime decides to get her glam on, she's always on trend with the coolest looks like this one. A contemporary touch to the six yards of fabric? Hell yeah! Malini, always makes sure to add her personal style to any look. So go ahead, belt your saree or wear those sneakers with a lehenga if that's your style.
Alisha Fernandes, Features Director
Our Features Director, Alisha aka aloo loves channelling her inner Britney Spears on a normal day. She loves her low-waisted ripped jeans and billowy tops and could live in them for the rest of her life. But when it comes to Indian wear, she loves experimenting by mixing prints and colour-blocking like this look and just having lots of fun with whatever you wear. Best style tip ever? Yep, I think so!
Isha Mayer, Jr Community Manager
Happy soul and multi-tasking ninja, Isha's everyday style is a mix of vintage meets streets. But when it comes to Indian wear she loves her good ol' salwar kameez and plays it up by fusing different textured fabrics. Her top style tip would be adding a statement dupatta to a basic kurta can really elevate any look.
Dhruvi Modi, Features Writer
Office cutie and real-life Poo, Dhruvi keeps us at team MM on our toes when it comes to her everyday glam. Her personal style is more fitting for an off-duty-model look and when it comes to Indian wear her best style tip is to always pick a bright happy colour like this one!
Saania Hava, Creative Strategist
Queen of an easy-chill everyday style, Sannia loves a good comfy look. But when it comes to ethnic wear, this leggy beauty isn't afraid to experiment. I mean, a boat-neck top with a saree is such a cool twist, noh?
Eesha Kokane, Jr Features Writer
This beauteous human loves a good minimal look. Eesha always serves us the freshest looks in the office. Known for her crisp winged liner, her take on Indian wear is very much like her everyday style—minimal-chic with a touch of class. Her go-to tip for the festive season is to invest in sorbet hues and play with textured fabrics like this one.
What's your go-to festive look? Let me know in the comments below!
Follow @missmalinifashion on Instagram for more updates.