5 Unique Anamika Khanna Outfits You'll Want To Wear To Every Wedding This Year
Natasha Patel , 15 Nov 2019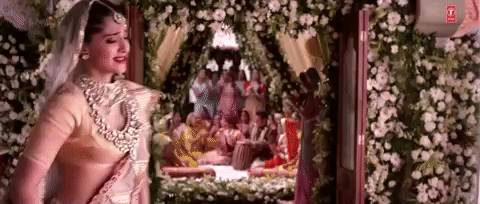 When one first thinks of the wedding season, it usually stresses you out, messes with your head because even though you ain't the bride, you could be a part of her tribe—which leads to the ultimate question… What do I wear?! I recently got back from a long holiday in the land down under, so naturally, when I got to work, it was all about catching up with emails, meetings and Instagram, duh! More importantly to check out what and who our B-town celebrities have been spotted wearing and how they've been wearing it.
In between all the mercury retrograde memes and Taimur pictures, I came across my favourite derby darling, Natasha Poonwalla in talks with Katy Perry and The Prince of Wales wearing a stunning (and I mean stah-ning Anamika Khanna ensemble). Which got me thinking of the unique and different ways one can style their Indian-wear for a wedding. So down the rabbit hole I go and find 5 absolutely eccentric and distinctive Anamika Khanna outfits.
1. Mixing textures, prints and silhouettes, yet keeping it all in tandem is something that takes true talent.
2. Yet another great example of clashing prints. Except this number has me drooling over the structured, deep neckline and contemporary feel of it all.
3. Who would have thought that an overload of prints could look this great?! And the best part is the "artwork" on the pant and jacket set. Plus it's great for a wedding after-party look.
4. Belted saris are personally my new fave way of wearing a sari and not getting hassled with the drooping pallu. The warm colours and embroidery makes it an elegant and statement-worthy piece.
5. This irreversible long-line jacket has got to be my most loved part of this look, besides that fact that each of the 3 pieces from this outfit can be own individually! I mean, that kind of versatility is key for a destination wedding.